Korea's No.1 Cosmetic App Hwahae, How did it get so big?

ㅣWe are Korea's No.1 Cosmetics database platform, Hwahae
---
Hi everyone! My name is Han Eun-Jung, and I am the manager of Birdview's growth management team. Birdview is the company that launched Korea's most popular cosmetic mobile app, Hwahae. More than half of the women in their 20s and 30s in Korea are using our app. Through Hwahae, we are growing into a platform that solves the "information asymmetry" of the cosmetics market by providing users with a wide range of information, including cosmetic products, reviews, rankings, ingredients, as well as beauty contents and shopping.
The Growth Management Team is a team that helps Birdview members, Birdies, by establishing a system and cultural environment to create an "autonomous growth platform for all team members to grow together." Over 85 company-wide Birdies and over 20 outsourced freelancers and partners use JANDI to collaborate and work.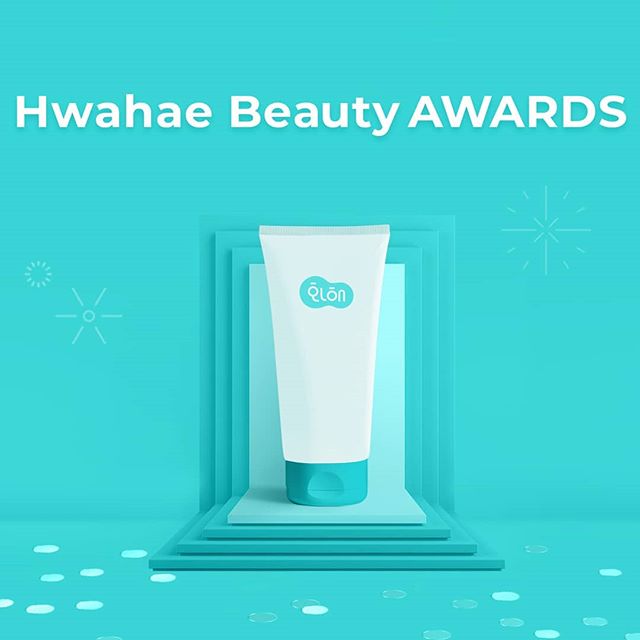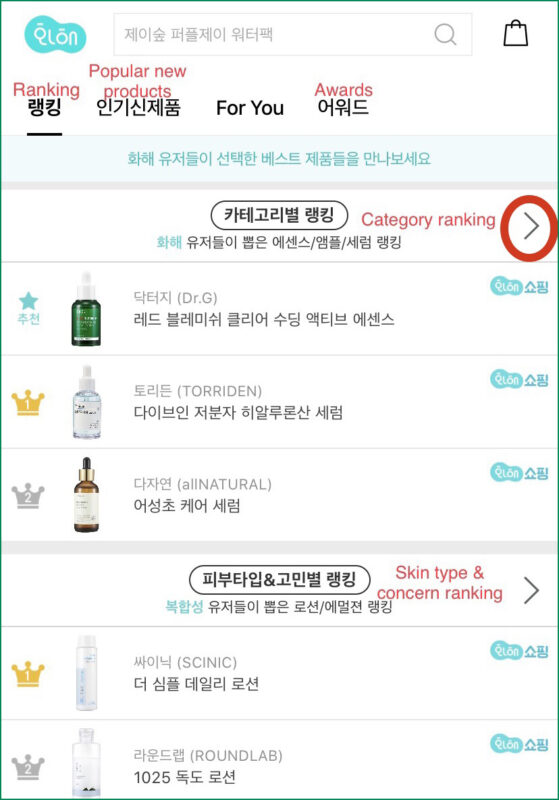 ㅣWe need an integrated communication channel for our organization
---
As Korea's No.1 cosmetic information platform, Hwahae currently has more than 5 million cosmetic reviews and has grown into an app used by half of the women in their 20s and 30s. Naturally, our organization grew along with the app and was in need of an efficient communication channel. The development team was using Slack in the past but switched over to JANDI due to its easy and simple UX/UI. JANDI also makes it easier for external partners to collaborate, so we have officially made JANDI as our company-wide communication channel in 2016. 
What is the difference between Slack and JANDI ? >>
ㅣJANDI is a must for remote working! 
---
I think that JANDI played a big role, especially during this pandemic because the organization was able to quickly switch to telecommuting and work without loss of productivity while working at home for about 13 weeks. We used specific telecommuting topics to continue working on previous projects.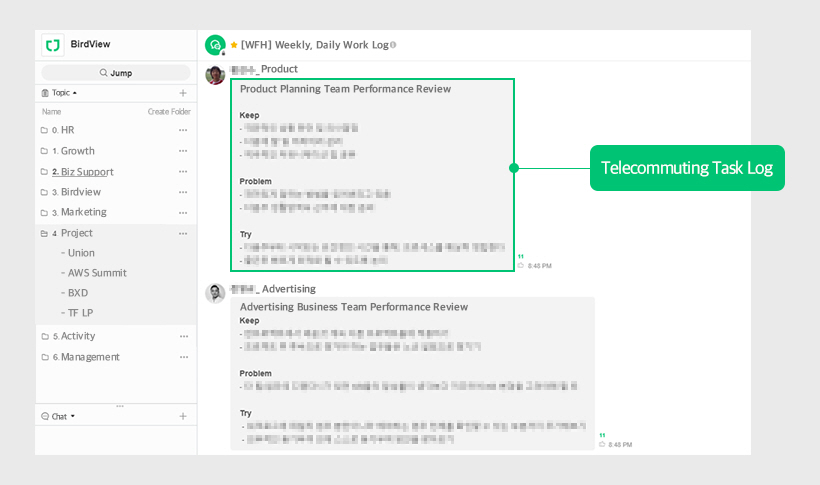 Topics for telecommuting task logs and sharing daily lives really helped our members to feel less physically apart and lonely as well as communicating easily and efficiently.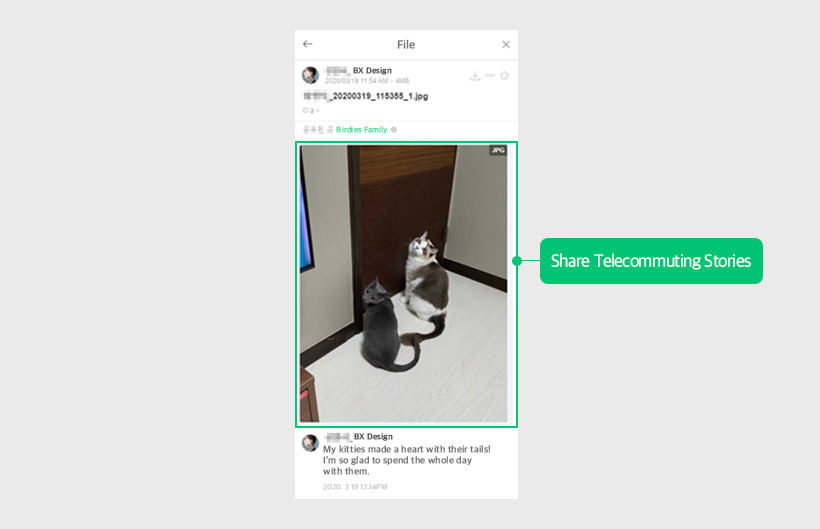 ㅣCooperation is easier even without email communication
---
We are using JANDI in all of our divisions. Using JANDI for quick and simple discussion and cooperation has become our company culture. Using the @mention feature helps us eliminate the need to use email communication.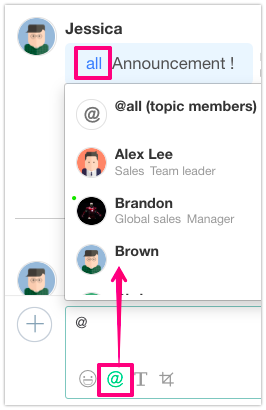 By integrating Google Calendar for sharing schedules and attendance, all Birdies can share information easily. Moreover, integrating JIRA helps the development team manage issues, and integrating Trello helps the design team to collaborate. All of the notification for these external tools can be received in JANDI topics.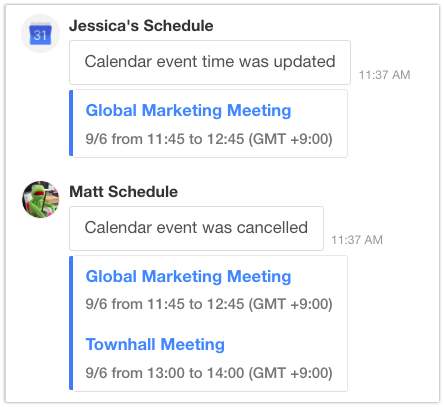 For company-wide notifications, we use the board view to share and manage information. As an example, the growth management team announces through the board view important information that must be shared with everyone such as staggered office hours.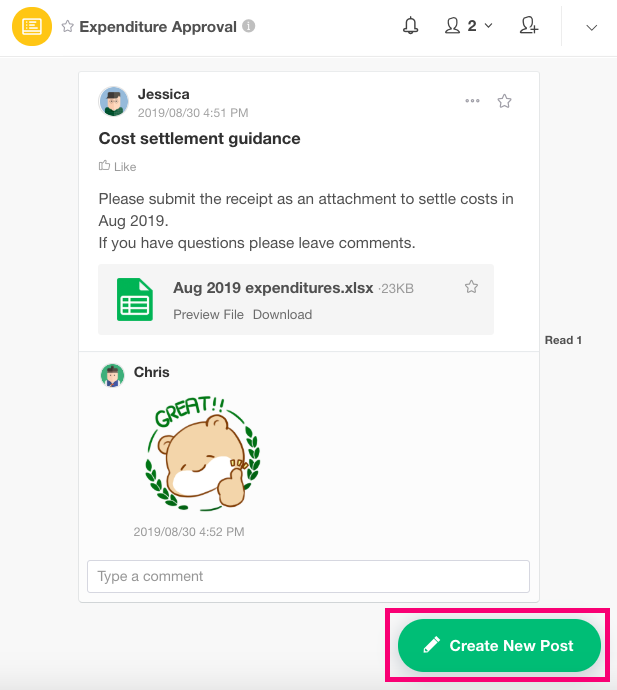 ㅣCulture to create topics and discuss freely
---
Topics such as 'Brand Card News' were made freely by our members without coercion or request. You can work more spontaneously if you create one content and exchange feedback and use stickers to express opinions among Birdies.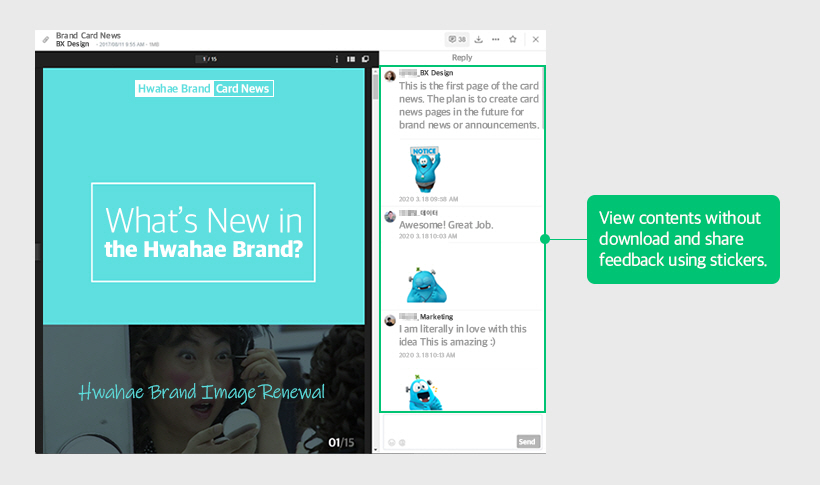 The 'Beauty Industry News Topic' is used for Birdies to share impressive articles and discuss them. It also serves as a forum for all members to discuss and develop the insights they have come across through YouTube and blogs.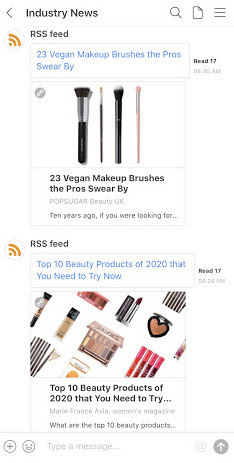 There are also many topics that incorporate Birdview's corporate culture. In the 'Birdview Cinema Topic' Birdies vote on movies and food for the company movie night held in the lounge.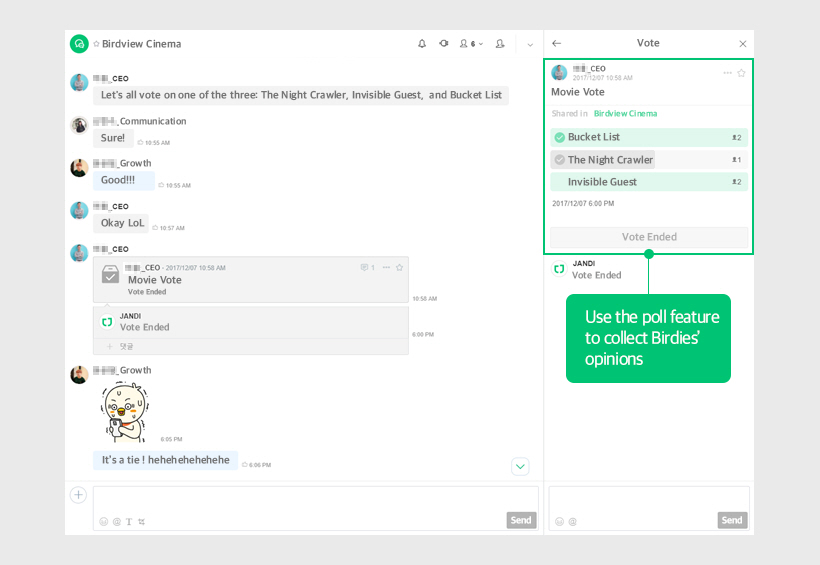 The 'Birdies Family Topic' is to share you and your family's stories. We also include companion plants 🙂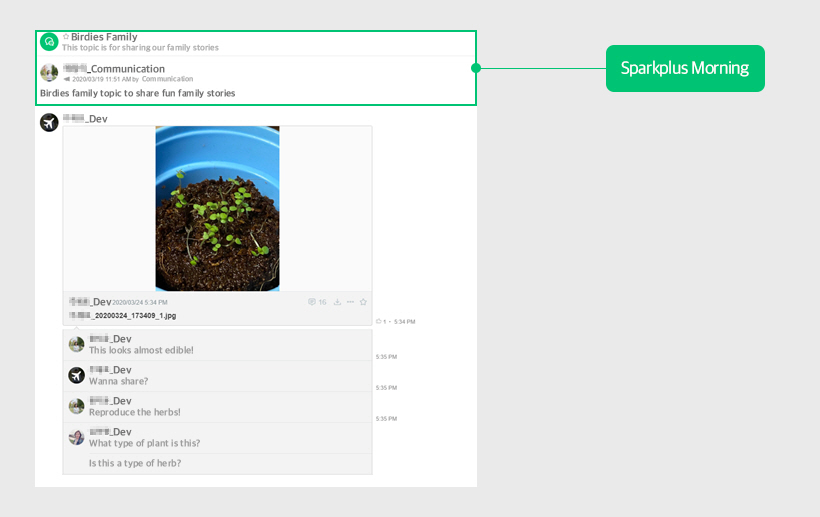 ㅣBirdies' favorite top 5 features
---
@mention: Call and deliver your message directly. Also, the notification center shows all the messages where you have been @mentioned. This helps eliminate email communication and speed up collaboration.
JANDI Drive: This feature is most useful in managing all files and data.
File Search: In particular, since the growth management team needs to manage the application, the file search feature is useful in finding and deleting the application after the recruitment process is over.
JANDI Connect: Google Calendar Integration helps manage personal schedules and interview schedules.
Stickers: The stickers enable fun work communication. We are always looking forward to new stickers!
ㅣWe recommend JANDI
---
We recommend JANDI for groups that work lean. 
Birdview is a company that moves, communicates, and grows rapidly. We use JANDI instead of email to share files and hold discussions. JANDI communication itself is work progress for us. Birdview's Hwahae app has risen to the top cosmetic information platform in a short period of time. We have to move and grow at a quick pace due to the high number of users and reviews we get. I think this is possible because a culture that facilitates sharing and collaboration has established itself.
ㅣWhat does JANDI mean for Birdview?
---
JANDI is Birdview's information platform.
Ever since we have adopted JANDI, JANDI has become a space that holds all of Birdview's memories and thoughts. Just as the service called 'Hwahae' solved the 'information asymmetry' problem in the cosmetics market, 'JANDI' is also a platform where Birdies can easily access information and collaborate with everyone in equal communication. I am sure JANDI will continue to support Hwahae's rapid growth in the future. Let's grow together Hwahae and JANDI!