[Real Estate] Smart Brokerage Business Secrets Of Ziptoss real estate agent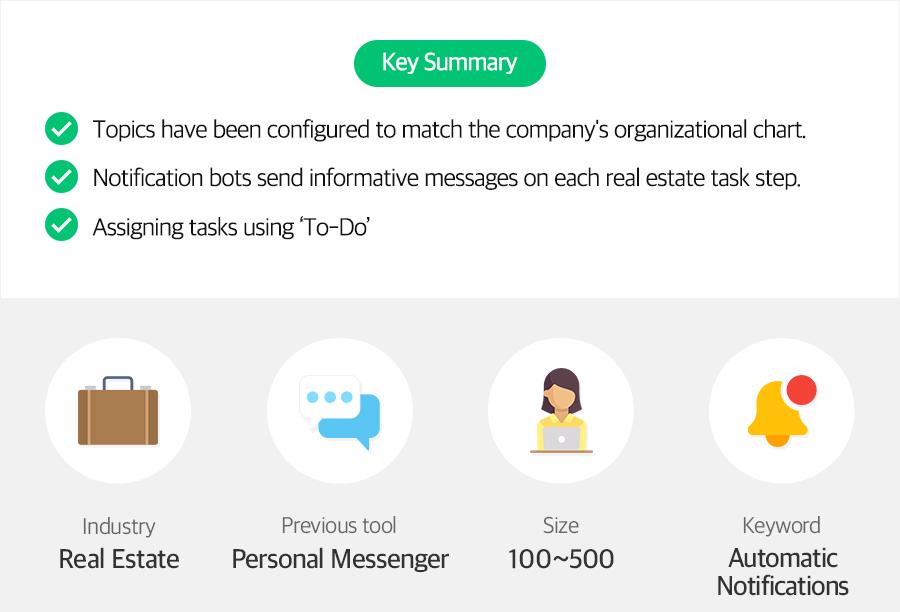 ㅣ Introducing Ziptoss, the innovative leader in the real estate industry.
---
Ziptoss is the largest real estate company in Korea.
Ziptoss is an IT-based real estate startup that operates both through real estate apps and offline real estate brick-and-mortar offices directly.
Currently, there are 13 offices in Seoul and we are planning to operate up to 19 offices nationwide. Ziptoss shows only actual sales and our own operating team checks only the salerooms available. We are trying to minimize customer damage by reducing false items. Our motto is "Lead the real estate field and upgrade residential culture." Ziptoss provides the one and only real estate service without a brokerage fee. Tenants who are searching for small studios or one/two-bedroom don't have to pay a commission fee.
< Ziptoss Offline Offices >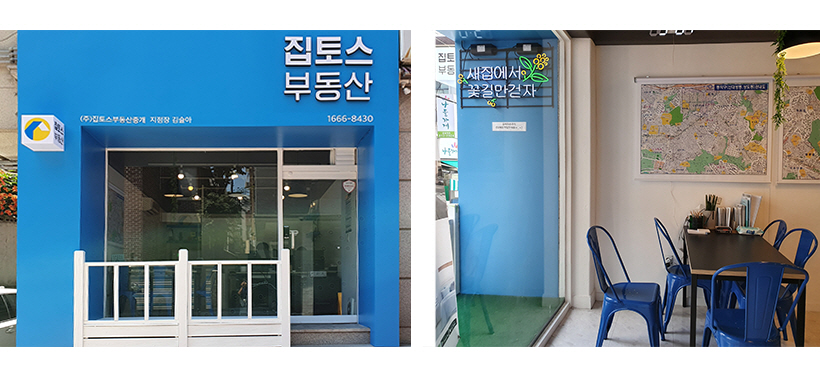 ㅣ Why did you start to use JANDI?
---
As the team size expanded to more than 10 people, we decided that personal messengers like WhatsApp would not work for communications anymore. 
Ziptoss started to use JANDI when we opened our first offline real estate office. The team grew to more than 10 people. Three years ago, our team consisted of 20, but now we have 140! Because Ziptoss is an O2O (Offline-to-Online) service, there are a lot more people compared to other startups. A total of 140 employees from 15 business sites are communicating through JANDI (this is the number in total by combining 13 real estate stores + headquarters + outbound call center.)
The offline real estate business organization is huge. So, when I was thinking about introducing a collaboration tool for the first time, I felt that Slack was difficult to learn for all our members. Because some real estate agents are not familiar with collaboration tools, like Slack, we were searching for a unified and easily adaptable communication tool for the entire company. So we selected JANDI.  When I first created the JANDI team, a member of the JANDI sales team was invited to the Ziptoss team as an associate to help with the initial introduction setup. 
Below is the JANDI User Guide, which is a JANDI use manual shared with newcomers. It is so easy to use that the explanation is only on a single file. 
< JANDI Manual > 
ㅣ How to use JANDI tailored for brokerage
---
We currently use JANDI topics to follow the current state of real estate brokerage. Using the JANDI Connect webhook, we automated this process to receive updates and notifications on the changing state of real estate within the app. JANDI plays a big role in giving each team member crucial data on brokerage changes. 
< Ziptoss real estate brokerage business process >
Collect building information and Check sales item
⬇︎
Customer registration and recommendation of rooms
⬇︎
Close contract(deal)
1. Collect building information and check actual sales items
The Ziptoss operations team periodically contacts every building(studio) owner to see if there is a new property available. In addition, a dedicated team contacts each owner at least once a month to check whether the sale is in progress to determine whether it is an actual sale or not. 
2. Customer registration and property recommendation
Customer management is conducted on topics created by each office branch. Ziptoss has created a notification bot for each topic in each branch. Four kinds of notifications are automatically delivered:
Attendance check
Customer assignments (to the specific agent)
Reservation consulting details
Today's branch schedule (daily morning)

.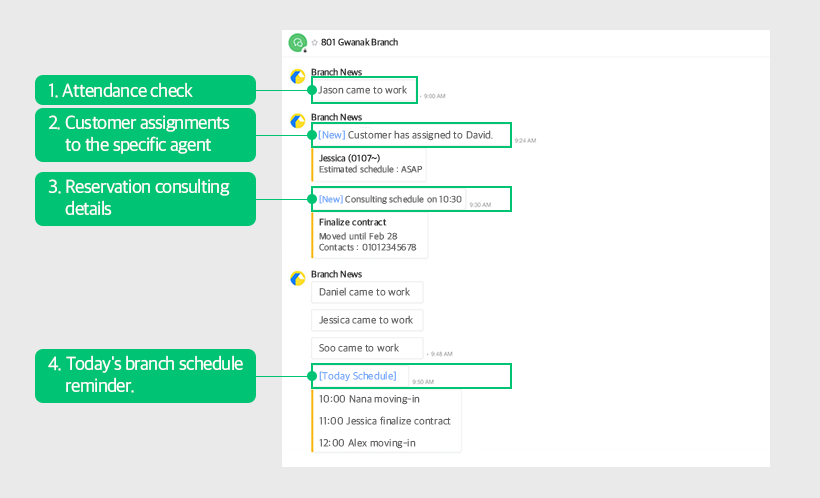 When a customer looking for a room is registered, they get assigned to the agent in charge, and a notification message is delivered to the JANDI topic. We created a topic for each branch so that the person in charge can quickly check on the topic for their branch. In addition, Ziptoss has been set to automatically send a welcoming message to the customer's social media channel.
Automatic welcome message sent to
the customer's social media channel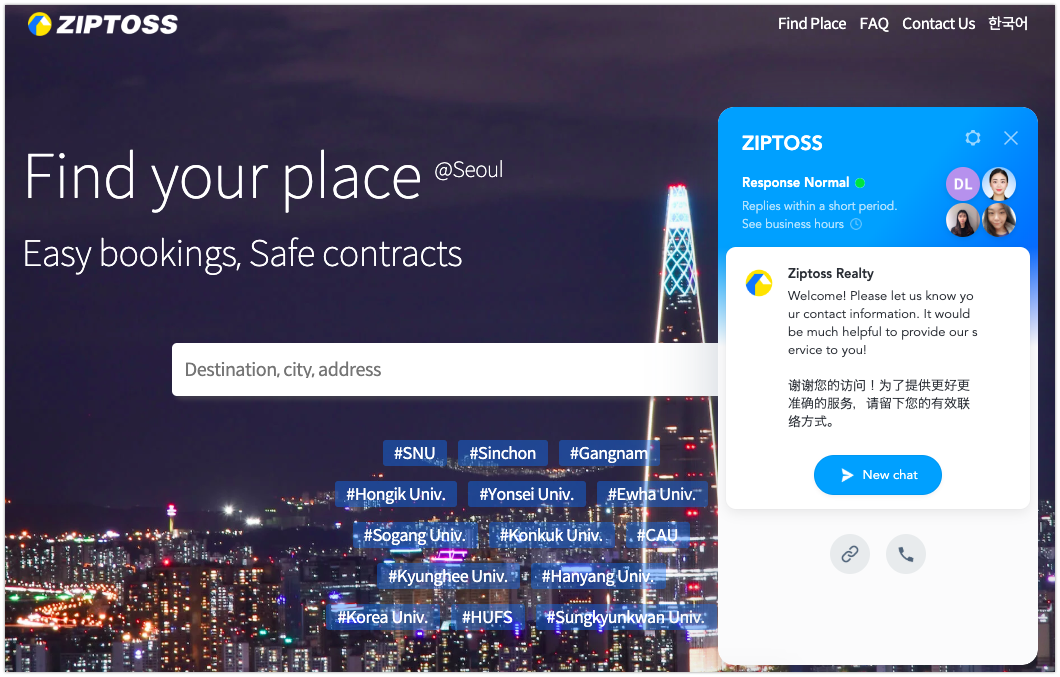 ⬇︎
When a customer is registered,
the assignment of the person in charge of
each branch is notified on the topic
After that, we arrange a consultation. Authorized real estate agents receive a notification and can check details of the reservation schedule and registered customer information at a glance within the topic. These organized notifications help agents feel like they have a secretary. It is the secret of Ziptoss's use of JANDI, which is why we recommend JANDI for more suitable sales and increased contract success rate.  
<Customer Consultation Summary Message>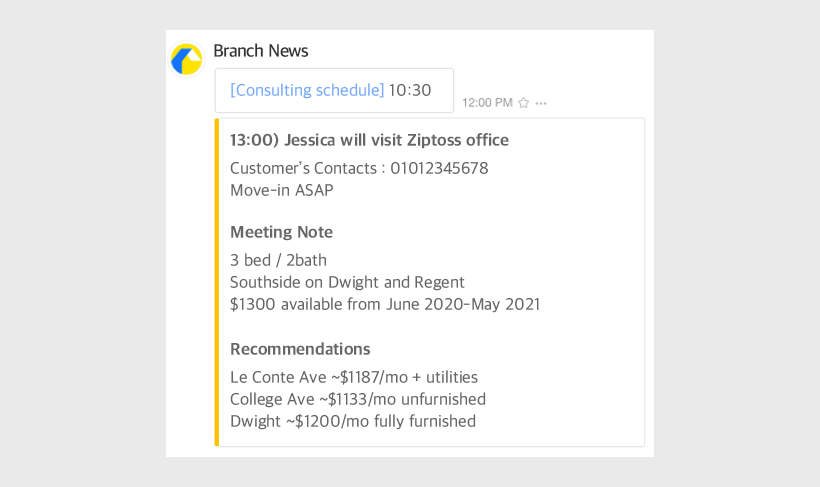 When the contract is concluded and the commission fee from owners is received, the SMS message received will be sent to the 'Commission Notification' topic.
The 'Commission Notification' topic is an important factor that enables Ziptoss to conduct a real estate brokerage business at this large scale. This is because, through the topic, all agents can check and respond to the performance in real-time. Without the 'Commission Notification' topic, we would have to deal with all requests from the landlord to check if the transfer was successful or the agent's request to check their performance.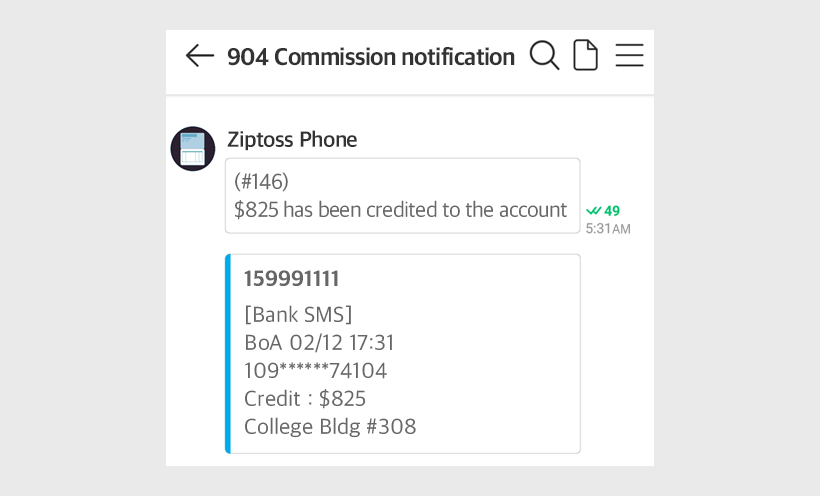 You can make 'Commission notification' bot following the process given by JANDI. In Korea, people can easily receive a deposit or transfer information on their mobile phone messages. So our team makes one Android smartphone to receive Ziptoss corporation bank account information SMS messages. When there is a change in deposit or withdrawal event, the bank system sends an SMS to the mobile phone. We then made a JANDI Connect Incoming Webhook to catch the SMS data which sends to JANDI message.
We installed an automated application called Android automate on our Android smartphone that receives SMS. It's easy to think of the IFTTT-Zapier combination as a single app. The Tasker app is more popular in this task, but Automate is a Flowchart method, making scripting much easier. 
When an event is triggered, an SMS is received from the phone, and the script is sent as a message to the JANDI 'Commission notification' topic. 
< Automate – JANDI Webhook Flowchart Structure>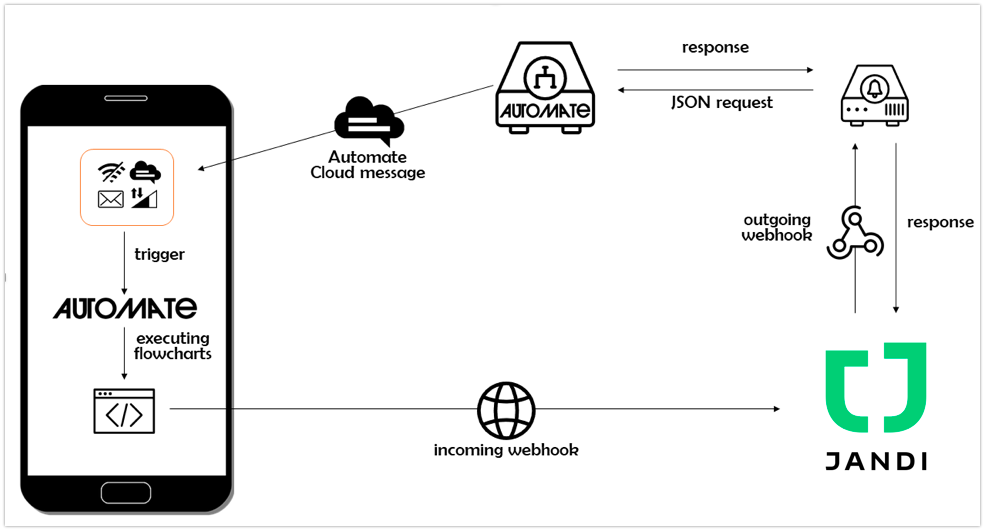 View Automate Flowchart example >> 
ㅣ There is a customer and building information search bot.
---
We created a search bot on a dedicated topic so that agents can easily find 'customer and building information' whenever they need it. Each search bot is made with the outgoing webhook of JANDI Connect. Data is pulled based on internal CRM and public API information from the Ministry of Land.
If you enter command keywords such as '/building address', '/owner address' or '/ customer name', the search bot will display the results as a JANDI message. 
Outgoing webhooks are integrated into one topic so that developers who create them can manage them all at once. It's convenient for members to search for everything in one place, right? 
< Performing searches through JANDI with an information search bot >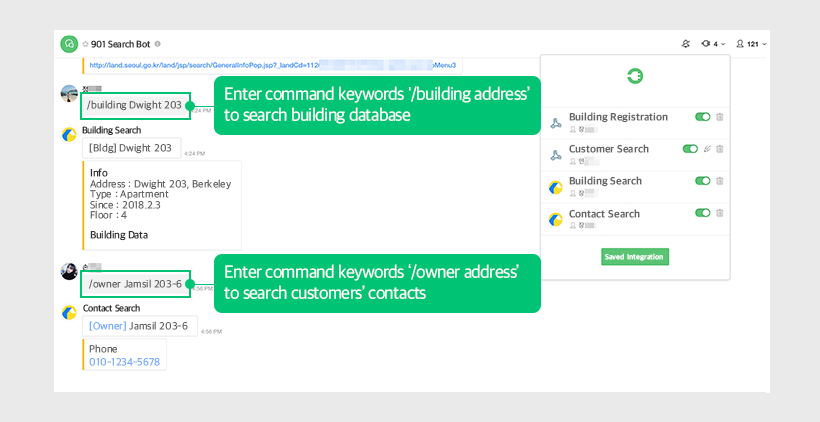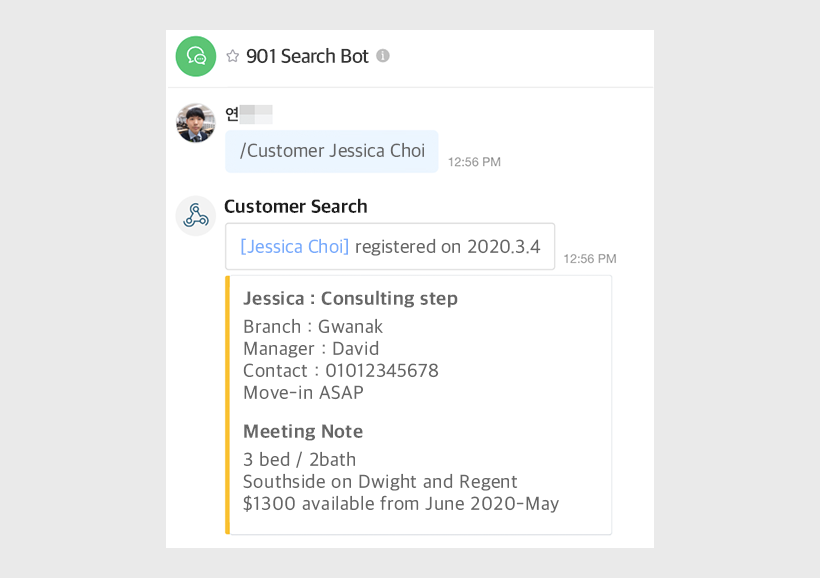 ㅣ It is useful to organize the topic according to the organization chart. 
---
We are using the 'Organization Chart' feature provided only to the paid team. With this feature, we can also display four-level positions in each profile: Managers, Team Leaders, the directors, and the representatives. Organizing topics according to your organizational chart makes it easy to find chat rooms. For example, we have 13 offline offices and operate each branch topic following the region.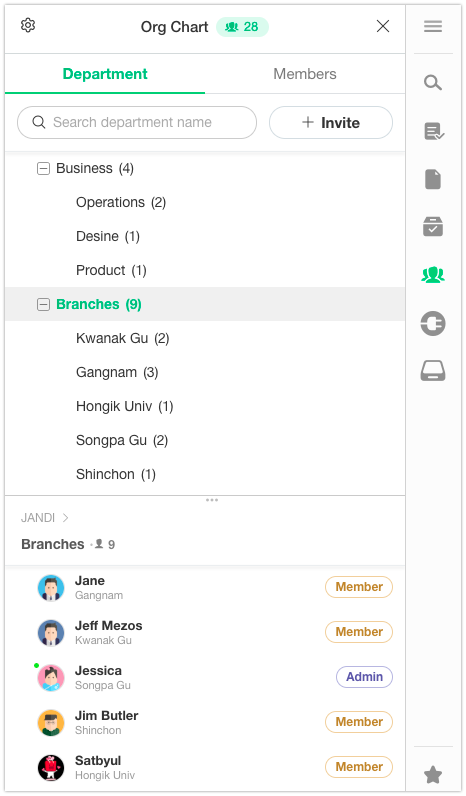 ㅣ Topic naming rule is set
---
Each department has a code to add to the topic name. When two departments collaborate or have a temporary task force project topic, they name the topic according to their own labeling rules. Topics that have been used are marked with an X in front of them to indicate that they are closed. We called this rule as a 'JANDI Topic decimal classification method' created based on the idea of the library's book classification.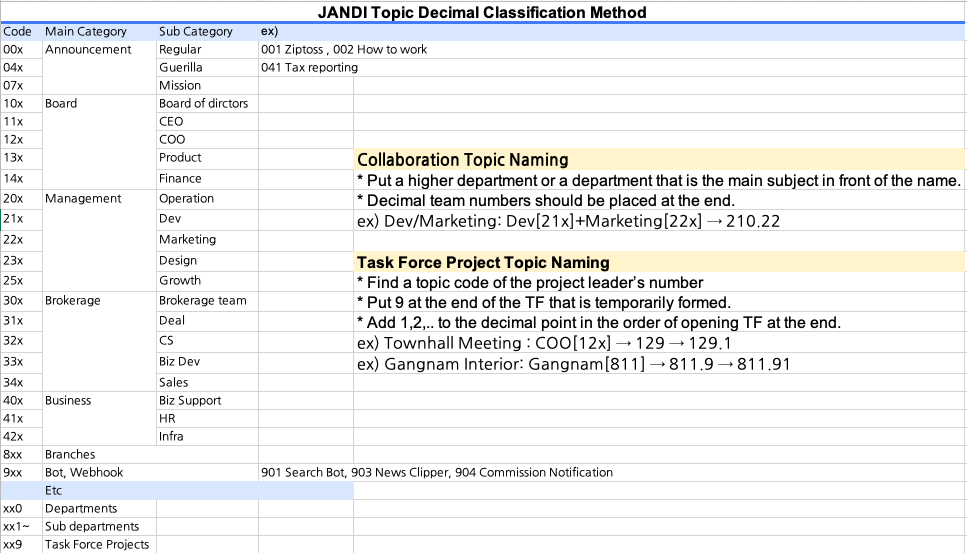 ⬇︎

ㅣ Task requests are managed as 'to do'.
---
There are things that the person in charge needs to modify or work with the data DB manually. In the case of Ziptoss, it is often necessary to revise the sales database. In this case, the modification request is managed as a 'to do' on the 'Sales Adjustment' topic. Create a 'to do' and assign the task to the person in charge, and check the detailed progress using comments. Schedules can be added if exact deadlines are required.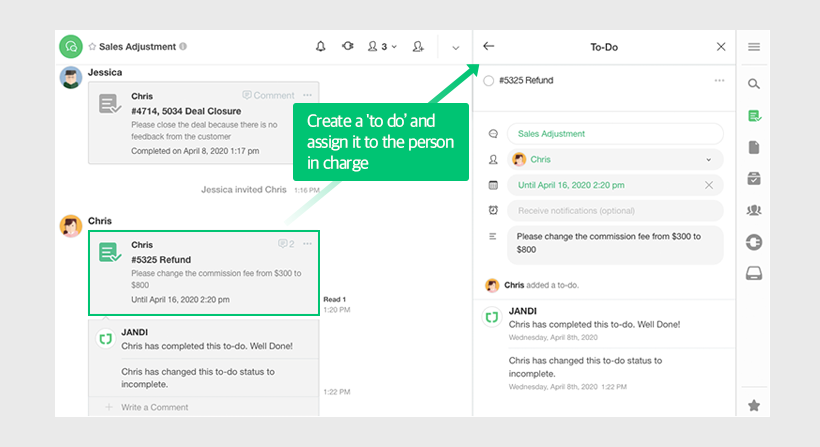 ㅣ Technical support requests using file-sharing to the 'Bug Report' topic. 
If you need direct technical support from the development team, you upload a file inquiry on the 'Technical Support' topic. Ziptoss recommends that you leave a request for technical support in a file because it is easy to share a file to the 'Bug Report' topic if additional development team help is needed. It is convenient for members of the development team to check the file itself without having to go back and forth through the chat room to identify the problem situation and discuss the solution.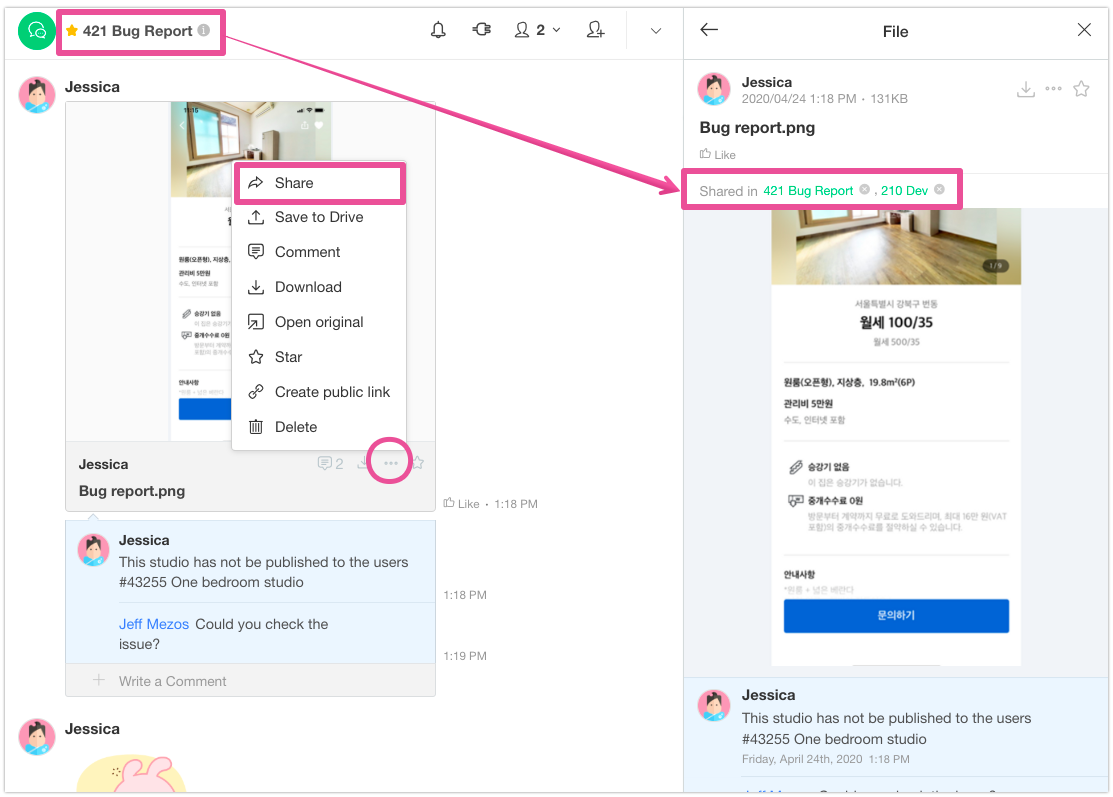 ㅣ Automate customer management tasks with webhooks.
---
If you look at our team JANDI Connect dashboard, there are more than 51 integrated incoming webhooks! Like many of the examples such as search and notification bots shown on the previous page, we are using webhooks very well. 
<Ziptoss Integrated Webhooks>
⬇︎

 In addition to the previous examples, Ziptoss is automatically notified by the 'Customer Response' topic message when the customer's voice or survey results are received. Not only can all CX team members share their voices in real-time, but they can also check if their representatives follow up. Customer's voice bot linked Google form with Google Apps Script .)
< Example of Connecting JANDI – Customer Messaging App >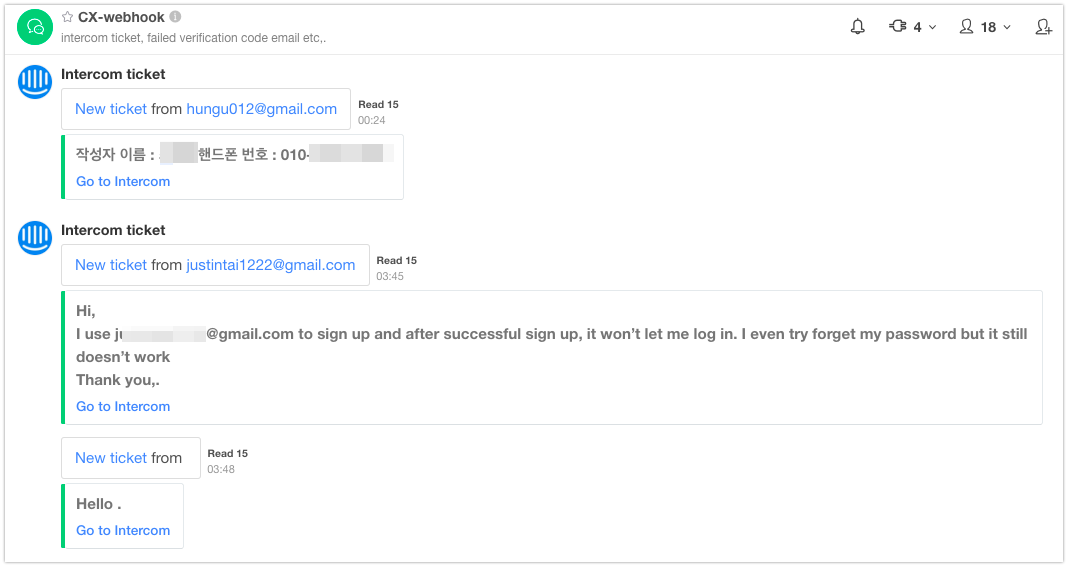 ㅣ Which company do you recommend JANDI for?
---

Since Ziptoss is an offline real estate company, we chose an easy collaboration tool to easily adapt to all fieldwork employees. It is a collaborative tool that can be used quickly by members of the offline work department without much training. 
It is also strongly recommended for companies that require organizational functions to introduce JANDI. This is because member profiles can be quickly searched and phone calls can be made even when physically separated or away.