How GC Genome realizes JANDI's infinite potential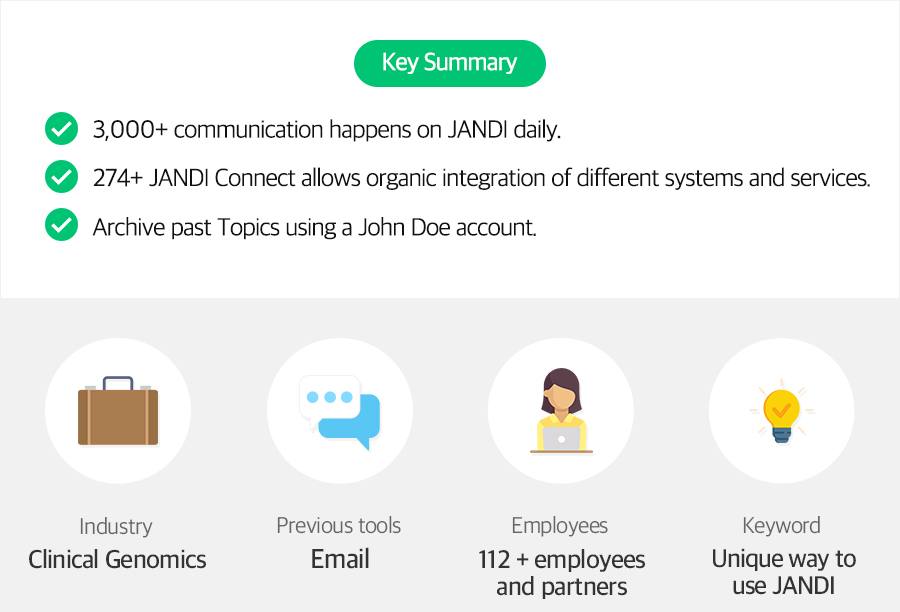 We are GC Genome, setting a frontier in clinical genomic diagnostics
---
Hello, I am Park So-jin, the director of GC Genome's Academic Marketing Team. GC Genome, established in 2013, is a subsidiary of Green Cross's genome analysis division and is conducting disease diagnosis service business through various genome analysis. GC Genome is changing the health industry's paradigm by realizing customized treatments using genome analysis information and is growing as a leader in the genome diagnostics market.
The academic marketing team is responsible for providing the correct value (product information/service/communication) of GC Genome products to customers by establishing various marketing strategies, planning, and operating products through extensive monitoring of customers, markets, and competition. Currently, 82 members of the company, including our team, and about 112 people, including representatives of domestic and overseas partners, are actively collaborating using JANDI. 
A Communication Channel Customized for GC Genome's Company Culture
---
I would say that the GC Genome is mostly comprised of a younger generation of people. Our employees' average age is in the 30s, and GC Genome is the first job for many of our members. They are full of energy and passion. So we needed a communication channel fit for the younger generation. 
Our CEO, who supports the youthful company culture, encouraged the review of services that enable collaboration between members regardless of time and place. The Precision Medicine Center (PMC) team directly compared and used various collaboration tools. Then the team adopted and utilized JANDI because it was the most convenient tool for collaboration. Then the PMC team spread its values ​​to the entire organization. As a result, the whole company is now using JANDI as a collaboration tool. 
When you take a look at GC Genome's JANDI Dashboard, you can see how active our members are communicating through JANDI. On average, 3000 messages are going back and forth on JANDI a day. That means each member sends at least 37 messages per day for efficient collaboration. The numbers show how JANDI settled itself in our company as the primary method for communication.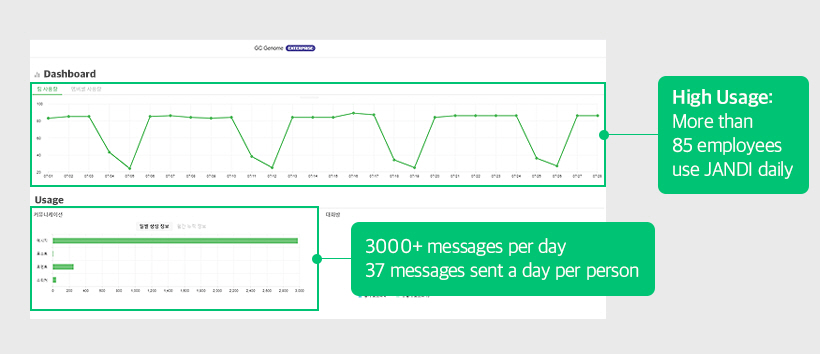 How the PMC team encouraged the entire organization to use JANDI
---
It was really due to the efforts of the Precision Medicine Center (PMC) that JANDI was able to take root deeply throughout the company. The PMC, which develops and operates a genome information diagnostics and clinical genome test management system, linked the System Management and Service Request system, which are involved in the overall workflow of GC Green Cross Genome, with JANDI through a webhook integration. 
For example, when tasks related to medical institution response tasks, inspections, and data analysis tasks show up in the system, real-time notifications are delivered to the person in charge via JANDI so that they can quickly comprehend the work progress. In particular, using the open-source n8n, which relays webhooks for linking with JANDI, we could connect with the system more flexibly.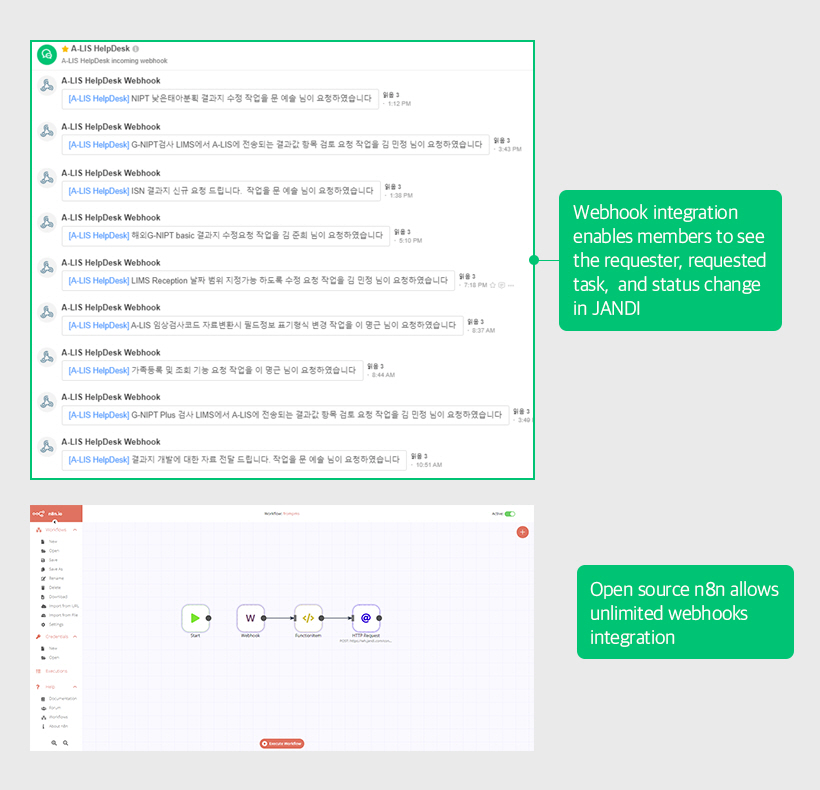 The era of integrating all systems in-house has come to an end.
We are now using loosely coupled services specialized for each area. 

– Dr. Kim Ji Hoon, Chief Director of PMC –
This way, the organization works faster and more efficiently by exchanging messages with each service through JANDI, an integrated communication hub, while taking full advantage of the unique strengths of each service.
The Precision Medicine Center informs members of how to easily integrate JANDI services without special technical knowledge and share the methods used to suit their own work throughout the company. That's how we were able to encourage everyone in the company to use JANDI actively. On top of more than 3000 messages sent in JANDI, we have more than 274 JANDI Connect integrations.  
274+ JANDI Connect Integrations boost up productivity
---

Integrate JANDI with the project management system 'Trello'
When there has been a change in your Trello or a request comes in, you can check the progress with JANDI notifications and proceed quickly. Even without special IT knowledge, you can connect with Trello with just a few clicks.

Receive academic information using RSS Integration
Before we adopted JANDI, our members had to manually search for new academic papers or articles and share them with the group using emails. Now that we have integrated Pubmed and FDA related articles using RSS, we can automatically receive notifications in JANDI. This way, it is more efficient to share such information with our members. Not only does it reduce the burden on the employee's workload, but it also provides quick access to information in real-time.
Don't miss out on events by integrating Google Calendar in JANDI
You can check the schedule of members in other departments and schedule meetings. The event reminder feature will help you to keep up with your task-related events. 
Integrate the customer service platform to JANDI
We were introduced to Channel Talk (a CRM tool) through the JANDI Blog. Because it can be integrated with JANDI, we have decided to use Channel Talk as a customer service platform. 

Create Weather Forecast Bot and Translator Bot 
Using JANDI's Outgoing Webhook integration feature, we can create and use a weather forecast bot and a translator bot. With these bots, we can check the weather in real-time and translate into various languages, including English, Japanese, Vietnamese, Indonesian, Chinese, Spanish, French, Russian, Thai, German, and Italian.  
'John Doe' to the rescue for old Topics
---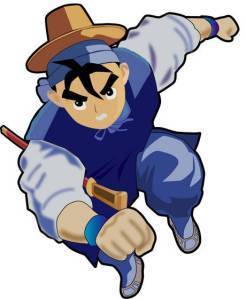 As JANDI becomes the main communication channel, topics and chat rooms naturally increase. If you want to keep the data in a Topic, but do not wish them to appear on your Topic list, you invite 'John Doe.' Keep in mind, John Doe is not an actual employee of our organization. He is just a fake account. However, we all understand that once John Doe enters the Topic, we all leave. Everyone who used to be in the Topic leaves, but John Doe will stay in the Topic, along with all the messages and data, archiving the Topic.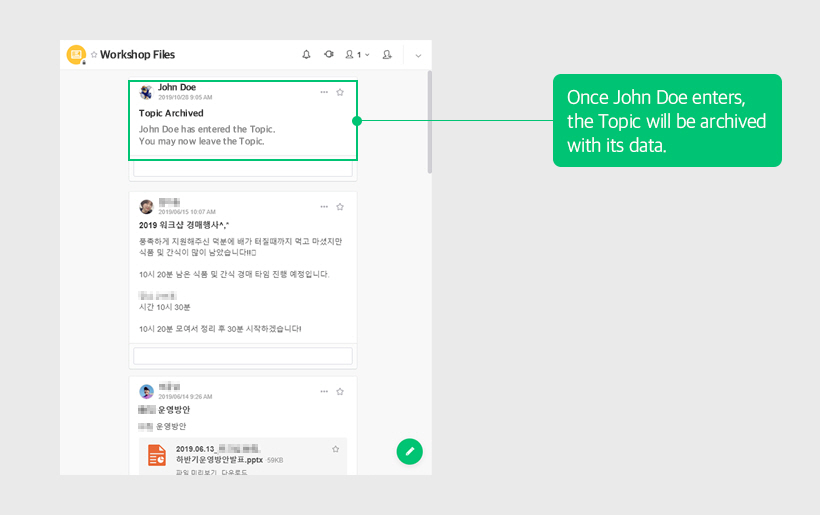 By having a John Doe figure account, the group can have a clear standard of 'old information' and focus on the newer and more critical Topics. There is no concern about data loss because all the vital data is stored permanently in JANDI. Now, How can you find messages or files after you have left a topic? Set your search filters and simply search them, and they will appear. If you have problems finding the right information, always ask John Doe to invite you to the topic. 
Then who should play the 'John Doe' figure? For smoother management, the Team Admin who has the least possibility of leaving the Team should be in charge of the John Doe account. In GC Genome, the John Doe Admin is working hard every day to archive old Topics!
We recommend JANDI
---
JANDI is recommended for organizations that are
sensitive to change and adapt quickly, just like ours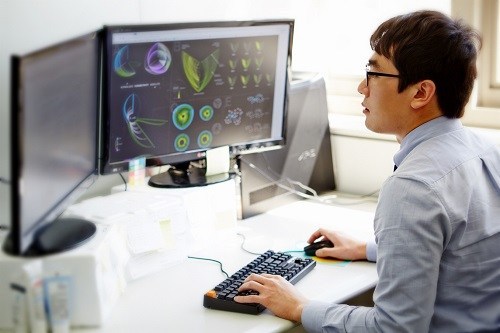 GC Genome is an R&D company that responds quickly to market demands. Because our company responds quickly to changes, it is necessary to collect information without misunderstanding or omission, make quick decisions, and communicate simultaneously. To this end, integrated communication channels within the organization are of paramount importance, and JANDI plays a significant role.
What does JANDI mean to GC Genome?
---
JANDI is a new world with abundant potential and
a hub for loosely coupled services.
JANDI is a service that has endless possibilities depending on how you use it. From organically connecting GC Genome's system to JANDI using JANDI Connect, to creating a virtual member called John Doe for a unique way to archive a topic, GC Genome was able to utilize JANDI in such a unique way because we explored JANDI to reach its full potential. 
In the future, we will continue researching and pioneering ways that JANDI can create synergies with various Loosely Coupled services and contribute to improving the organization's work productivity. JANDI is a new continent with many possibilities to empower the pioneering spirit of the frontier GC in the field of clinical genomes.