[IT] Provider of a Safe Preview Feature, Synapsoft, Chose JANDI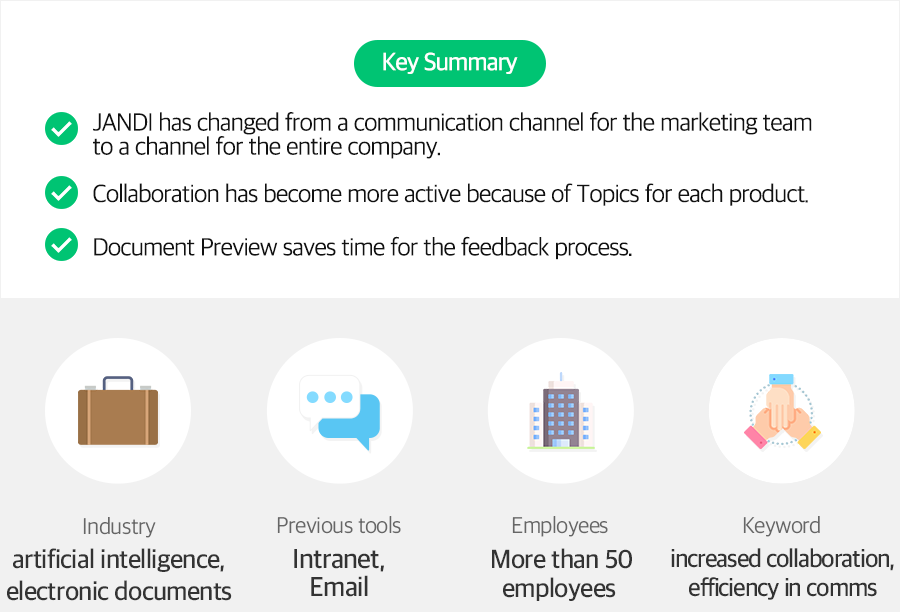 Hello! My name is Hyun-sun Eo, head of the marketing team of Synapsoft, a company specializing in artificial intelligence and electronic documents. Synapsoft was established in 2000 and is well known as Korea's leading electronic document processing company. Synapsoft is one of the few software companies that can supply web office suites. We provide the Synap document viewer used by 6600+ companies and public institutions in Korea, the Synap editor that changed the paradigm of HTML5 web editor, and the Synap document filter used in large domestic portals and search engines. We are preparing for a new leap forward as a company specializing in artificial intelligence and electronic documents through AI technology based on electronic document processing technology accumulated over the past 20 years.
The marketing team is in charge of planning tasks for product development and improvement to meet customer needs. We also carry out activities to inform customers of the value of products. Currently, every employee of Synapsoft is collaborating on JANDI.
Different Topics for Each Product

---
The 'document preview' that you can experience in JANDI is the Synap Document Viewer provided by Synapsoft. The three major portals in Korea like Naver, Nate, and Daum, uses Synapsoft's viewer in their email and drive. Also, most public institution websites provide document preview using Synap Document Viewer.
In addition to the Synap Document Viewer that any Korean citizen has experienced at least once, SynapSoft supplies various products based on electronic documents. To improve products for each of the six product lineups, we continuously communicate with the development, support, and sales team to establish solutions improvement directions and reflect on products. Team members from different teams such as development, sales, and marketing actively discuss effective marketing measures and new features that reflect the needs of customers and the market in the following product-specific Topics.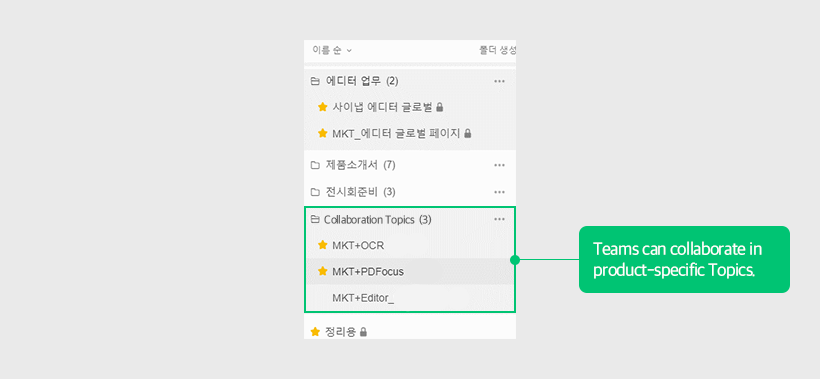 Expanding JANDI Company-wide

---
JANDI was used by the marketing team first, and its value was spread throughout the company. At the time, we were preparing to launch a new product, but we had to discuss and decide on various proposals efficiently in a short period. Our team completed the project in a short time by immediately discussing and making decisions about documents or images related to the project with JANDI's document preview.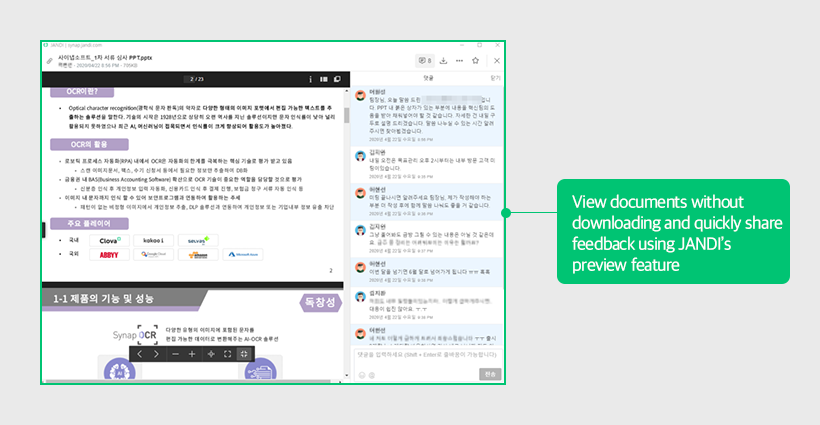 After the project, I realized that the entire company could properly utilize JANDI rather than use it as a collaboration tool only for the marketing team, so I actively spread it throughout the company. JANDI has created a synergy effect with services that we were already using, including JIRA, GitHub, and the intranet, and naturally settled as the collaboration tool for the entire company.
After introducing JANDI, the development headquarters and business headquarters' traffic volume increased despite separate workspaces. The speed of collaboration improved remarkably by enabling immediate communication rather than e-mail communication.
Faster Feedback

---
In the Marketing team, we often exchange various files, such as images and documents. Previously, even for simple image production, you had to attach an image to an e-mail and send an e-mail asking for confirmation. Upon receiving feedback, you had to rework and send a reconfirmation e-mail. Because we communicated mainly with text, we weren't sure if the content was correct. However, after adopting JANDI, we can immediately check images or files and share feedback through comments, significantly improving work efficiency for design results.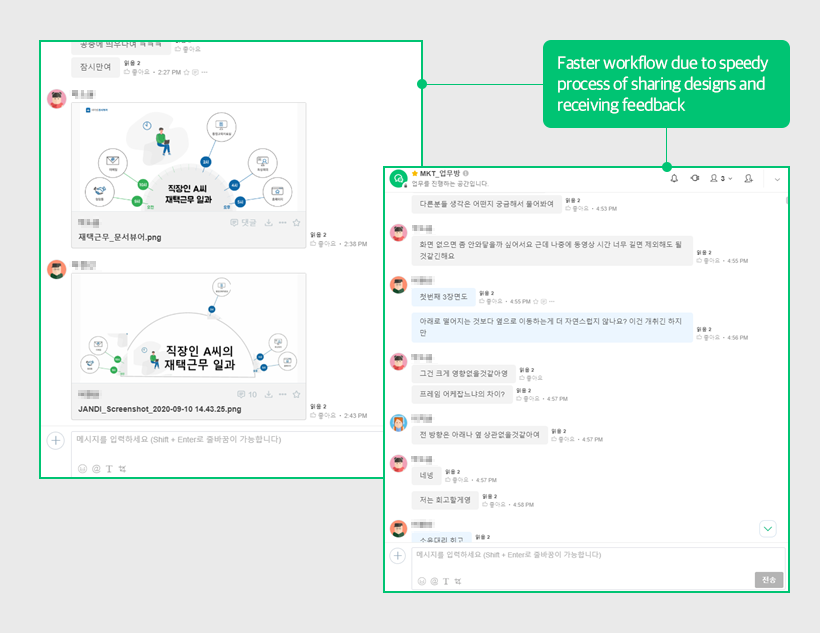 JANDI Tips for Increasing Work Efficiency for the Entire Company

---
Leave Memos using @ Mention
If the person in charge is absent, you can respond more flexibly than leave a handwritten memo. When customer inquiries come in, use @mentions in the topic and forward the message to the person in charge. By using JANDI, companies can respond to customers quickly without losing business opportunities.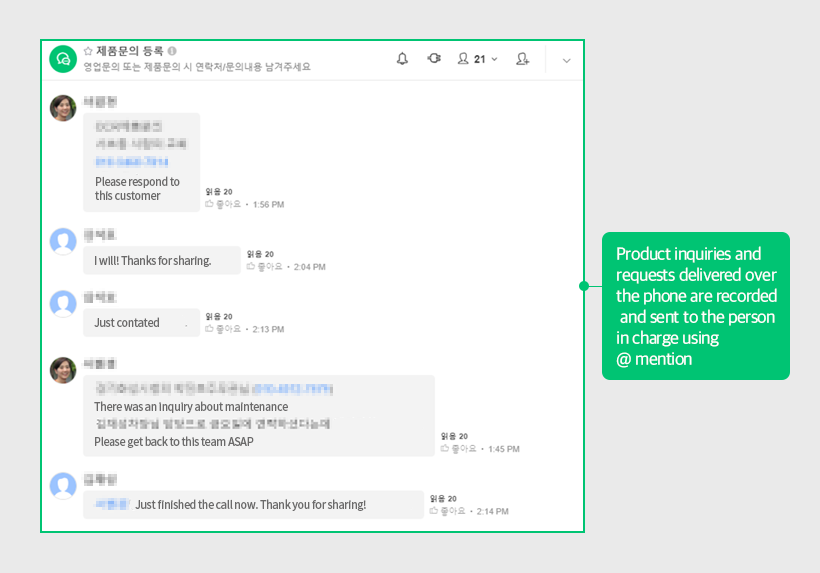 Knowledge Sharing Topics
To keep pace with the rapidly changing IT environment, we have created a Topic called knowledge sharing and share technical information, sales information, and market trends related to company solutions. Anyone who joins the Topic can view the direction and the news about the industry.
Manage the Sales Kit, a Must for Sales
Since JANDI is accessible anywhere and anytime and provides the document preview feature, the sales team continuously uploads sales documents such as solution introduction slides, brochures, and company introduction data. You can check all the history of the documents from the old version to the latest one, and it helps the sales team as you can quickly access the latest data from any device at any time.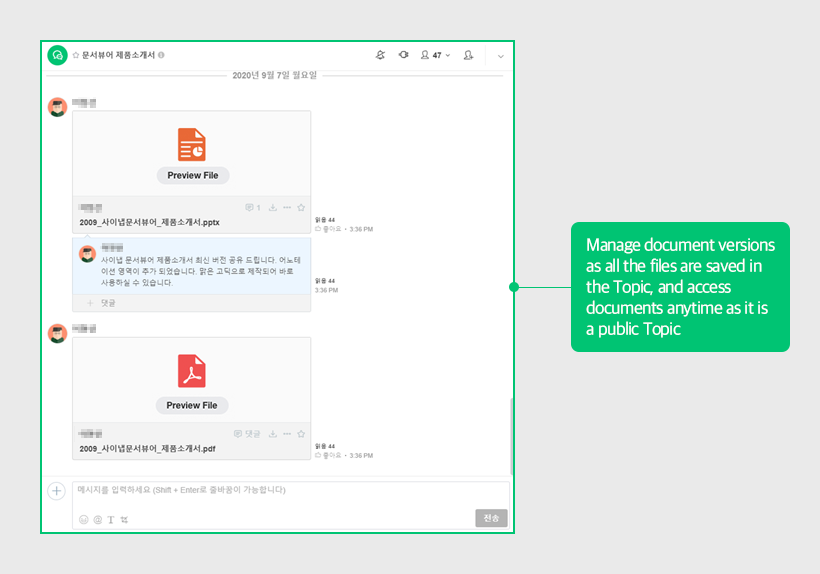 Integrate Google Calendar
You can manage team schedules by integrating JANDI and Google Calendar. Event reminders will help you finish all your tasks on time. Checking the schedule of your team members will help your team to collaborate more efficiently.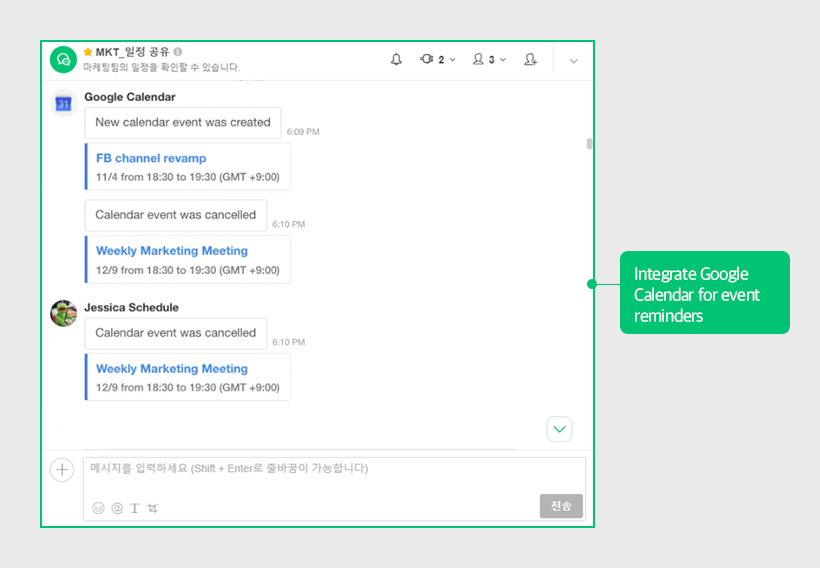 Real-time issue identification through JIRA integration
Synapsoft manages issues using JIRA. You can easily integrate JIRA with JANDI using JANDI Connect. You can view the issue handling process through Topic notifications.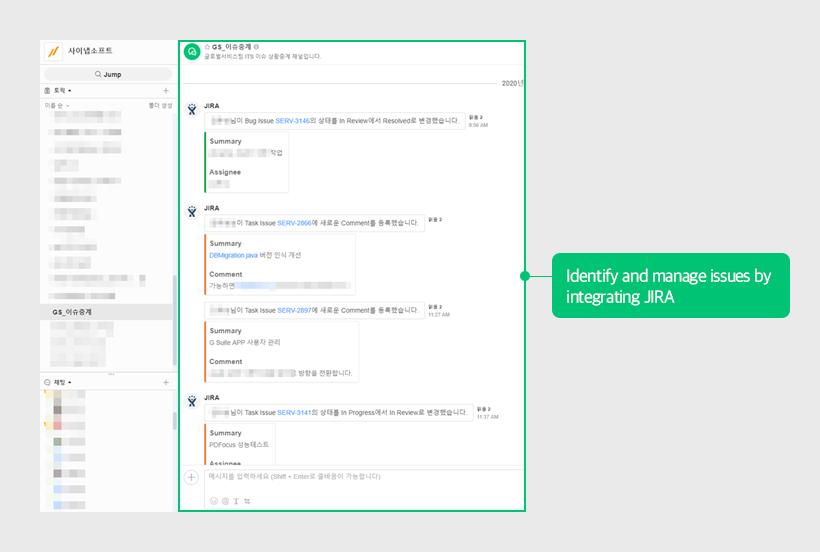 JANDI Increases Company-wide Communication

---
SynapSoft could post necessary content and work through its own intranet and manage individual schedules for members. However, if the members do not frequently check for new posts on the intranet, they might miss important information. After using JANDI, we share essential announcements on the intranet and the announcement Topic in JANDI. This way, we can make sure we deliver the message to everyone because they will receive JANDI notifications.
The 'Read' stamp will let you check how many people have read your message. JANDI is also contributing to the spread of major company contents.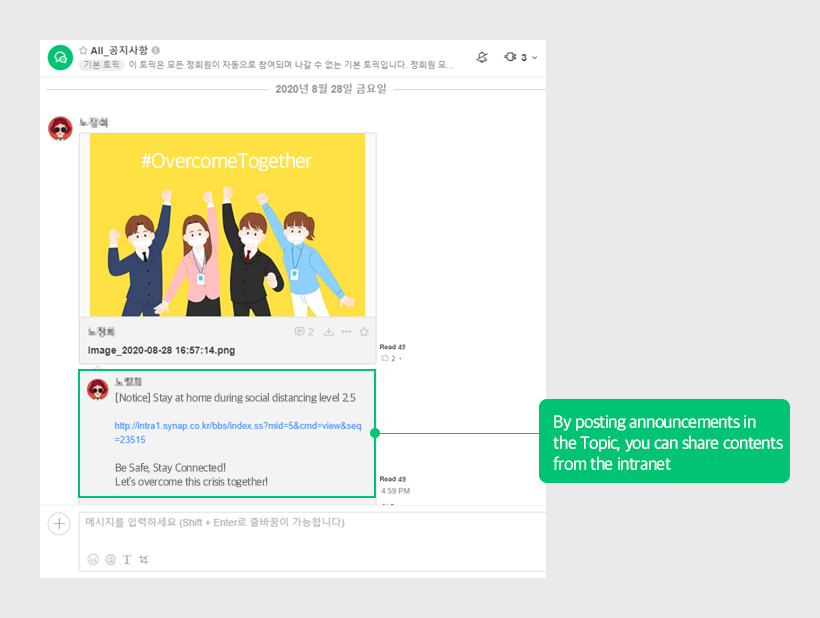 We Recommend JANDI

---
We recommend JANDI for companies
that share and utilize document contents.
Most of the company's important information and assets are left in the form of various contents such as documents. We recommend JANDI to companies whose contents are systematically managed, accessible anytime, anywhere, and where members share opinions on the document and develop it together. In addition, JANDI is recommended for companies that want to secure corporate information and collaborate efficiently, safe from the risk of valuable information assets being downloaded to mobile devices and leaked.
What Does JANDI Mean to Synapsoft?

---
We deliver the most essential 'security' values ​​to companies together.
JANDI has been providing Synapsoft's document preview solution as a basic feature of JANDI since 2017.JANDI has been continuously contemplating to provide a safer way to share documents at companies and collaborating with Synapsoft to deliver a secure document viewer to users.
JANDI is the most active collaboration tool with the value of "safe document viewing" which SynapSoft pursues, and both companies are working together to provide safer collaboration environment to companies. We hope that more companies will continue to experience and empathize with the importance of safe sharing of documents through JANDI preview.