How JANDI Speeds Up Collaboration for the TEDxNTU Team
In this article, we will explore how National Taiwan University students organize TEDx events and their favorite JANDI features.
In the spirit of TED's mission, "ideas worth spreading", a group of NTU students were inspired by the idea and decided to team up to head the mission. The TEDxNationalTaiwanUniversity independently organized events to spark deep discussion and connection since 2016. We interviewed some active TEDxNTU members and learned their journey to bring awareness to society. Throughout the year, TEDxNTU has led multiple events including intellectual salons, Pitch Day to shortlist speakers for the annual TED conference, and the TED conference itself. Besides public events, driving digital awareness was one of their main goals as well. In a short amount of time, TEDxNTU has grown its Facebook fan base to 5,000 followers.  
TEDxNTU was led by 32 students and consisted of 6 departments, including event planning, speaker arrangement, content marketing, public relations, design, and finance. When the TEDxNTU committee was founded, multiple collaboration and communication platforms were used across the team. Their main communication channels were Facebook with multiple groups and Messenger chats with conversation threads. When information related to events and projects was scattered on different platforms, the TEDxNTU team had to constantly jump from tool to tool just to gather information on different parts of projects.
Because speed and efficiency are critical in event planning, the team at TEDxNTU knew they needed a more sustainable, scalable way to work better together without losing precious time. To do that, Yi-Rou Chen, head of the event planning department, introduced a collaboration medium, JANDI, which would save TEDxNTU an immeasurable amount of time, and in the long term, boosting their brainstorming quality and planning ability.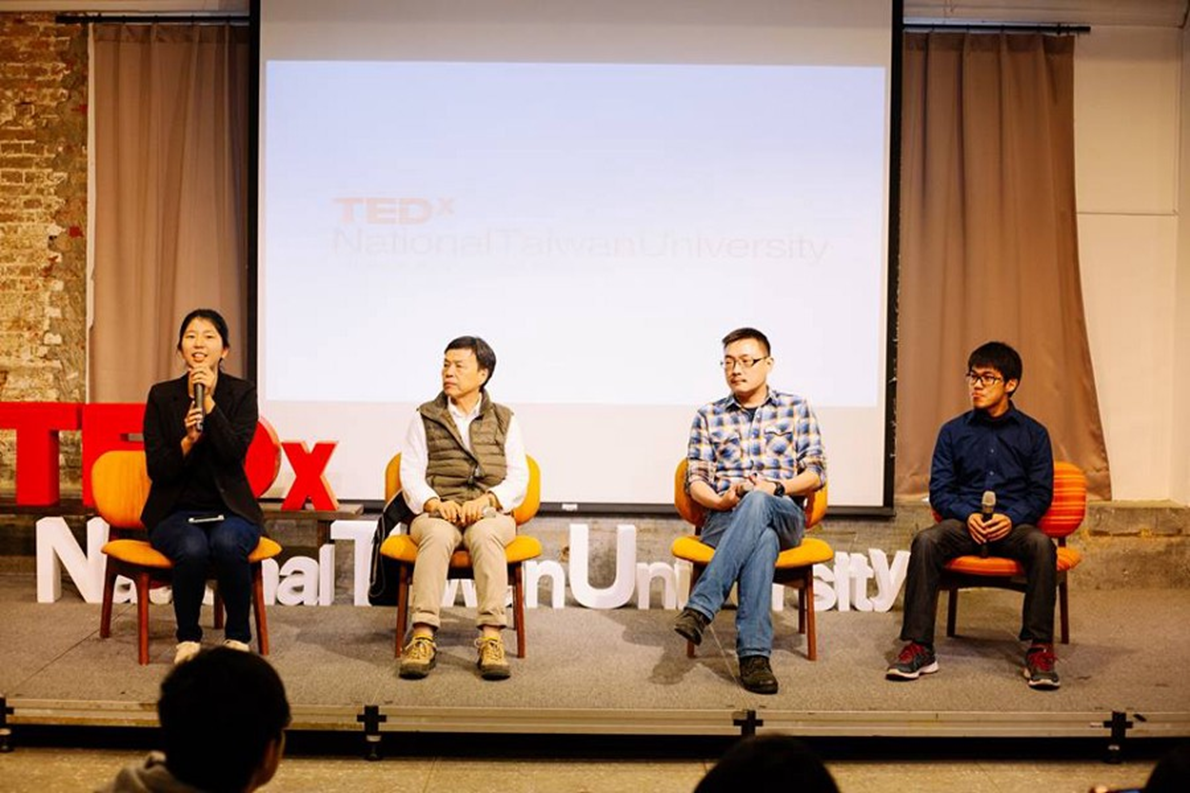 JANDI Provides a Single Space for Event Project Planning
---
When the members were introduced to JANDI, it took them some time to adapt to a whole new tool. Nevertheless, they were very quick to get on board with the idea of a proper file and information management method.
Member of the public relations department Xin-Xian Lin says collaborating on Facebook was distracting as it was also a channel where casual and personal conversations took place. "It is not practical to work on Facebook. I would have to befriend members I am working with and that might expose personal information. At times, messages might end up in the spam inbox or message notifications may be turned off, causing a delay in the workflow.", she explained.
Han-Yu Cai, executive secretary of TEDxNTU also remembered, "It was so frequent that I spent most of my time searching for the right groups and documents on Facebook and Messenger. What's more frustrating was, unrelated search results that came along were causing distractions. There's got to be a smarter way to do this."
We later adopted JANDI at TEDxNTU to help us bring all the departments together at various stages through the event planning cycle. It's an integrated online collaboration tool for team communication.

– TEDxNTU
Xin-Xian said that with JANDI, she was able to send private messages to certain people in the team by referring to the organizational chart. More importantly, tasks get checked off faster than on Facebook or Messenger. Since JANDI provides one-on-one communication, there's no need for collecting phone numbers or hunting for the acquaintance on Facebook.
As the TEDxNTU team grew throughout the time, soon enough the team was swamped with projects. That's when JANDI topics – another feature where multiple users can participate in a discussion – came in handy. JANDI topics feature provides a space for collecting recording minutes, comments and files. Most important of all, the team can manage tasks without physically being at the same time and same place.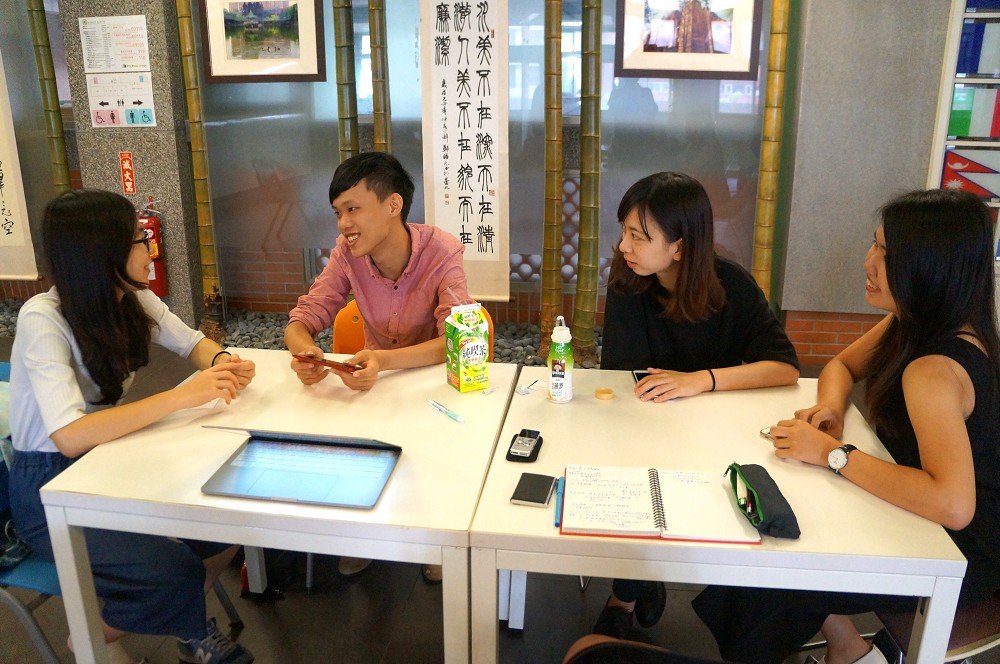 Besides, TEDxNTU members would use JANDI Drive to store project proposals and meeting minutes, where the documents are accessible for newcomers. In an initiative to collaborate outside the institution, TEDxNTU's executive secretary, Han-Yu Cai reached out to other TEDx organizers such as TEDxYuanZeUniversity to exchange ideas and best practices on event planning. These are then documented and kept in JANDI Drive for future references. JANDI Drive saves TEDxNTU team members time and energy and allows newcomers to have a full picture of previous projects.
Searchable Conversation and Organized Files Space Functions
---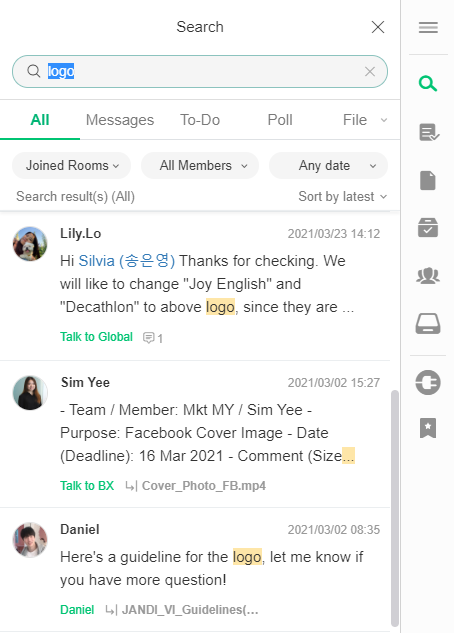 An-Hong Tong, secretary of TEDxNTU, described how JANDI allows people to organize discussion topics and files into folders easily. Eventually, JANDI turns messy group discussions into a neat workspace. "It can get overwhelming to engage in almost every chat room in JANDI, but it's easy to move JANDI topics around and sort them," he said."I think JANDI's chat folder and JDrive are better than casual messaging apps because I can rearrange any group chats however I like." An-Hong Tong concluded.
As the conversation and files multiplied, he could then leverage JANDI's smart search feature to recall information needed and share them with others on his team. "I can comment and tag other members, and we can continue our discussion right in JANDI."
Jandi Helped TEDxNTU Cultivate a Great Collaborative Environment
---
Interpersonal skills are important to TEDxNTU, where cross-functional collaboration is practiced to invite new challenges and learning opportunities for the team. Despite the chaotic nature of event management, the planning team had strived to maintain a collaborative and respectful environment throughout the entire year.
We believe that tolerance is crucial for people to live together peacefully. To be tolerant means that you respect others' opinions and preferences with open-mindedness and empathy.

– TEDxNTU Team
The team leveraged JANDI to enable a channel for empathy and collaboration. "Because we have JANDI, it feels like we're all acquiring people skills together in the process. I used to struggle with communicating with teammates who only cared about the technical aspect of a project. They became people that I enjoy brainstorming with." said Han-Yu Cai.
---
Interested to visualize how JANDI can be implemented for your student association? Contact our country representative today to get a personalized walkthrough.
If you prefer to check out JANDI at your own time, we've created a testbed simulating a student council space for you to tour. Check it out!
This blog content was originally written in Taiwanese Chinese and translated. To read the original article, visit here.