[Agency] Korean Owner's Story of Running a Factory in Vietnam via JANDI
JANDI, Change Work : Elizabeth seSE

" From furniture production to delivery,
all tasks are managed by JANDI."

l Please introduce Elizabeth seSE?
---
Hello, my name is Kim Se Young, and I am the CEO of Elizabeth seSE.
In 2007, I was appointed to Ho Chi Minh City, Vietnam, as a staff of a furniture company. Since then, I have been working in the furniture industry, and now I am working as a furniture export agent.
Elizabeth seSE is a local furniture export agent in Vietnam.
There are many furniture importer companies that import furniture from Vietnam to Korea using many different routes. However, coming to Vietnam, finding a factory, ordering and importing furniture to Korea is not an easy task. We work as a furniture export agent in Vietnam, where we have many tips in handling the importation of furniture, covering everything from beginning to end for clients.
The Vietnamese colleagues have been calling me 'Sese' because they had difficulty pronouncing my Korean name. That's why I decided to name my company 'Elizabeth seSE' after that nickname. 😉
<Factory in Vietnam producing furniture>
l Reason for using JANDI?
---
There is something I always say to those who work with me.
"Please install JANDI
if you want to work with me"
<CEO Kim's personal messager profile requesting business contact via JANDI>
We did not use any other types of communication tools before JANDI. I've searched a lot on the Internet to see if there existed communication tools that fit our unordinary and complex agent work. We then came across JANDI and used it. The way that we collaborate where there were no unnecessary chats went well with our company's business, which was being a furniture export agent.
1. Vietnamese people use Zalo, a personal messenger. It was inconvenient for business.
Like Kakaotalk in Korea, Zalo, a personal messenger, in Vietnam is used not only for personal purposes but also for business. But Zalo is confusing because personal matters and business-related contents are not clearly distinguished.
At the same time, there are clients who ask you to e-mail them for business. But as you may know, it was difficult to catch up on what was going on in the factory via e-mails, where there were too many ongoing projects.
Just like many other companies, we used Kakaotalk to do business with Korean buyers and Zalo for Vietnamese members. But we thought that it was making things more difficult since we were only communicating one-to-one with the person in charge, not being able to organize tasks in a unified communication channel. We had to juggle between Kakaotalk, Zalo, and emails. That's why I suggested to our clients that we work only with JANDI, and we use neither personal messengers nor e-mails since then.
2. Anyone can use JANDI without training.
We have tested Taskworld, a project management service to check order status. It was difficult for our Vietnamese employees to use. We have to work with a wide range of people, from office employees to filed employees actually producing products in over 10 furniture factories, and it is not easy to educate each and every member. But JANDI was easy and simple to use, and that's why we implemented JANDI as our collaborative tool.
< Members working conveniently with JANDI in a café'>
l Show your JANDI use cases! 
---
1. Create a topic naming rule. 
Topics are created for each container that has received the furniture order. In our company, finishing one task means that we have finished loading the containers for furniture delivery on the ship. So we have created our own topic naming rule that tells us how our orders are going just by looking at topic names. The rules for naming topics are as follows.

<Topic name tells at-a-glance view of the order's progress>
If you create topic titles based on the progress of your task, it is easy to find out what's going on with just a glance, since the topics are automatically arranged in alphabetical order.
For example, if there is a – mark in front of the topic, it is soon going to be in progress. If there is a + mark, it is already in production. Like this, we change the symbol in front of the topic according to the progress of the task. Finally, when the container of the topic is loaded onto the ship, we put mark X in front of the topic, meaning that it is a completed task.
Due to the nature of our business, we often have to revisit order requests that have already been completed. So we don't immediately delete the topic. We leave it there for a certain amount of time. It is our pride to organize our topics according to projects and managing order status by using our own sense of business. : )
It is also useful to use the JUMP(shortcut: Ctrl + J) to navigate to the topic you want using the 'Search Chat Room' function when the number of topics continues to increase.
<Topics arranged according to orders>
2. Record the details of orders in To-Do.
I have told you that each topic is a task loading the container onto the ship. Within the topic, there are always To-Do's called ORDER SHEETs, where details of the order for the container of the delivered furniture are recorded.
<Order sheet To-Do for each container made as a set for each topic>
This ORDER SHEET, which is engraved into each topic like a heart, also has rules for creation. Make order details for each topic titled 'Order-Sheet – Model Name(No.)' and record the in the To-Do description for a total of 27 items, including size, quantity, material, cushion, destination port, etc. With only the Order Sheet on the topic, you can quickly see the details of the order.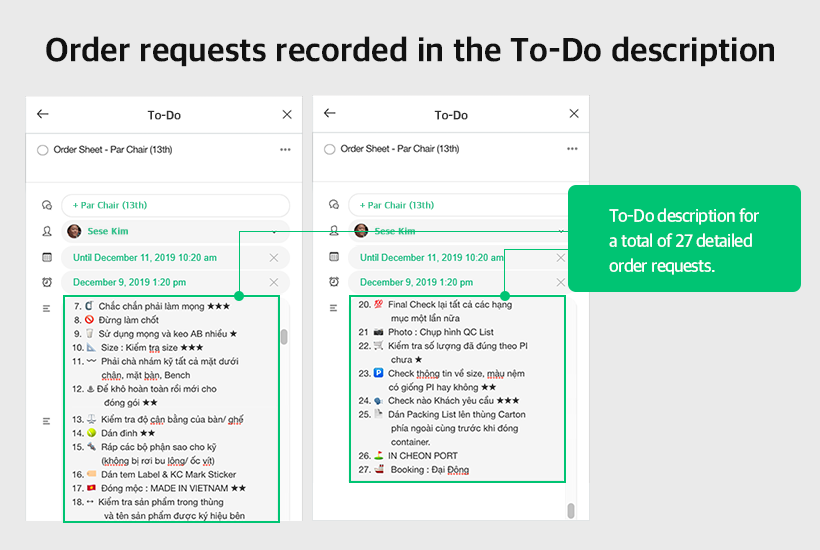 <Details of the order recorded in the description section of the Order Sheet>
3. Set To-Do alerts for every five days.
Generally, one container delivery period takes a total of 45 days. We divide this order period and set up a To-Do notification that alerts you once in every five days. It helps to check various items and orders requests at regular intervals from the beginning of the task until the container is shipped. If it is an urgent task, you can also set notification alerts that are shorter than five days.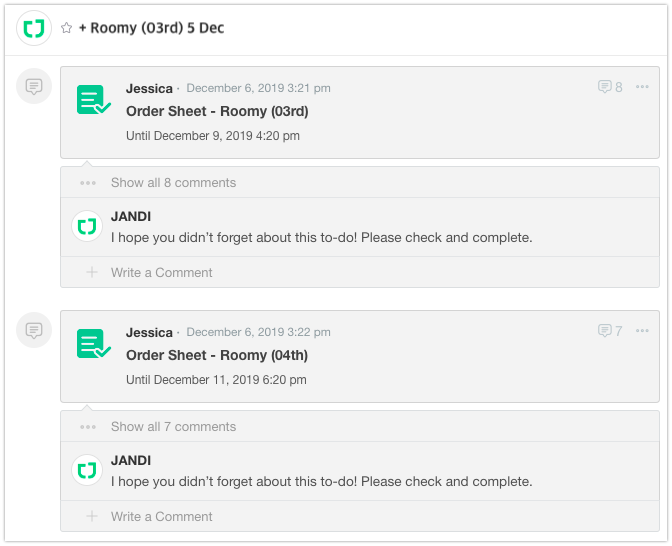 <Reminder alert for Order Sheet To-Do's set at interval>
4. Share photos to check product status.
When loading products onto the ship, we take a picture of the product. For example, before closing doors to the container, our staffs take a picture of the luggage and upload it directly to JANDI to check product status together. Real-time observation of product defects and delivery status is available. It is very convenient since you can upload photos taken by your phone directly onto JANDI. This is a very basic function, but we also use the 'search frequently uploaded files' feature.
<Employees upload pictures to check product quality>
<Pictures of loaded products were taken and shared with buyers>
l What has changed after using JANDI?
---
We have become able to organize and manage lots of concurrent work. Project management using the concept of 'Topic = One Container Order' has made everything organized, and business management has become easier.
Becoming used to giving and taking feedback on JANDI and organizing meetings in messages without having an offline meeting with staff on-site has also reduced the amount of unnecessary time spent on offline meetings.
Searching for files or work contents has become faster and easier than it has been when we worked with e-mails in the past, increasing work performance.
l Are there any business characteristics for Vietnamese companies or employees?
---
There aren't many differences in the way Vietnamese companies and employees work, compared with foreign companies or employees. I think that Vietnam is the country that works most like Koreans. As they manage everything, from furniture processes to orders, production, and exports, smooth communication with factories' on-site staff is very important. In keeping with these characteristics, we've been able to run the company smoothly until today, thanks to the Vietnamese employees who have been working very kindly and efficiently.
Making sure that deals run smoothly between furniture importers in Korea and exporters running factories in Vietnam, that is what we, Elizabeth seSE do. We do everything related to business on JANDI.
<The Third Anniversary Party of CEO Kim Se-Young and the Domestic Team>
l Do you have any advice for those running companies in Vietnam?
---
I recommend you not to be in a hurry. Gain some experience, sufficiently understand Vietnamese culture and language before starting a business. I also strongly recommend that you learn Vietnamese. I think that Vietnamese has simple and easy words and sentence structures. If you learn Vietnamese, you know your local language and can work in your own way; otherwise, you will always have to rely on interpreters. I believe that confidence in business abroad depends on whether you can speak that local language.
In relation, our company has participated in the translation process for the launch of JANDI in Vietnamese. We are very pleased to use JANDI in Vietnamese.
l Where do you recommend JANDI?
---
We strongly recommend JANDI to factories
with a large number of on-site production personnel.
Many factories are moving from China to Vietnam. In line with these changes, we recommend JANDI to factories with a large number of on-site production workers. Factories have a large number of production workers as well as management positions, and Vietnamese sewing companies, in particular, are especially large. There are some cases where effective processing or management of processes is difficult, in addition to the fact that the factory itself is large and that it has many people. I think that it would be good to create topics according to projects and check the organized schedules and work status. For companies that have high export volumes and enough budgets, I recommend to use JANDI for a further increase in productivity.
P.S. We interviewed Vietnam's Kim Se-Young using video call,
provided by JANDI's Enterprise Plan.