[Manufacturing] 60 years of tradition company chose JANDI for business innovation
JANDI, Change Work: Dongsung Group

" The vertical culture of Dongsung was able to change
into a horizontal culture "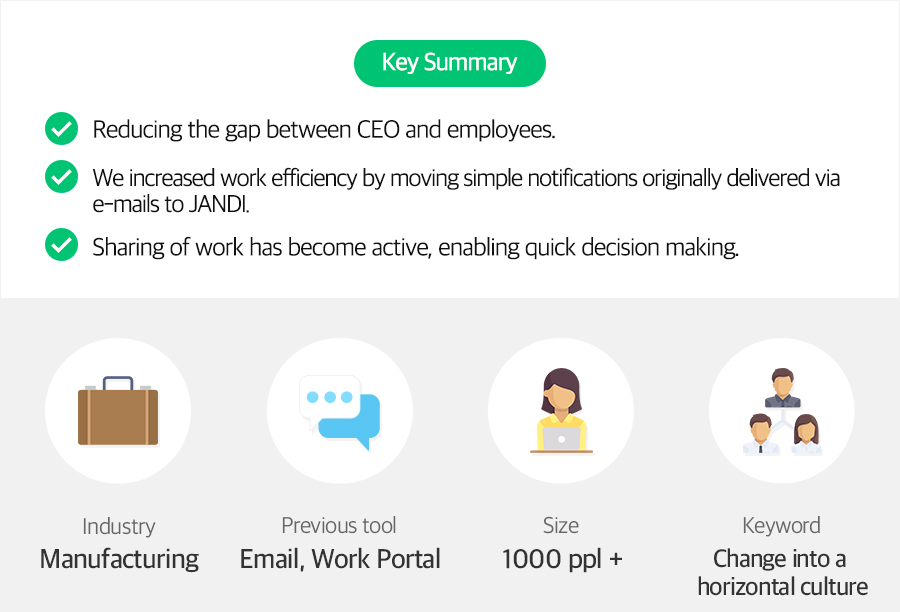 l About Donsung Group
---
Dongsung Corporation, which started its business with basic petrochemicals in 1959, has three business groups: Chemical, Environment and Bio, and five subsidiaries. Dongsung consists of 'Dongsung Corporations' of petrochemicals, fine chemicals, 'Dongsung Chemical' of polyurethane materials for shoes and fibers, and industrial sound absorption materials. 'Dongsung Finetec' of cryogenic coolants, 'Dongsung TCS' for aviation materials, heavy equipment components, and 'Genewel' of wet dressing and anti-adhesion preventors are also our business fields.
Dongsung Corporation is a company that turned 60 this year that seeks change based on the past and present times. "Wen Gu Zhi Xin" which means the importance of "reviewing the past, if we want to know about the future" is our team spirit. We continuously carry out social contribution activities to grow with our local neighbors. We also invite famous instructors to give lectures to employees every month to enhance creativity and widen the perspective of our employees.
To break out from the rigid image of manufacturing companies, we have remodeled the lounge that shows the company's first impression, and we are constantly making changes including the use of JANDI, a collaborative tool, to create a horizontal culture.
l How was Dongsung's original work style?
---
" We used a traditional way,
which was a work portal and e-mails "
Our own made work portal was thought to be a big obstacle towards a horizontal corporate culture because it had a vertical reporting(approval) system. It was a one-way communication system where employees couldn't give feedback after a company-wide announcement. It took a long time to make even simple decisions through the process of prior reporting, meetings and getting internal approvals. Moreover, due to the limited features of the mobile version, real-time communication during off-site business has repeatedly been troublesome. That's why people keep sending personal messengers and phone calls rather than using the work portal.
l What was the beginning of the business innovation project?
---
" The way we worked was not suitable for reducing the gap between the old and the new generations "

Since 2018, the Korean government has regulated working hours from 52 hours to 40 hours a week.  This legal working time restriction made us consider a collaborative tool to improve work efficiency. Normally, many companies try to increase productivity in HR management or office interior perspectives.  However, we decided to use collaborative tools would be more cost-effective than changing the workspace or hiring more people. We chose JANDI for business innovation.
After using all nine major collaborative tools in Korea including JANDI, Slack, MS Teams, and so on, we decided to go with JANDI. Even we made a comparison table of different collaborative tools to select the best collaboration tool.
l After reviewing 9 collaboration tools, what was the reason for choosing JANDI?
---
" JANDI was the easiest to adapt to, from employees to executives, JANDI is so easy to use "
JANDI is a messenger-type collaborative tool, having a great advantage of being able to communicate in real-time. A newsfeed-type collaboration tool eventually becomes less real-time and leads to looking for another fastly responded chats. The newsfeed-type communication tool is also structurally unstable to search. JANDI is more casual than e-mails. It is unnecessary to be formal. JANDI fits the horizontal corporate culture that we're pursuing.
---
Many advantages that JANDI had compared to other collaborative tools.
Easy to use for all employees without extra training
Can integrate existing work system such as E-approval, SAP, server monitoring, etc.
Chat rooms (topics) organized by project subject
Interactive real-time communication
Fast and professional customer support
Strong trust in JANDI team due to continuous updates
(Our trust piled up when we saw that JANDI kept changing even during our six-months of testing)
l What kind of efforts did Dongsung make to expand JANDI throughout the company?
---
Now all Dongsung's employees are actively using JANDI. First, who in charge of implementing a new work tool
" have to get rid of the thought that employees
will use new work tool on their own just by installing it "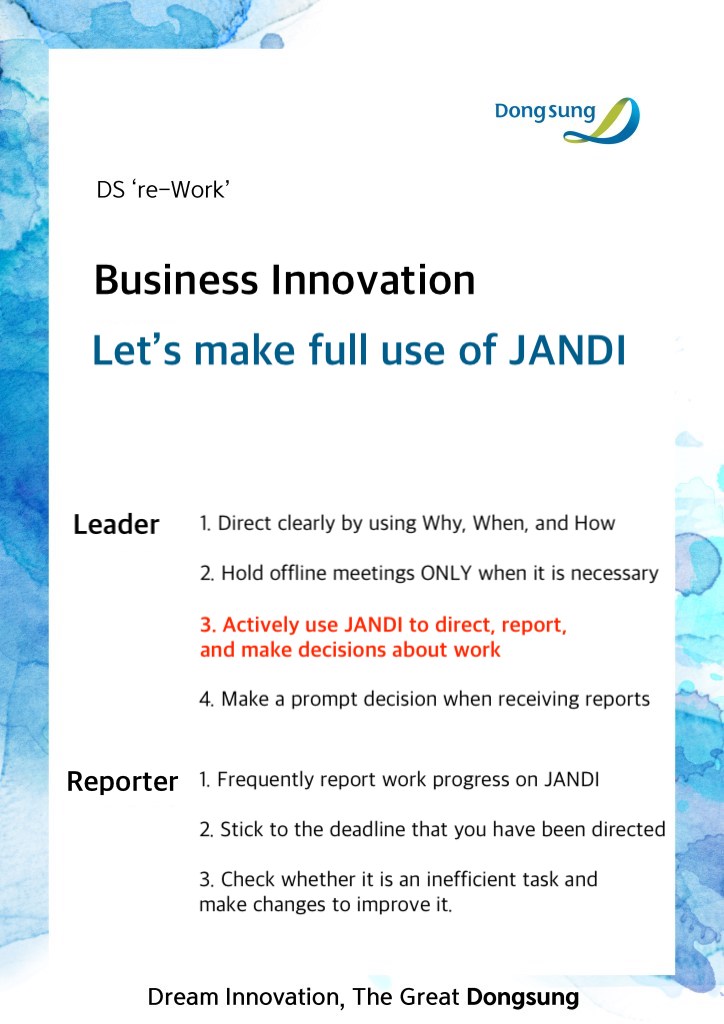 First of all, except for the essential functions of the work portal, we entirely moved to JANDI. It turns out that out of more than 20 old work portal features, the only thing that was essential was e-mails and e-approval. So we connect the e-approval system to JANDI and get real-time mobile notifications. JANDI spread quickly between employees because both the leaders in charge of approval and reporters who asked approvals became able to handle work quickly. It was innovative. By extension, we got rid of the other communication channels and crawled all announcements, community activities, news reports, and so on to JANDI.
Our 'corporate culture management' team guided employees one by one who did not read the message for a long time by using the 'Message Read Receipt' feature. Also, we made many informative announcements such as employee benefits only readable on JANDI topics.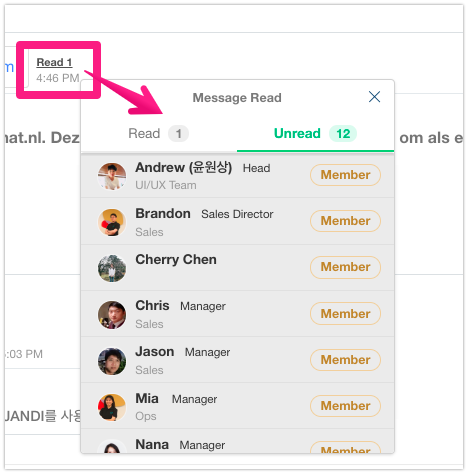 Finally, we think that the will of the management team is the most important of all. Even with the best tools, employees won't use it well if the executives don't use them. The president and the executive director also emphasized the importance of active internal communication and collaboration. They show good example communicated with employees through the actual use of JANDI and encouraged to change.
l Show Dongsung's JANDI use case!
---
E-Approval Notifications: The old work portal did not give notifications when authorization requests were made or approved. So it was very inconvenient to go on the system to check each of them. When approval requests are made JANDI sends notification messages. JANDI Connect speeds up the work process and the notifications are sent out immediately.
Server Monitoring and SAP Integration: We are receiving notices from JANDI about our major IT systems. We can check the server's status depending on the color of the webhook message so that the immediate handling of issues is possible. We also automated SAP closures. Originally, we used to check the financial analysis or revenue report data manually. But now we only have to give a quick glance at JANDI summary messages thanks to JANDI's notifications.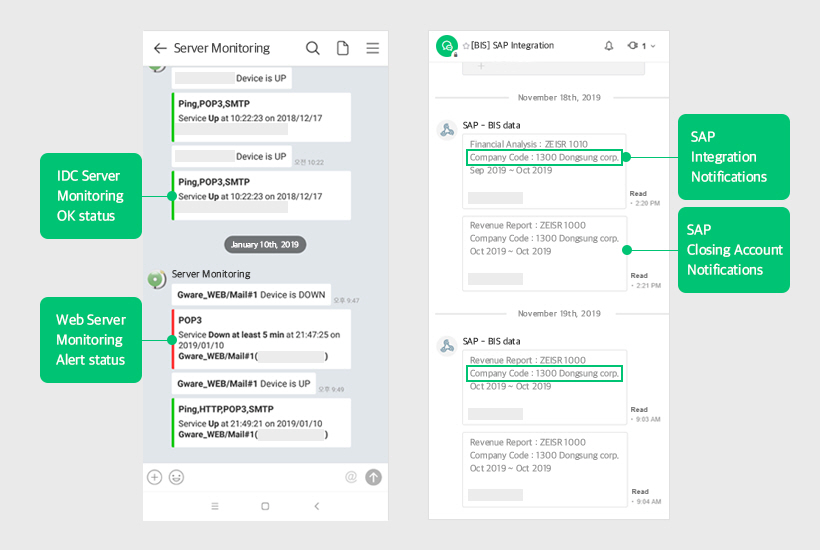 Translation Bot: We use Naver Papago's translation API on JANDI Connect. So our overseas corporate managers could communicate immediately using translation outgoing webhook. Multiple languages such as English, Chinese, Japanese, Vietnamese, and Indonesian can be translated directly from JANDI using /slash command to help local staff communicate conveniently.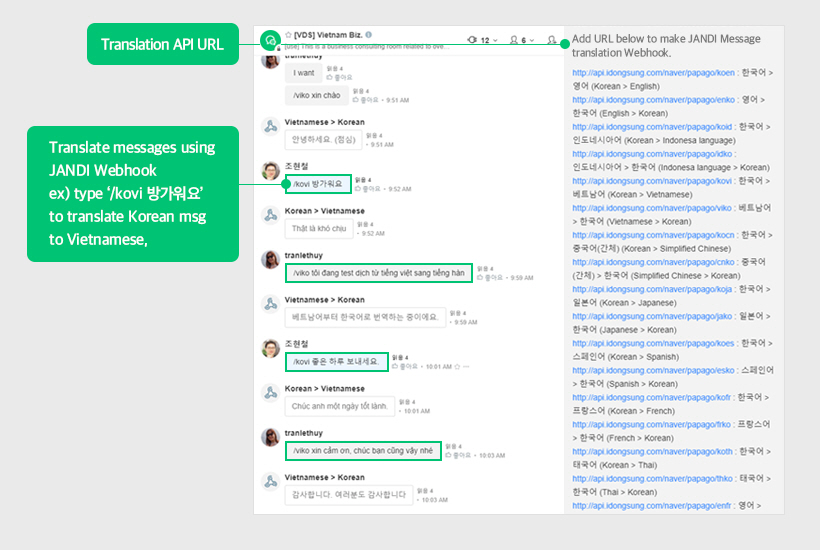 Share Announcements and Feedbacks: When using the work portal, it was difficult to calculate whether employees had checked or given feedback about the announcement even when it was sent out. When we first using JANDI, employees began to respond slowly by posting comments on the announcement. Because of that phenomenon, now we're looking at the responses of employees on JANDI to determine whether the new in-house system/event was successful or not.
Collaborate with External Staff: About 5% of our total workforce is the external staff – accountants, personnel outsourcing companies, IT manager and so on. The 'Associates', guest access feature, allows us to reveal only the selective information we need. Invite external staff to our JANDI workplace has also become more convenient to work and make it easier to keep track of discussion history.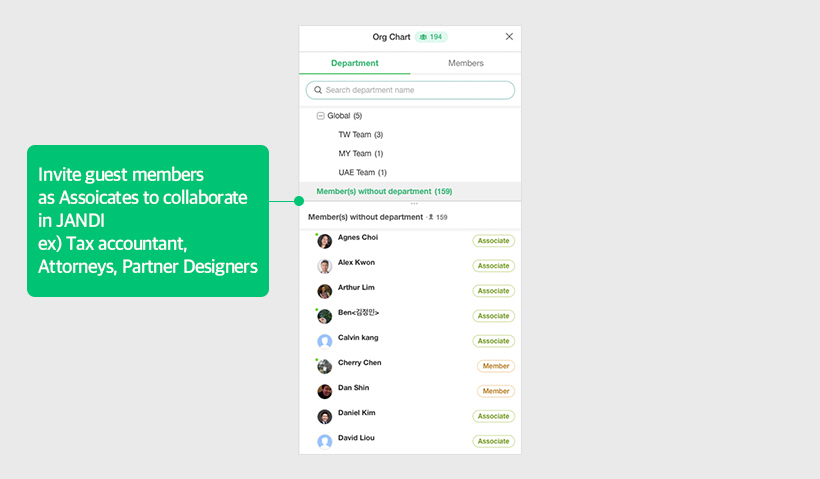 l Changes after using JANDI?
---
" Vertical and inefficient work has disappeared,
which has greatly increased our productivity "
Reduced Communication Distortion: Data interpretation may vary depending on the reporter's preferences, leading to incorrect results. But now that all the data is automatically received into JANDI, all employees can see the relevant data transparently and communication takes place instantly.
Business Process Automation: JANDI Connect links 3rd party services and (e.g., electronic approval notifications, deadline monitoring, news clipping via RSS and so on) makes business process automation become a reality. We can work more on the same amount of time.
Rapid Decision Making: Work sharing became active and instant feedbacks are given to make decision making faster. Since we collect opinions from executives and employees on certain issues, the management team immediately checked and accepted the results.
Record Business History: We felt that it was inefficient to repeatedly inform new employees of the same content each time, or to have to hand over even simple contents. We thought it would be a little more efficient to record all our work into data. Since JANDI keeps all data and conversations permanently, it made it much easier to record work history or hand them over.
The separation between Work and Private communication channel: JANDI is for business only, so it does not violate personal territories. The culture of respecting personal time came to take place by not receiving any work-related contacts after work, valuing work-and-life balance.
Reduced Meetings: Real-time decision making has reduced many unnecessary meetings. It was hard to convey opinions or agendas for those employees who weren't there. But now there's a lot of confidence that other employees would see them if you left them on JANDI. So simple decisions are made on JANDI.
Horizontal Corporate Culture: Communication channels have been unified. One-way communication has been transformed into two-way communication, creating a horizontal corporate culture. Previously, we didn't have many opportunities to communicate except meeting the CEO in person and talking directly to him/her. But now we can communicate more smoothly and conveniently through emoticons, so we can communicate our opinions and work directly through JANDI.
l We Recommend JANDI!
---
" We recommend JANDI for companies
with multiple communication structures " 
Dongsung Group has many overseas corporations, branch offices, subsidiaries, and factories. So it is useful to have a unified online business communication channel like JANDI.