How a Leading VC in the Middle East Uses JANDI to Optimize Internal Operations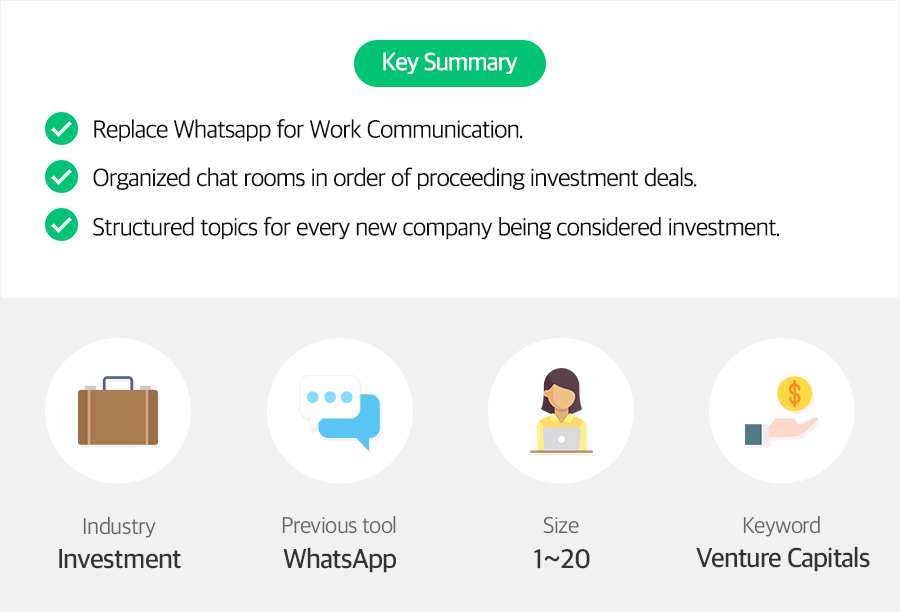 l Please introduce the Middle East Venture Capital (VC) Shorooq Partners.
---
Hello, this is Shane Shin, Shorooq's Founding Partner.
Shorooq Partners is a leading VC fund in the Middle East located in Abu Dhabi, UAE with offices in Riyadh, KSA and Dubai, UAE.
The VC was founded in the United Arab Emirates in 2016 and became one of the top 20 venture capital funds in the Middle East within a short span of 3 years, simultaneously becoming the biggest Abu Dhabi-based VC. We primarily focus on early-stage investments into tech companies, specializing in Seed to Series A investments. We focus on the Middle East, North Africa, and Turkey, collectively referred to as the MENAT region. The investment strategy is specifically focused on fintech, platforms, software, and technology start-ups.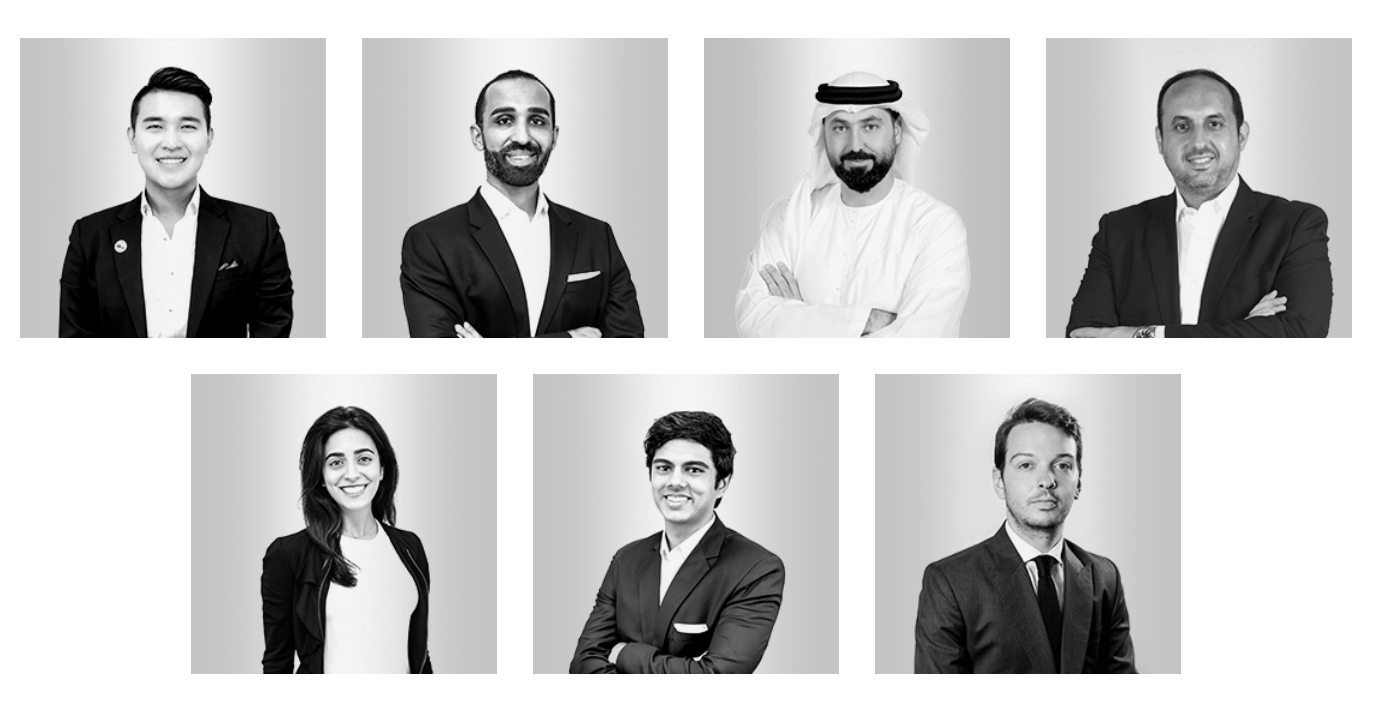 Investor of the Year 2018
Fastest Growing VC Award in 2019
Fintech Investor 2019
Recognized by Forbes Middle East as a part of the top 20 VCs in the Middle East,
top 10 in UAE and #1 in Abu Dhabi
Shorooq Partners is committed to working very closely with portfolio companies and helping them accelerate their growth. As a result, we communicate with our portfolio companies and new investment focuses on a daily basis. We trust JANDI for all crucial communication aspects of our business.
l What was the reason for implementing JANDI?
---
" We wanted to get rid of WhatsApp chatrooms " 
Just like most Middle Eastern companies, we relied on WhatsApp for business purposes prior to implementing JANDI. Aside from not being specifically designed for business use, WhatsApp was extremely inconvenient because it doesn't differentiate between private chat rooms and business chat rooms on the platform. The VC industry, in particular, requires extensive communication with a diverse group of stakeholders. It means chat rooms are constantly created to cater to specific needs and groups of stakeholders. This created significant confusion among both our team and stakeholders, which brought us to JANDI; a tool we found ideal to sort out the slew of seemingly never-ending chat-rooms we had created on WhatsApp…
<Ways to sort out chat rooms after using JANDI>

1st: Separate private/work-related chat rooms 

⬇︎

2nd: Divide business chat rooms by
investment stage and partner companies

⬇︎

3rd: Categorize chat rooms by topic
even within a single company
WhatsApp allows users to search for messages across group chats they have created, as well as those created by other parties. Let's take a look. Below are the results of a search for all chats both Mahmoud Adi, one of our Partners, as well as myself, are members of; a total of 178 groups.
The search results in chat rooms focused on a large range of things; some focus on opportunities currently under review, others are portfolio management chats for companies that have received investments and many chats are purely for internal Shorooq discussions. This makes it extremely difficult to find the right group chat in an efficient manner and prevents us from having a solid workflow stream that saves time.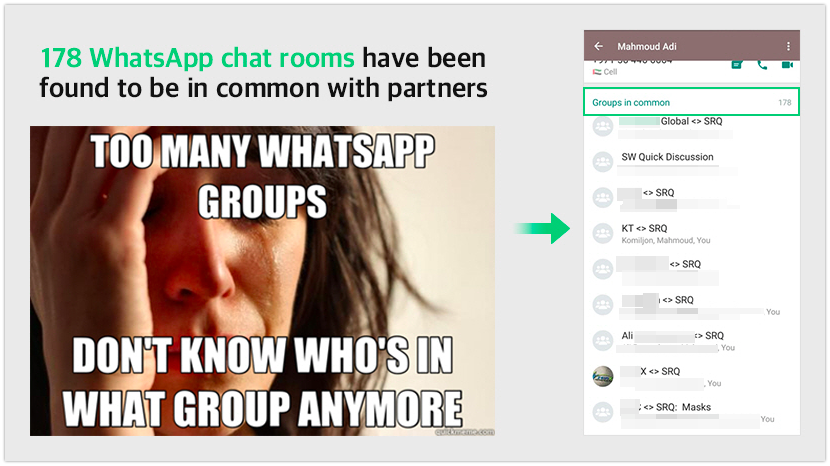 In Korea, the term 'KakaoTalk Hell' refers to the nightmarish chat room culture on the nation's most popular communications platform, KakaoTalk, and how unavoidable the culture of stress, disorganization and messiness is due to the platform. The Middle East faces the exact same problem. There are too many WhatsApp groups, all of which distract from work and reduce productivity. In spite of the many challenges and pressured situations dealt with on a daily basis in the VC industry, my greatest fear was losing my cell phone or having to change my number, and as a result, losing track of all the WhatsApp discussions, chat rooms and contacts we had, despite their inefficiency.
To us, therefore, JANDI, was revolutionary; the platform automatically saves all chat rooms and data across all devices, making it easy to search for previous content and chat history. Our company often employs interns, and new interns are asked to check previous chat rooms to familiarize themselves with the work details on their own. This was previously not possible on WhatsApp, saving us hours in training time and simultaneously ensuring we do not miss out on any single detail.
l What is good about moving business chat rooms from WhatsApp to JANDI?
---
1. Categorizing and searching chats by investment levels is available.
When we use JANDI, we organize chat rooms according to the investment process. The VC looks for a company to invest in, and the process of managing a portfolio company after the investment is referred to as "deal sourcing." We created JANDI chat rooms in the order of this deal sourcing: investment research ➞ investment review ➞ completed investment
I'm confident that the most convenient way for a VC to use JANDI is to research companies that are considering receiving investment in separate chats and to close that chat immediately if a deal is not made. With JANDI, the screening team can discover the companies they are considering for investment and conduct a review in the designated chat room.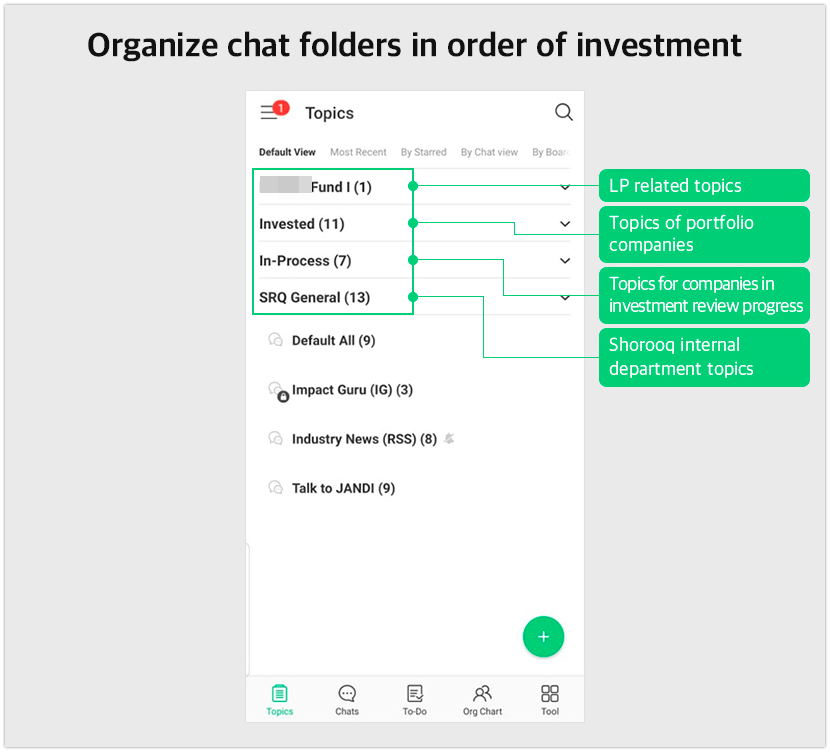 Investors investing in VC funds are generally referred to as Limited Partners (LPs). This is a folder that collects several topics related to these LPs.
Invested: Topics of portfolio companies
Today, Shorooq Partners runs chat rooms for each of the portfolio companies that have received investment. Outside portfolio managers will also be invited to join the JANDI team to share real-time messages on paperwork and extra discussions.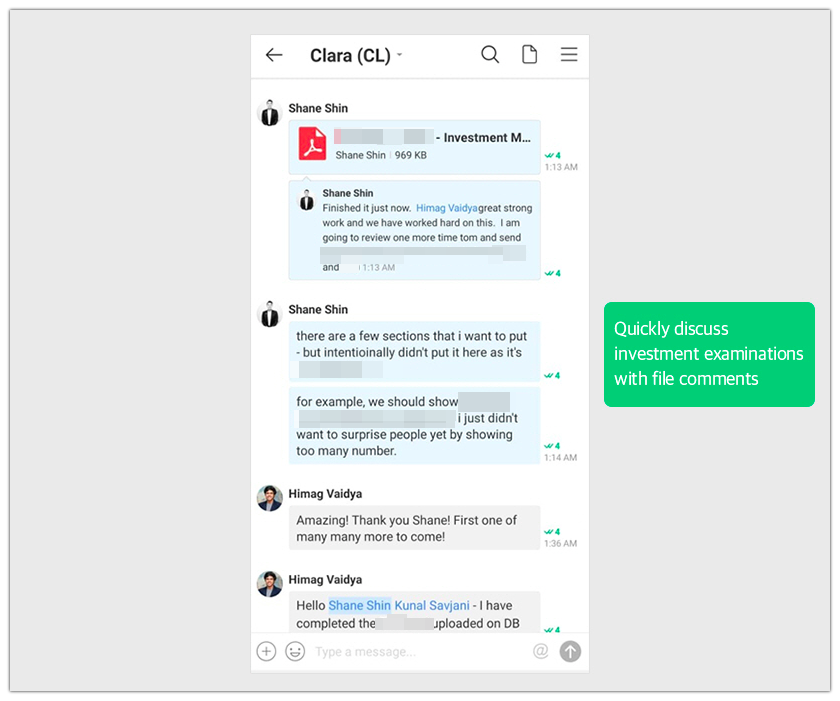 In-Process: Topics for companies in investment review progress
In WhatsApp, even though there were a number of companies with significant potential for investment, we had to focus on all of them within one group chat, as too many chat rooms would have been formed otherwise. Now, when we consider investing in companies of interest, we can create a new topic that is distinguished by the name of the company. We can neatly share the materials or relevant research information on this company in individual company sub-topics.
< In-Process folder for companies under-investment review >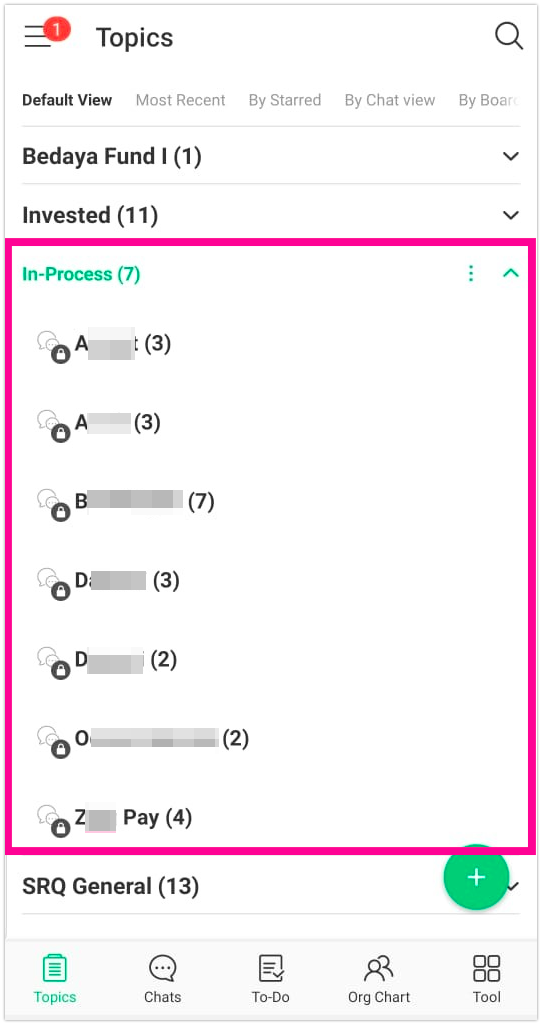 For example, a company called "Z** Pay" is in the early stages of deal research, so there are only three people in the company chat room topic: Shane, Amar, and Himag. But if there are other team members or VCs interested in this deal, anyone can be invited to join the topic and see what's going on. As a result, more members participate in the topic to understand the progress of the investment deal.
< Share investment examination and opinions in the investee's Topic >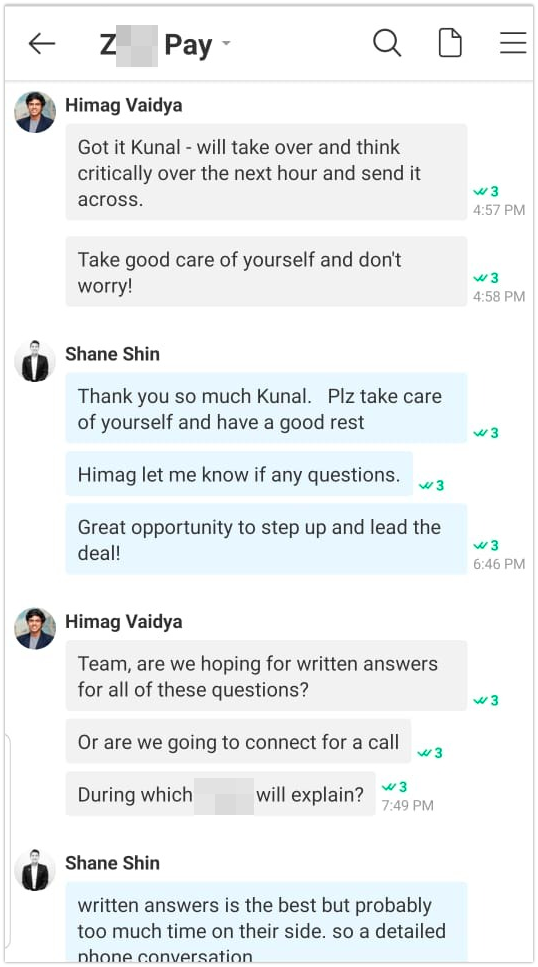 All messages and files shared in the JANDI topic remain in the chat history and are accessible to new joiners, allowing members new and old to view industry reports, company document files, and comments on files. WhatsApp allows you to comment, but new joiners do not have access to the history in the group chat. JANDI solves this crucial problem, saving us both significant amounts of time and helping us keep documents in one place.
In JANDI, files can be viewed on both PC and mobile devices. So instead of waiting to return to the office to download the files on the computer, they can be viewed in the mobile app and feedback can be provided right away using comments.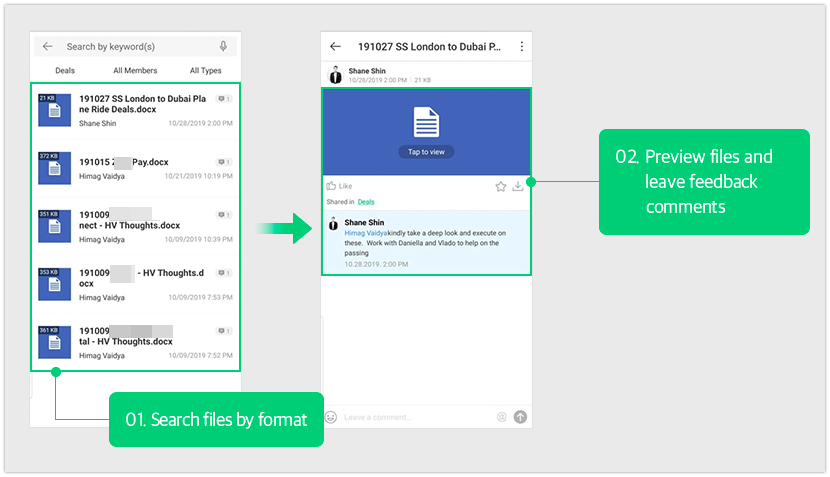 Following our deal sourcing process, Shorooq has a meeting with the company's management or will conduct a full-scale investment review (Due Diligence, or DD). All of this progress is shared in real-time with each JANDI investee topic. If a VC decides not to make any more investment deals, you can delete the topic or leave the chat room. We are committed to ensuring that teammates evaluating potential investments in the 'In-Process folder' always have less than 10 topics to focus on; by hosting all the potential investments in the same folder, we can keep better track of how much time we have to focus on each investment, while also ensuring we don't fall behind on any one particular deal.
SRQ General: Shorooq internal department topics
Topics for each department, such as HR, purchase of supplies, finance, and legal affairs, are placed in the SRQ General folder. For example, the 'Finance' topic checks the balance of the investment fund with the person in charge of asset operation. The 'Conference / Travel' topic allows team members to quickly exchange and receive information related to travel schedules and reservations.
< Shorooq Partners internal department topics >
When I was working with WhatsApp, I had to provide an additional explanation of what this message was about and who it was relevant to when I was sending a message. After breaking it down into the independent JANDI chat rooms, I was able to leave messages on the topic directly without having to write additional explanations. It reduces the communication time cost.
Other Industry News Topic connects an RSS feed to monitor VC industry news automatically.
If you have an in-house project like we do, for example, for improving our blog posts, you can quickly create a task force chat room and invite people in charge and exchange content.
2. Public and private communication channels have been separated.
Since WhatsApp is a personal messenger, I was reluctant to send work-related messages outside working hours, or on weekends. Conversely, during working hours, so much time is lost due to distractions from personal messages that friends and family send on Whatsapp. If you're anything like me, you probably find it rude to not respond as soon as you receive it, as you're online 24/7 anyways. Simply put, communicating with colleagues on a personal messaging app can be stressful. Using JANDI has allowed me to keep the business and personal communications channels separate, improving both my personal and work lives.
3. Voice notes are not overused.
People often send voice messages when they use WhatsApp. This is especially the case in the Middle East and China, as it is easier to record and transmit words than to write them. While the sender of the message is comfortable, it may be difficult for the listener to hear all the voice messages received, from beginning to end. If five people check a five-minute voice note, it takes as much as 25 minutes of the teammates' cumulative time to check a message. This is very time-consuming and inconvenient for the receiver, who may not be able to listen to the note if in public or a shared working space.
JANDI, however, automatically requires users to send messages via text. Not only can the entire team save time by simply reading the message, but it is also easier to search for content in the future. For Middle Eastern companies that use too many voice messages, it's an added benefit of switching from WhatsApp to JANDI.
4. You can make video calls.
In some Middle Eastern countries, video calling capabilities are limited, requiring a separate purchase of dedicated video call services, such as Cisco Webex. However, the JANDI Enterprise Plan provides a video calling feature that is accessible in the Middle East as well as globally.
l What is your favorite feature of JANDI?
---
1. @mention the person in the topic.
I tag the person with the @mention icon to frequently provide feedback. You can also @mention a person on WhatsApp, but it was inconvenient, as I needed to get in touch with them in a 1:1 message to give additional work instructions.
2. Checking schedules using Google Calendar integration
VCs are especially busy with outside work and meetings. It's sometimes hard to remember my own schedule. That's why I like JANDI, as it can easily be integrated and it can receive Google Calendar notifications. A Google Calendar notification message is automatically received when the schedule is changed or a new event is created. It also helps with meeting reminders and customizable notifications i.e. 15  minutes before a scheduled meeting.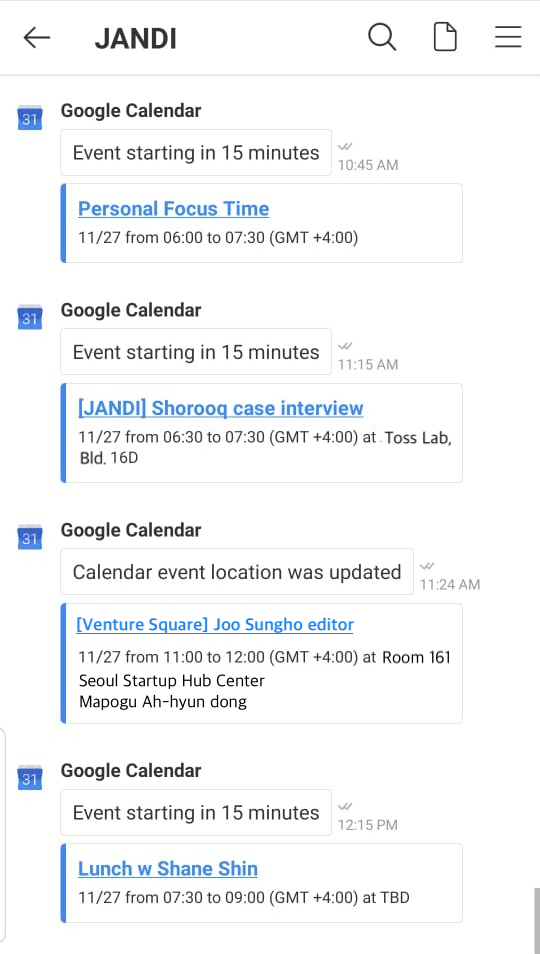 l Which companies would you recommend JANDI to?
---
" Recommend JANDI for teams who rely heavily
and frequently on internal communications "
VCs constantly communicate with their portfolio firms. At the same time, in order to proceed with investments, we share deal sourcing progress hastily on various transaction tasks with members. That's why JANDI is a great online workplace to separate our communications rooms by topic, category, and sub-topic. I strongly recommended it for teams with a lot of internal communication, such as VCs.