How a global shipping company chose a Business Messenger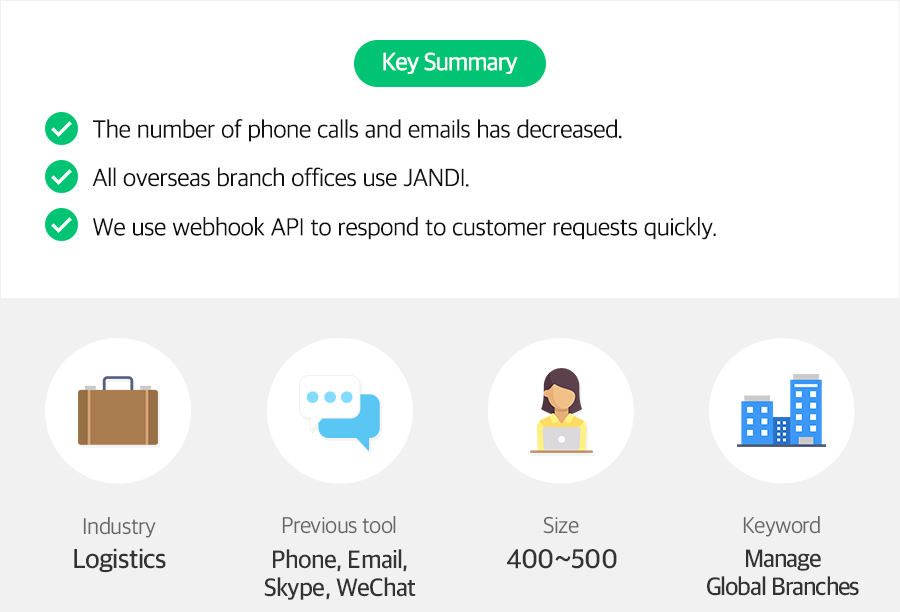 | Please introduce Nam Sung Marine, the hub of global logistics.
Nam Sung Marine is a container liner established in 1953 and Korea's first private outbound shipping company.
Nam Sung Marines is leading the transformation of the Asian logistics network by connecting seven ports in South-Eastern Asia including Hong Kong, Vietnam, and the Philippines. 10 ports in China, 34 ports in Japan, and 6 ports in Korea show its latest IT system, which maximizes expertise and customer conveniences.
In addition to the container liner service, the company provides multiple services through continuous business expansion. Bulk ship services, international logistics arrangements, ship management, and land trucking businesses are examples. Developing NSICON, an IT system that enables fast and effective communication with customers, we respond quickly to customers' needs and enhance convenience by providing real-time shipping location information.
l What was the reason for using JANDI?
 JANDI is Nam Sung Marine's first in-house messenger service.
Before JANDI, there were no company-wide messengers. Due to the nature of the shipping industry, we work with various overseas branches. One employee had to use at least four to five messengers, including Skype, WeChat, Kakao Talk, and NateOn. At the same time, we also used phone calls, faxes, and e-mails. Ironically, too many communication channels disturbing our business.
Many people complained about the late feedback on their business e-mails, and inquiries poured on my information management team every day. Due to the delay in answering, the reminder email never came to a stop.
Then, there was a suggestion from an overseas branch to integrate messengers. To get quick feedback and reduce e-mail and phone calls, we came to consider the implementation of an in-house messenger.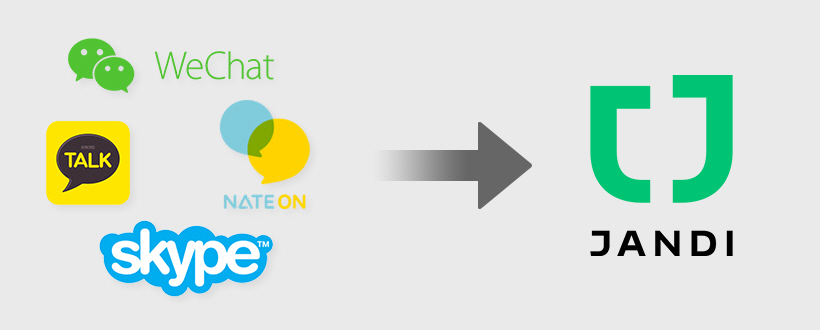 |Until JANDI became Settled
We've gone through a sufficient usability test period.
We had a short research session after deciding to implement a messenger. JANDI has been good on customer support from its beginning, and we chose JANDI over other messengers by looking at various customer success stories. 
We are currently using paid JANDI plans. We had a six months PoC test period before switching to a paid plan. We created a group tester with one or two people selected for each department.
We also held a presentation seminar for JANDI testing. We informed employees how we were going to implement JANDI. Also, we requested that they use JANDI rather than e-mails.
To easily understand the structure of JANDI, we told them to think of it as 'Team = Nam Sung Marines' and 'Each topic = Each Department'. Also, we gathered topics according to departments, overseas offices, and branches.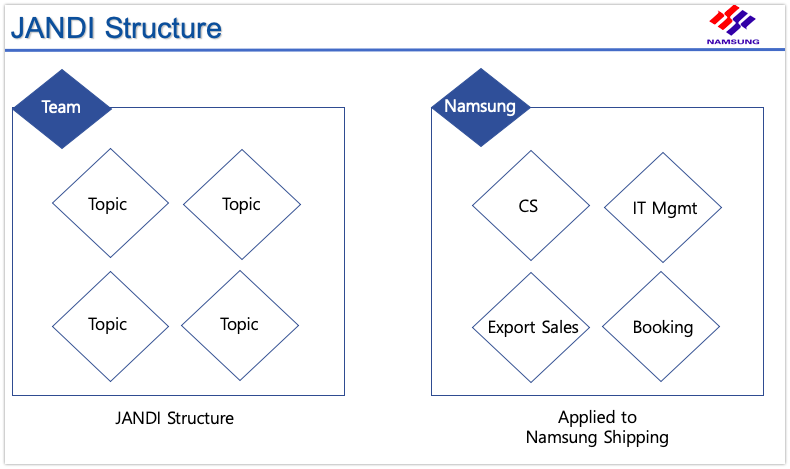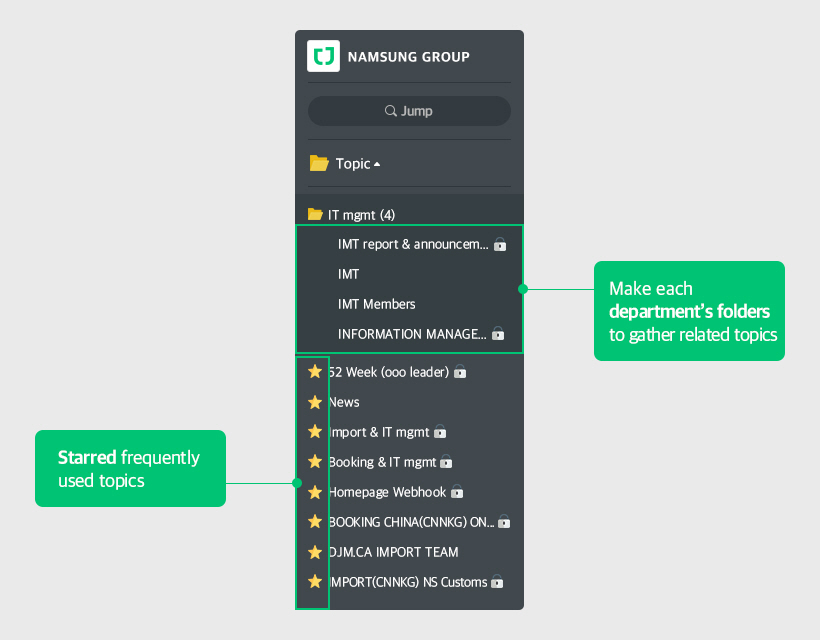 Workgroup testers were surveyed after using JANDI and verified what they thought of the messenger. The result is reported to our CEO.
Testers were fewer than a total of 15 people and we felt that the number was too small compared to the total size of the company. After this testing, we registered all employees of Nam Sung Marines.
(* Tips: 100+ people can be directly registered supported by team JANDI
>> Contact support@tosslab.com )
Table of Contents for the 'JANDI Testing Report'
– Why JANDI?
– JANDI's Structure (applied to Nam Sung Marines)
– How work efficiency increase?
– How we can change the process of the existing task.
– Departments that implemented JANDI (goals, driving items, testers, etc)
– JANDI's features
– Operation Plan (Schedule Calendar)
| Before & After JANDI
Weekly meeting reports via JANDI!
We remove offline meetings for weekly reporting. The person in charge collects the report and upload it on JANDI. Also, previously it was not possible to confirm whether the report was read or not by each member. However, since it's possible to check the read receipt, we share the weekly reports via JANDI.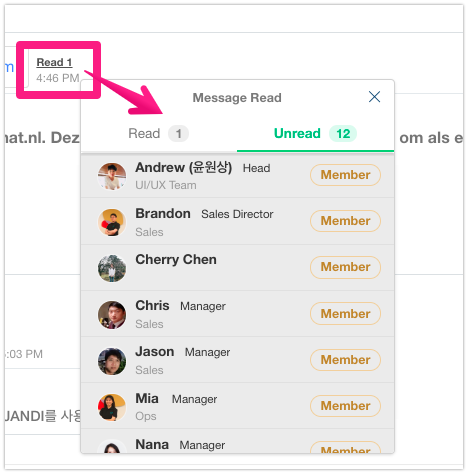 JANDI is used in all overseas offices and branches.
Our foreign offices and agents, including Nam Sung Marines, Dong Young Marines, Dong Joo Maritime, overseas corporations all use JANDI. Because JANDI supports English, Chinese, Japanese, and Vietnamese other than Korean, staff from overseas offices including Japan, China, Hong Kong, Vietnam, and the Philippines were able to easily adapt to JANDI.
In particular, all of Japan's sub-local branches staff are invited as Associates of JANDI. Japanese employees also think it is more convenient to use JANDI as a business work tool rather than using LINE, which is the most personal messenger in Japan.
Phone calls and e-mails have decreased a lot.
E-mails are formal. So it took a lot of time to type simple content and feedback was also slow to share. In the end, important decisions were often verified over the phone even though e-mails were sent out. Another critical problem was that there was no record on phone call communication. Decisions made on the phone call weren't shared too. Therefore, we intentionally significantly reduced e-mails and phone calls since JANDI was implemented. Work speed has increased dramatically.
Of course, e-mail is still used for external communication, but everything that comes and goes in-house offices is shared only via JANDI.
| Explore Topics
This is the weekly report & announcement topic for the information management team. When the person in charge collects data and posts it on the topic, it replaces the offline meeting by checking the file.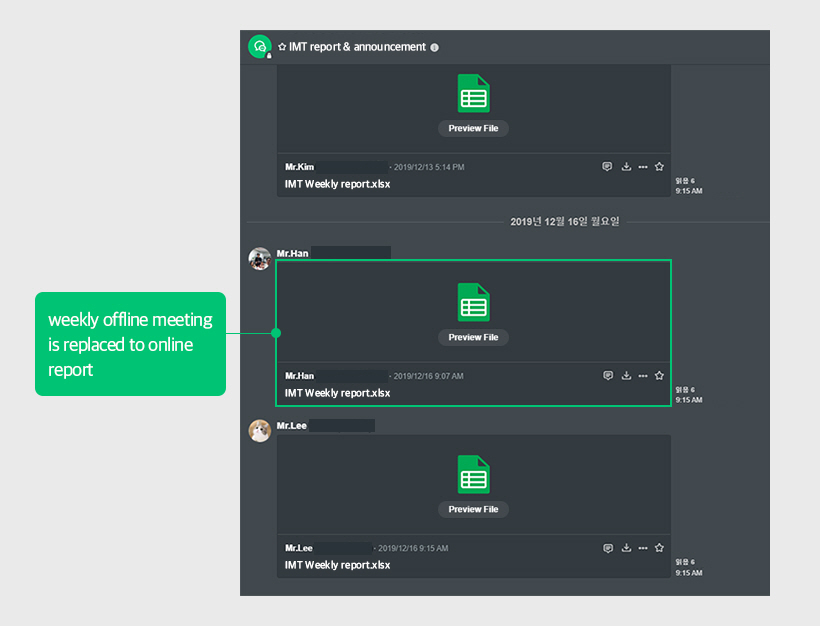 This is the Board view topic that you use as a topic for announcements. Because 'Default Topics' is mandatory to participate for all Members of the team, it is used as an announcement topic. Since this topic has been set to 'Read-Only', it is useful to send notifications. Only the admin can write messages. All notices and names are written in English.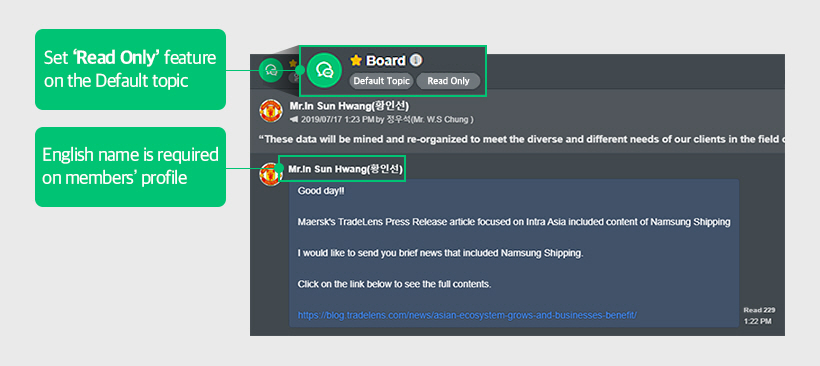 Topics Collaborated by Two Departments
This is a topic for the collaboration of the Booking Section Team & Information Management Team. If there are issues checking the shipment schedule for the daily logistics system, Booking Section Team members will ask about the answer to the Information Management Team members.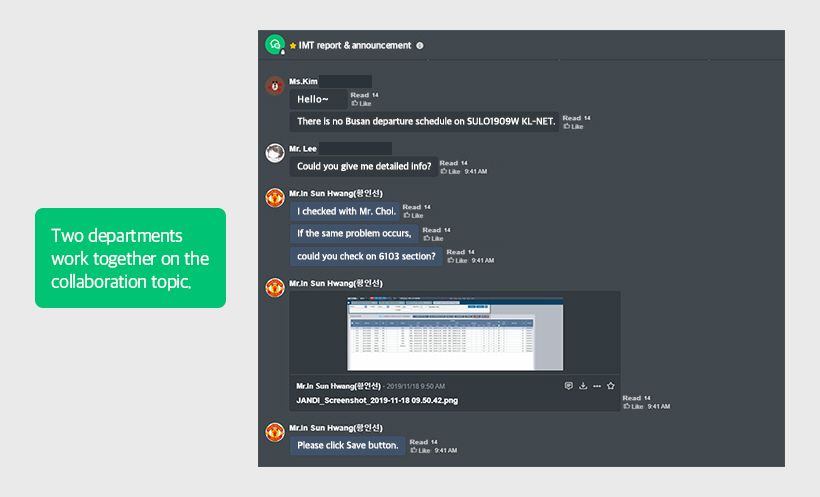 | How Nam Sung Marines makes smart use of JANDI
Quickly Respond to Customers with Webhook API
When a customer posts a request on Nam Sung Marine's homepage, a new post notification is automatically sent to on 'Homepage Post' topic. We can quickly identify and respond to customer requests via JANDI using the JANDI Connect Webhook.
For example, a shipper, who wants to load goods on ship-container of Nam Sung Marines, writes a post about his/her trouble. Each staff in charge will be notified quickly on JANDI topic. Because each region has a separate person who is in charge of approvals, the person in charge reports the customers' requests and checks the issue.
< E-Service page on Nam Sung Marine's homepage >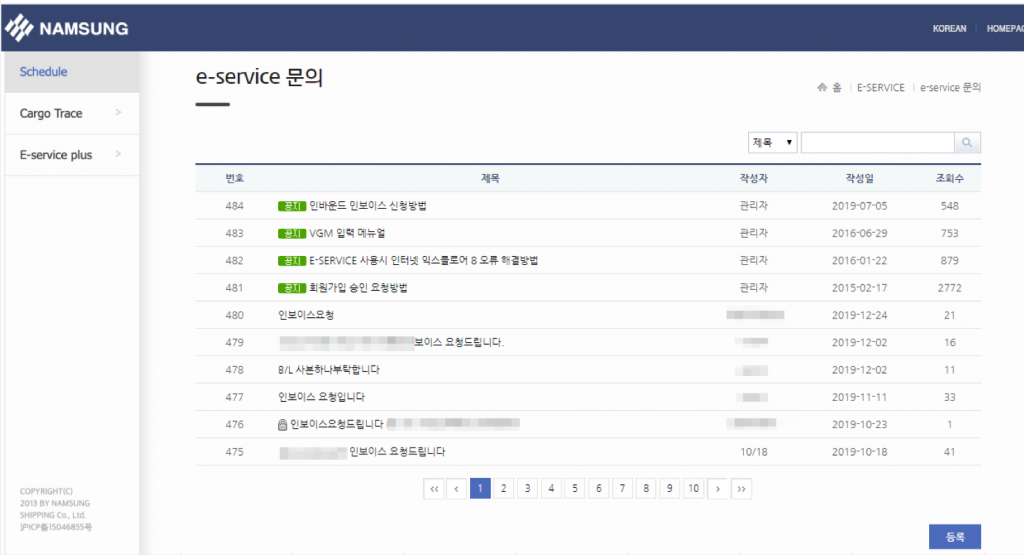 Import Customs Declaration Reminder 
One of the key tasks of international logistics is the import customs declaration. Import customs declaration must be made 24 or 48 hours before in each country. We made a customs declaration reminder bot and it sends a notification to JANDI 72 hours before the customs declaration has to be made. So the staff can prevent forgetting the tasks! An automatic reminder system is useful to identify which ships need to enter and report.
Other JANDI Connect usages
Nam Sung Marines is really good at using webhooks! More than 150 webhooks are connected to Nam Sung's shipping team. We create a topic for each project or department and connect automatic webhooks on individual topics.

Organization Charts
Nam Sung group consists of a total of four sub-organizations. It is convenient to manage the group separately by domestic/international, departments, and affiliates.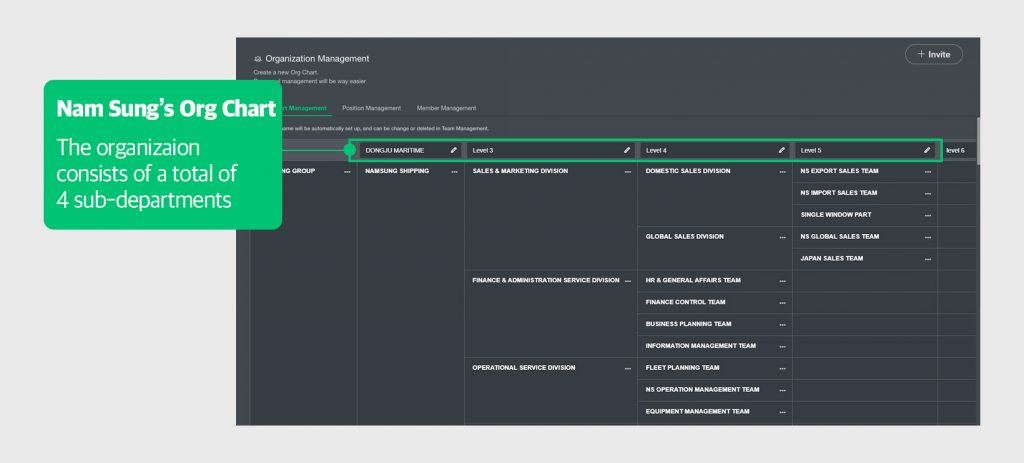 Manage Documents on JANDI Drive
We do not use JANDI drive company-wide. But certain overseas locations are using it well. Rather than uploading files to chat rooms, it's easier to take a look with just a glance if you put files on a drive to manage them.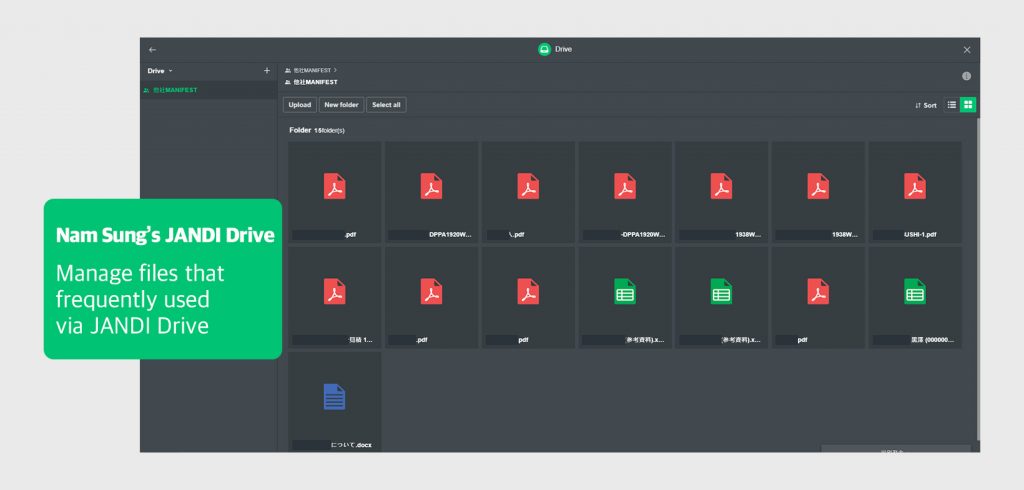 Manage Personal Resources in Private Topics
As a personal tip, I'm using my own private topic. I organize my tasks and also connect webhooks to do not miss out on important things in the company. It is convenient to check incoming requests and their process status.
Easy Screenshot Capture
You can take screenshots and save what you need to share and upload directly them on JANDI. Simple editing and text writing on top of captured images is even possible.

| We Recommend JANDI!
"If you want to reduce the number of
phone calls, faxes, and e-mails choose JANDI."
We start to use JANDI when we felt excessive phone calls, faxes, e-mails, and various personal messengers made work less efficient. One in-house business messenger can provide fast feedback and increase efficiency in business operations.