JANDI Updates: IP address restriction, 1:1 conversation deletion, and admin dashboard
JANDI Updates for May 2020
Good morning. Here are some new updates for JANDI this month.
In this update, we introduce new features and improvements we've made on some of our existing features. Shall we take a look?
< New Functions >
1. You can now set administrator IP address access restrictions
(Available for those with the Enterprise Paid Plan)
With this new feature, you can now specify which IP addresses are allowed to access the chatrooms. 
This new feature is meant to be a security function that can be used when you want to make the JANDI team accessible only to those with a specific IP address.
The Team Owner / Team Manager of the Enterprise Paid Plan can set-up this feature in [Admin Menu] – [Security Settings] – [Access Allowed IP]

Click

here

to learn how to apply these futures to each IP Address.
2. Delete 1:1 chats
(Available for those with the Enterprise Paid Plan)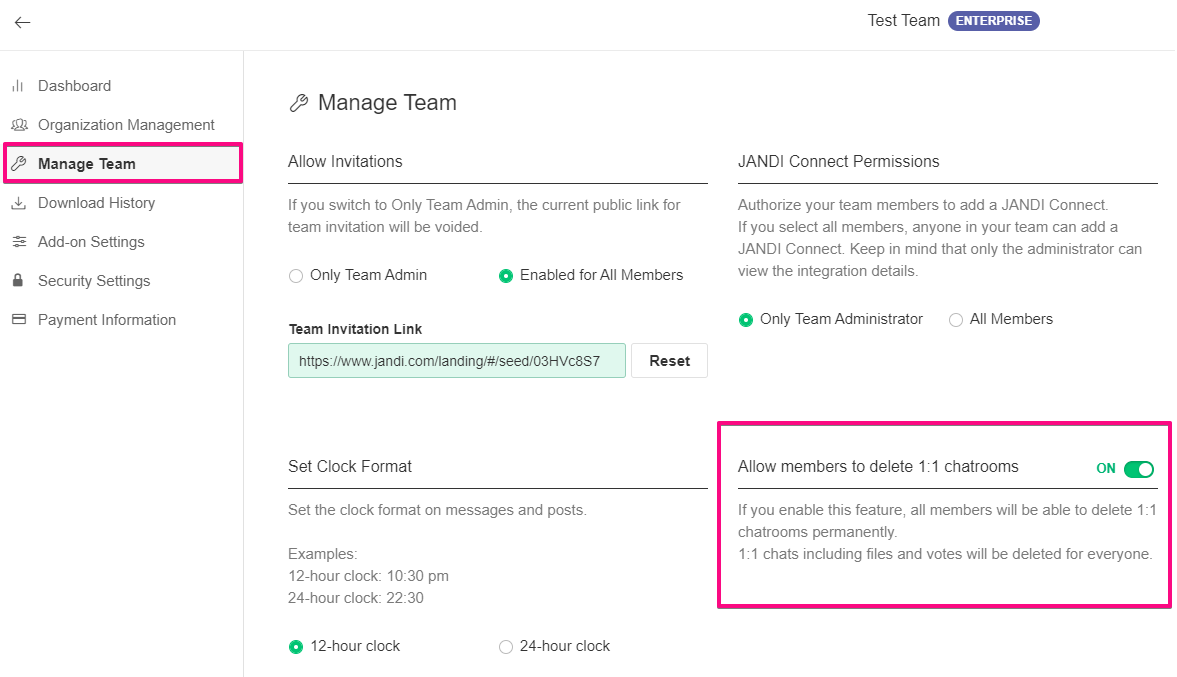 Previously, it was only possible to 'hide' 1:1 chats. However, with this new feature, team managers can now set the ability to completely delete a 1:1 chat.
To enable deletion of 1:1 chats, go to [Admin Menu] then [Team Management] and select [Allow members to delete 1:1 chatrooms]

After the function is enabled a team manager must be applied.

With this feature enabled, if A and B are in a conversation, either A or B can delete the 1:1 chat entirely.

When you delete 1:1 chats, please be mindful that the contents of that conversation will be deleted from everyone in the conversation, including yourself.
< Improvement of Existing Functions >
1. Admin dashboard improvements
(Paid Plans Available)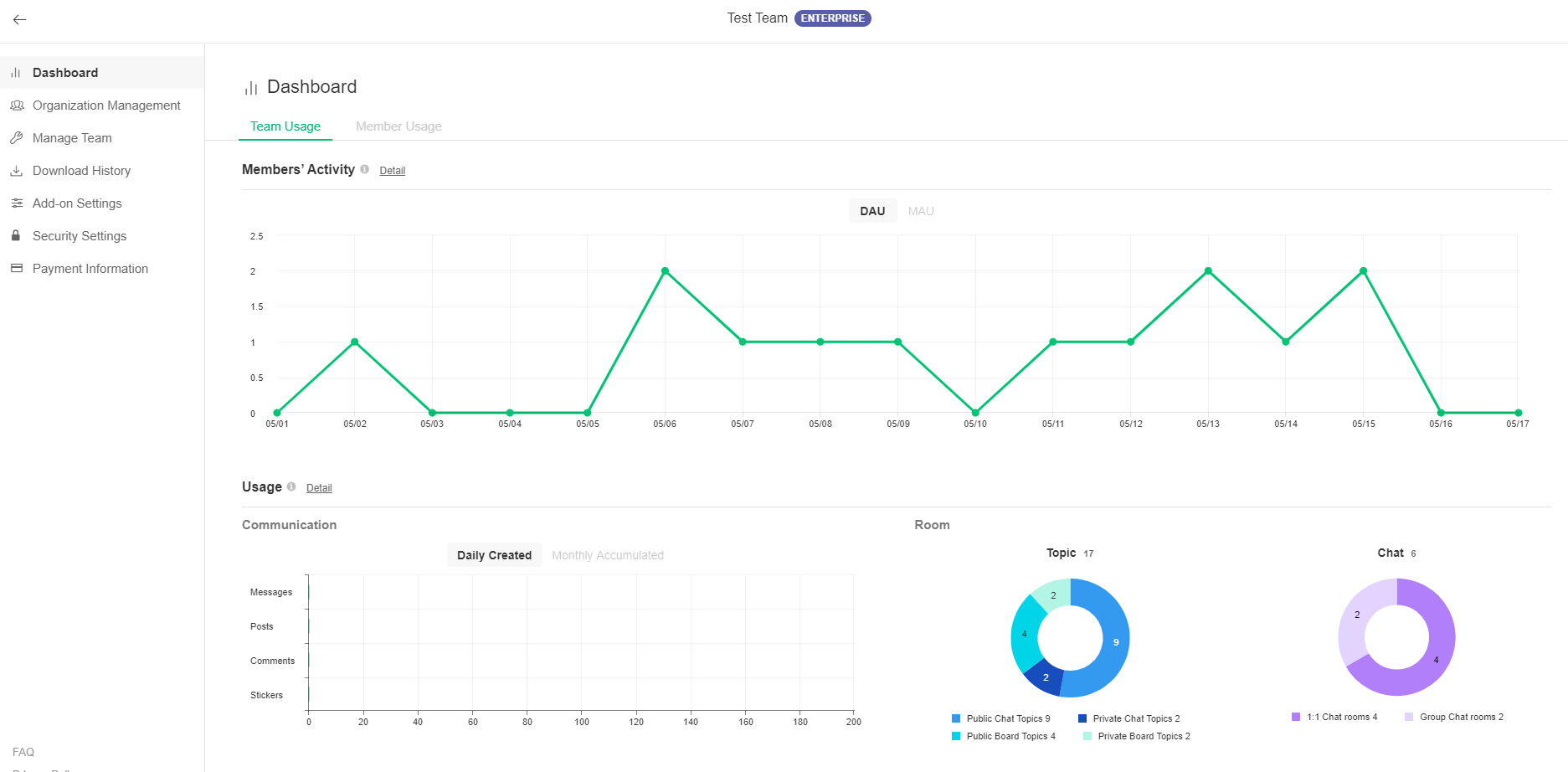 Team and member usage have now been improved so that the team managers can check more detailed usage information.
Detailed information reports are available to those with Premium and Enterprise plans.
To see these reports go to [Admin Menu] then [Dashboard]

.

The information should be divided into daily, monthly, and periodical accumulation settings.

Storage space information and connection information are recorded

based on Korean time (GMT +9)

.

Information records are

stored for up to one year

. 

The information displayed on the dashboard is a compilation of team data that has been collected. The information is different from actual use time. (For example: When connecting on 4/16, the data displayed will report on 4/15, which is a day before.)
2. Tablet version improvement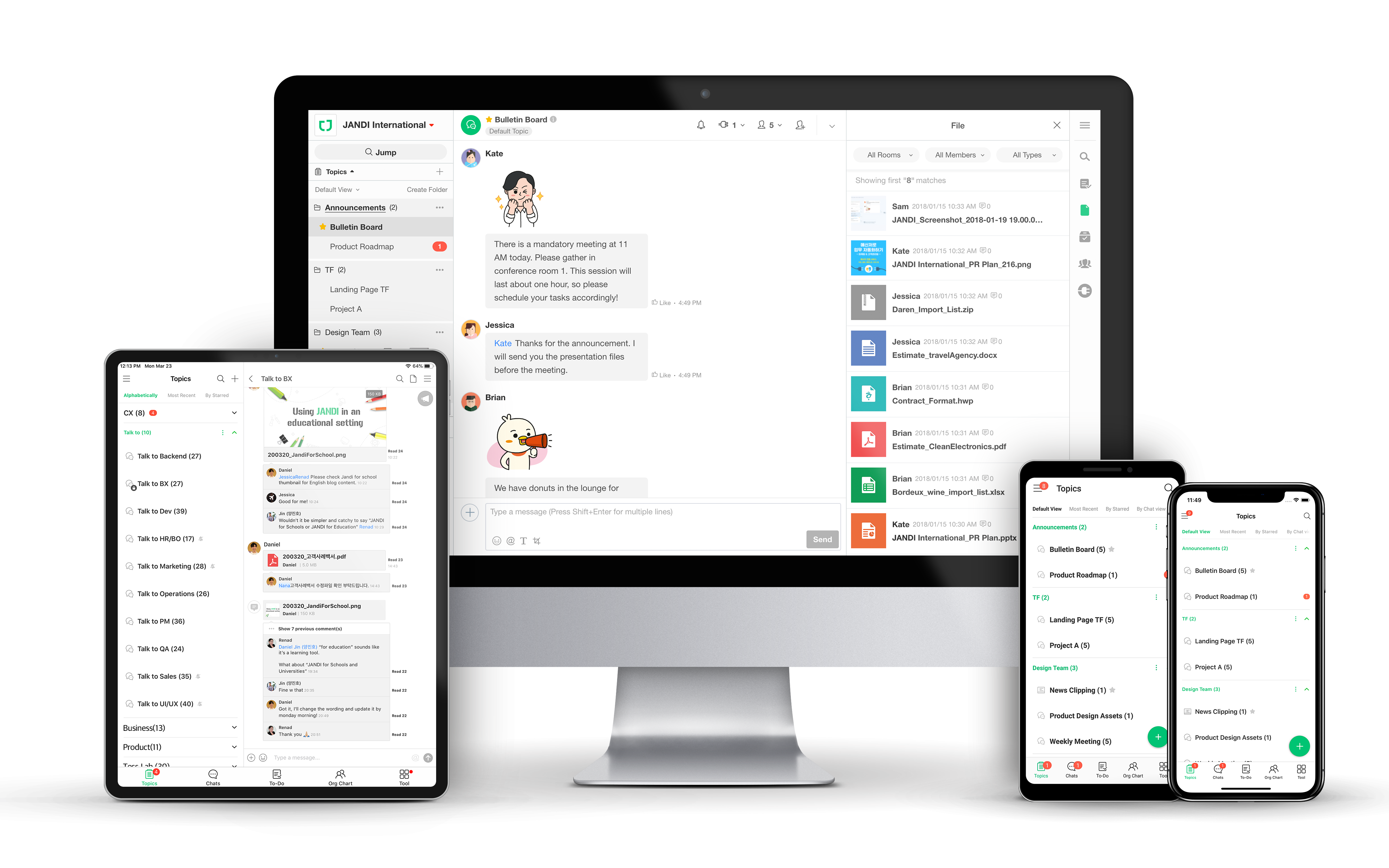 2-1) You can now send messages using the [Enter] key when using a Bluetooth keyboard
For those who use a tablet with a Bluetooth keyboard, we've got good news!
You can use the [Enter] key now to send messages on JANDI through your tablet device. No more tapping [Send] each time!
2-2) Tablet version for Android released
JANDI is now available for tablets and is compatible with landscape view and multitasking functions 
These are all of the new and improved features that we have for you today! We hope you love these newly updated features.
If there is a feature that you think should be added to JANDI, please feel free to contact us through the [Live Support] link on the JANDI menu or contact us through our customer center email support@tosslab.com.