Work Remotely like a Rock Star
As remote work becomes the new normal, many around the world are trying to create an effective work environment at home. When teamwork happens online, the right mix of collaboration tools can help maintain focus, and in some cases boost productivity. 
We've put together six recommendations to achieve effective teamwork when working from home. Let's have a look…  
< Jump to >
1. Business Messenger
Choose a business messenger for the team to stay connected. 
It's difficult to keep track of conversations happening on different platforms. We recommend a cloud-based collaboration tool with an app for both desktop and mobile to enable teams to stay connected from anywhere and on any device. Choose one business messaging platform for all team communication.  
Be sure to check that the messaging platform retains message history so that even when a new member joins the team and is added to the group chat, they are able to access previous conversations, significantly reducing onboarding efforts. 
Features like "Read Receipt" are useful to turn on to help see whether or not content and announcements were read by team members when working from home.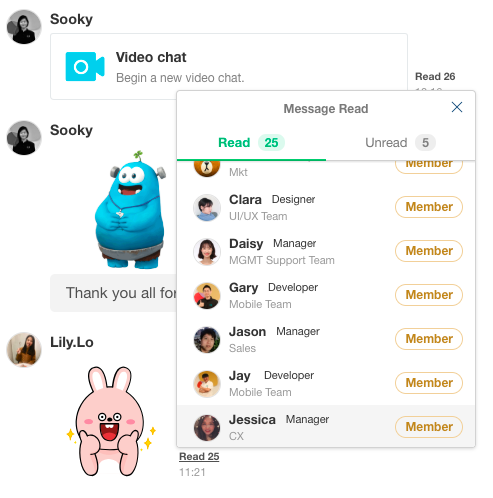 Pro Tip: Avoid using personal messaging apps like Whatsapp or Facebook, as these apps were not intended for work communication. It's difficult to search for files or control user permissions, and it introduces the added distraction of family and friends. More importantly, it puts company data at risk. (Whatsapp vs. JANDI). 
2. Cloud Storage 
Leverage cloud to store and access company data securely.
The collaboration tool should have cloud storage for teams to access work materials from home. While it may be tempting to use a personal messaging app like Facebook or Whatsapp to share files, it's a security risk for company data, and moreover, these apps were not designed for document management purposes. Choose a cloud storage service that provides an organized way to upload, comment, and share files, with proper permission controls for members.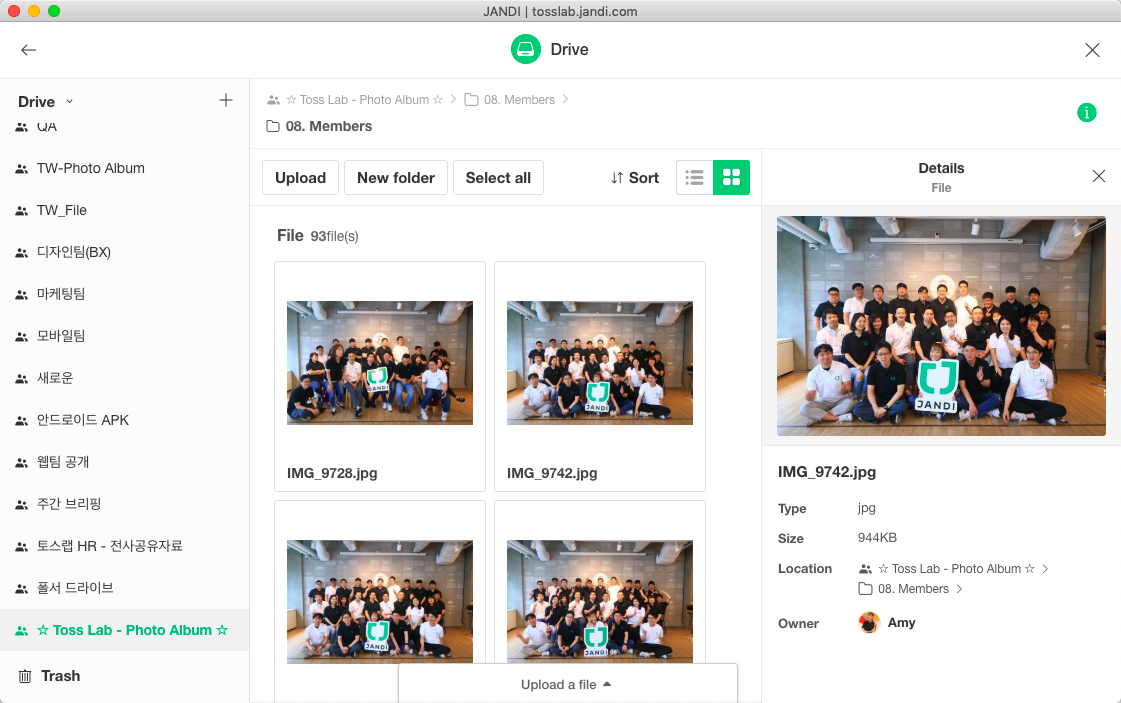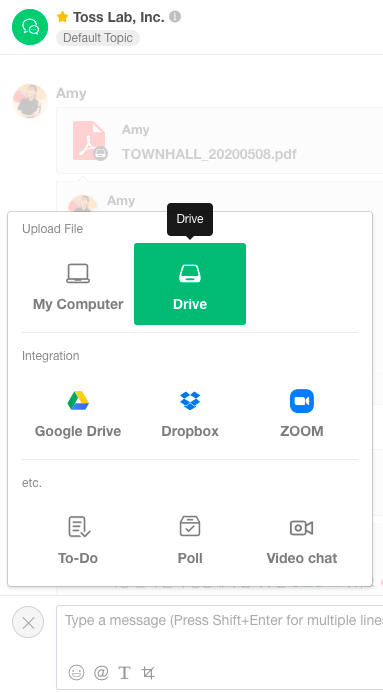 3. Shared Calendars
Share individual schedules and subscribe to team calendars.
When teams manage their schedules and share their calendars, it's easy to see when people will be more responsive and helps everyone be more considerate of each others' working hours. Imagine trying to schedule a global team meeting that works for everyone without having visibility of attendees' time zones or local holidays. Sharing individual schedules or company-wide calendars makes coordination easier.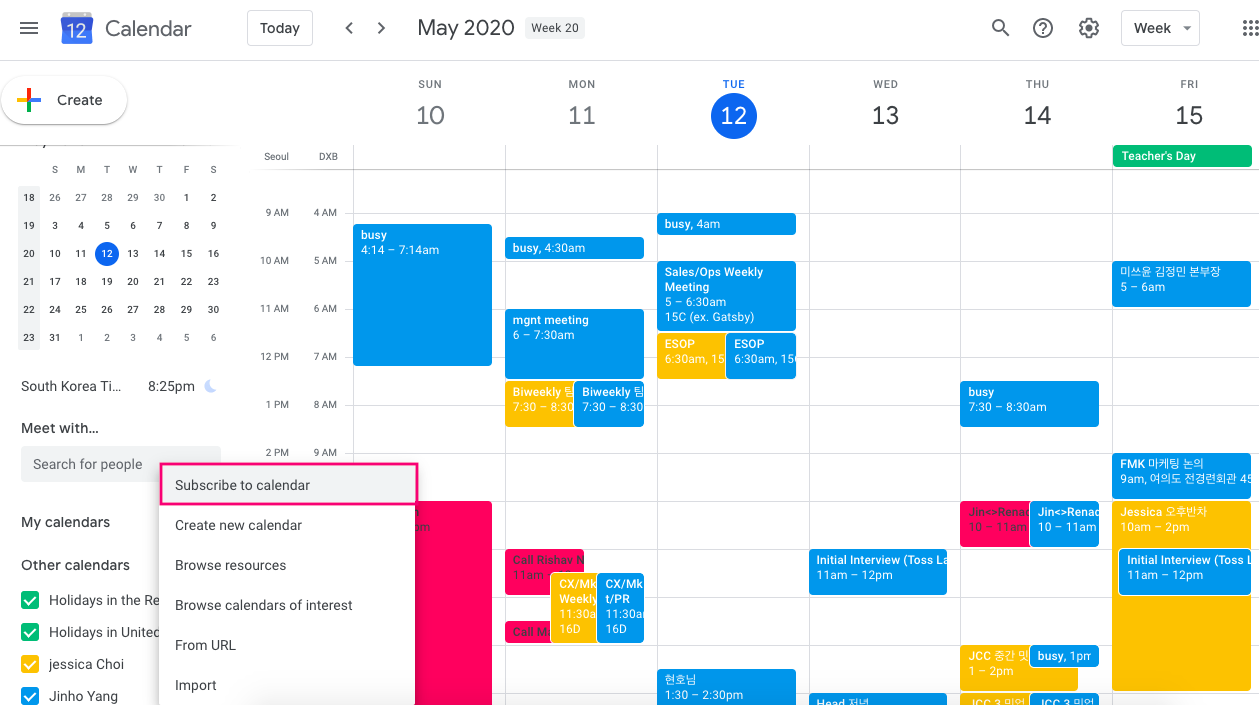 Pro Tip: Connect the shared calendar with the team messenger to notify everyone when there's a change to the schedule, or a new meeting is created.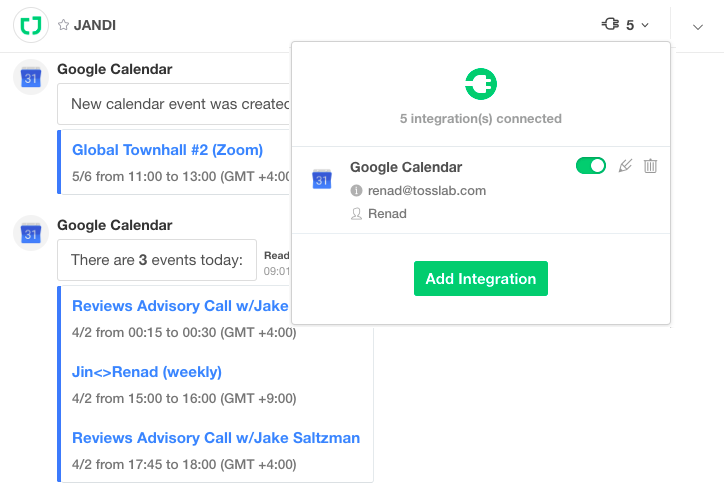 4. Video Conferencing 
Maintain regular team meetings with video conferencing.
Most teams have daily standups or recurring weekly meetings. These meetings can happen remotely with online video conferencing. Seeing each other over video and having a face-to-face conversation, with the added benefit of screen sharing can be as effective as an in-person meeting.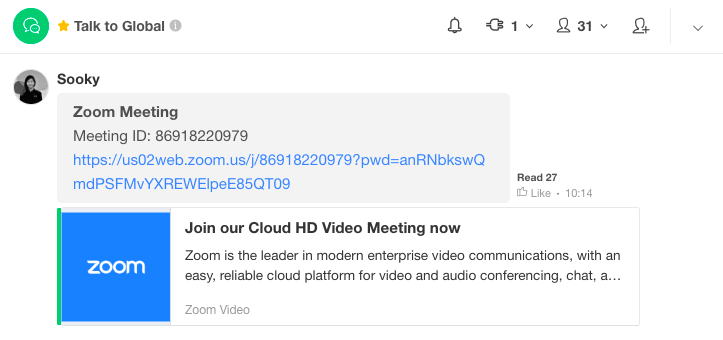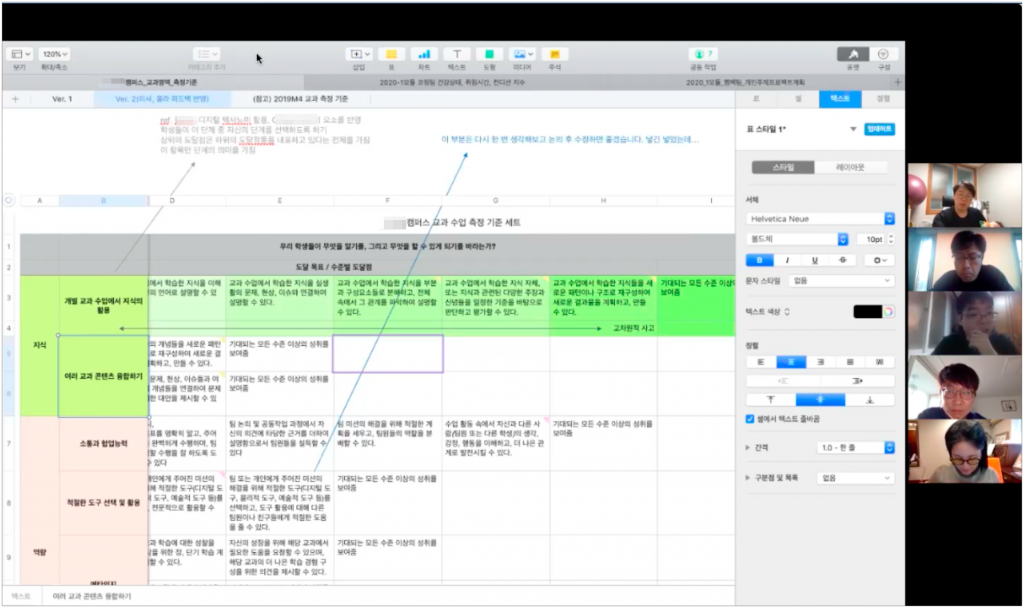 Pro Tip: Check that the audio and video on the laptop are working properly and the workspace is in an area that gets good wifi reception. 
5. Task Management
Choose a task-management app based on the team's needs. 
An essential part of teamwork is managing tasks, both on an individual level and team level. There are many applications designed to help teams manage their work, varying from simple to-do lists, to kanban boards and robust task management platforms. Choose a task-management app that enables individuals to assign and share tasks, and teams to collaborate and share knowledge.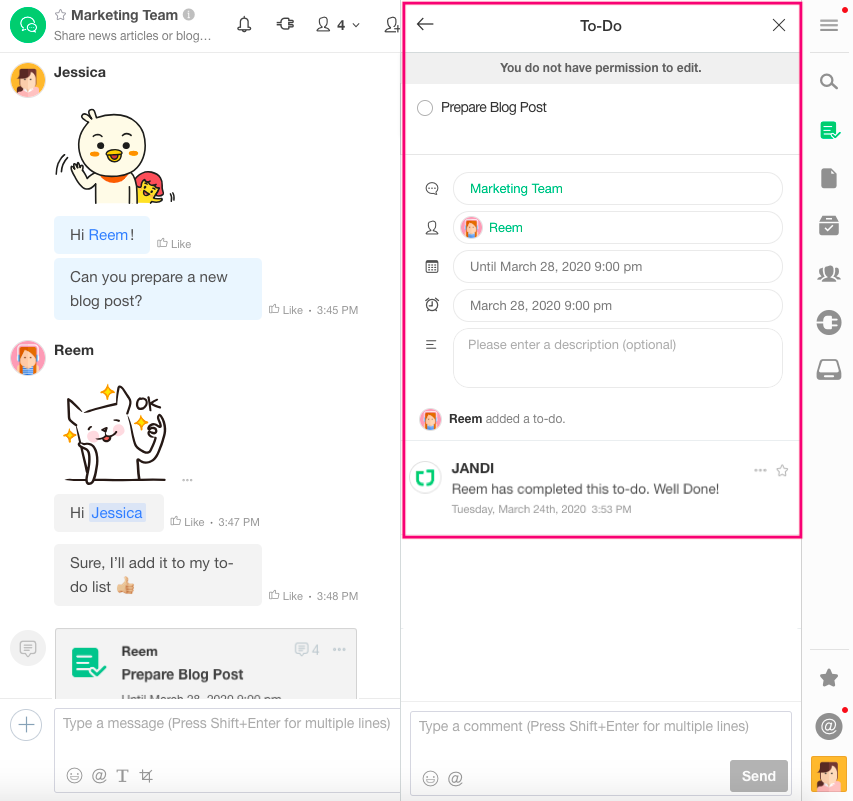 Pro Tip: Connect the task-management app with the team messenger to get notifications when tasks are updated or the status changes so that everyone is informed in real-time. 

See how to get JANDI notifications from 
6. Process Automation
Automate processes to free up time for higher-level tasks.
We've saved the best for last – automation. The word can be intimidating, so we're going to demystify it. Here's a sneak peek of how non-tech companies are taking manual and repetitive tasks, and automating the process to boost their overall team productivity. 
* Industry News (Easy)
ONNURI H&C spent a lot of time searching and reading articles online to stay up to date on industry news. Using Google keyword search, an RSS New Feed was set up to automatically search for relevant articles and send them to the "Industry News" Topic.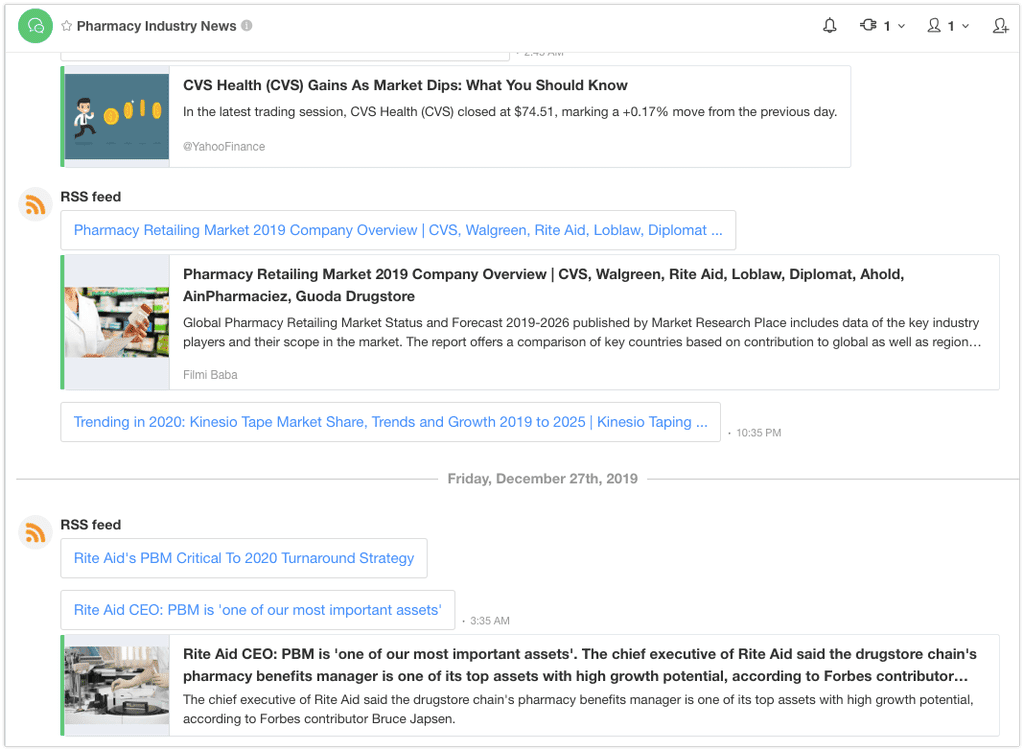 * Daily Sales Report (Intermediate)
MTE sales promoters used to take photos of their daily sales receipts, and send them in a Whatsapp group chat. Managers had to check each photo and manually input the values. Using a simple Google Form to enter total sales, once promoters submit the form, a new record is automatically generated in the Google Sheet and the "Sales Report" Topic. 

* Approval Request Notifications (Advanced)
Dongsung Group had an old work portal that didn't send notifications when authorization requests were made or approved. It was very inconvenient to go into the system and check on each request individually. Using Webhook to connect the work portal to JANDI, a notification is sent when an approval request is submitted.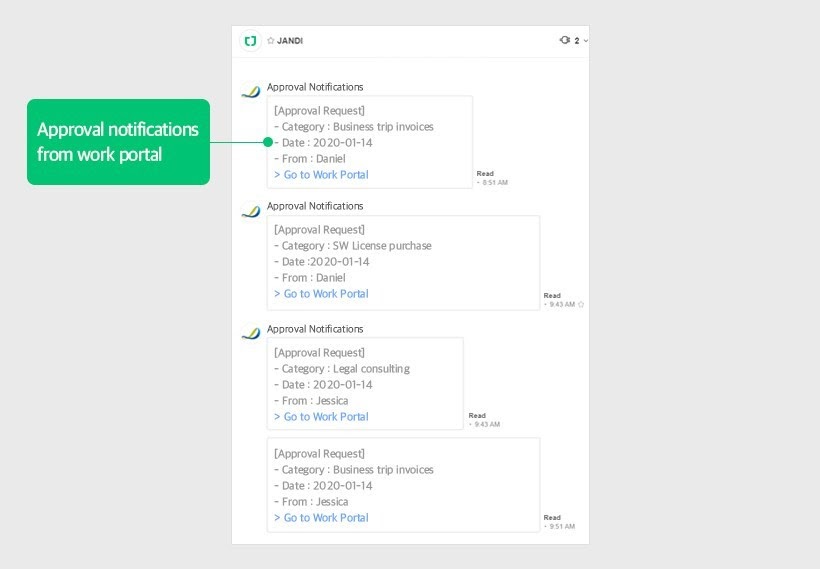 * Customer Support Notifications (Advanced)
Toss Lab (that's us!) runs Intercom for customer support inquiries. Using Webhook to connect Intercom to JANDI, all online inquiries are instantly sent to the CX Topic enabling the team to discuss the request, share knowledge, and achieve faster response times = happy clients! 
End Note
Having the right set of collaboration tools and creating a centralized communication hub creates an effective work environment, enabling teams to work remotely with zero downtime. Better efficiency means rock star teams that take more coffee breaks. 
If you have any questions, please feel free to contact the JANDI team at support@tosslab.com