How to use collaboration tool for a successful OKR
Why this article may help you reach your OKR goals:
In 2015, GE Singularity announced that it would no longer use the traditional KPI system. Other leading companies like Microsoft, IBM, and Adobe also decided to adopt the OKR method as their new goal. With the changing business practices of the 21st century, why did these corporations set OKR (Objectives and Key Results) as their new corporate management goal? If you want to find out more about using enterprise collaboration tools like JANDI in introducing a new goal management system, please read this article.
Why did Microsoft, Google, and LinkedIn adopt the OKR method?
"We achieved 72% of our KPI target last year. The disparity between our set goal and achievement is…"
"Due to the pandemic, there has been a 50% difference in the KPI during the first quarter."
When many people fail to achieve a KPI, they place themselves in a situation where they face difficulties in reporting and finding a good reason for failing to achieve a goal.
The downside of KPIs is that they often ignore flexibility, process optimization, and the enterprise's critical drivers to achieve their set goals. To make a difference in the business culture where companies are too focused on attaining KPIs, former Intel CEO Andy Grove proposed the OKR theory in 1999. Once Google successfully adopted the OKR method, more companies began to try the new process.
There are two parts to OKR

 

O

bjective +

K

ey

R

esult
OKR consists of the goals (O) the company wants to achieve, and the figures (KR) for reporting. From the enterprise level to individual tasks, goals are formulated within a specified period. Two to four quantifiable key results are then matched so that all members of the organization can run toward a unified goal. At the end of each cycle, you can review key results in detail, identifying the main reasons why OKR goals were not met. As the company improves the budget, human resources, work processes, and more, the company can reflect on the next OKR cycle to reconfirm whether they have achieved the critical results.
Taking Google's '3-3-3 principle' as an example, it focuses on three goals over three months and draws three key results per target.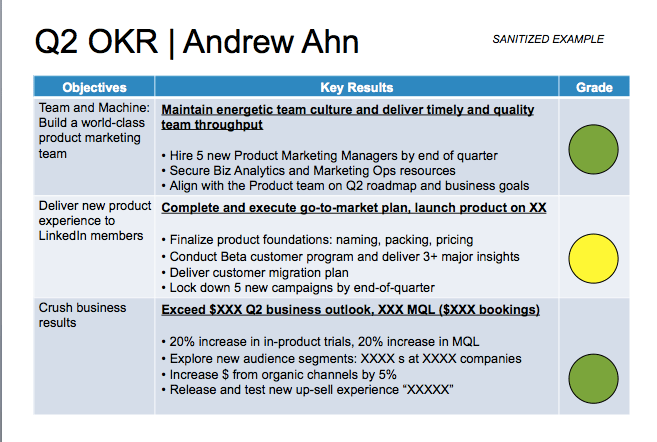 OKR has already been introduced and adopted in several companies in the startup industry. Birdview, a provider for the cosmetic information platform Hwahae, is known for successfully choosing the OKR method in their HR sector. 
* Setup OKR with JANDI
 Once you've understood the OKR methodology and decided to implement it to your company, follow the next five steps to use JANDI to apply it. 
[Step 1] OKR Goal Setup: Create a chatroom just for OKR
The first and most important step in adopting OKR is to reach a company-wide consensus because OKR is a bottom-up goal-setting model. The OKR manager in each department should join the Topic to set up the group's vision and objectives. Only when they communicate the opinions of their members to the OKR discussion Topic and participate in the discussion to provide their views, can they truly set the OKR goals that the majority agreed upon. 
When these discussions are held face-to-face, they are often inefficient and lengthy. Moreover, there may be a situation where you don't come to any conclusion or results from the meeting. Using a collaboration tool like JANDI can be a solution to overcome the shortcomings of offline meetings.
1-1) Create a Goal Setup Topic. 
1-2) Set your Topic as public or private based on the subject you want to discuss. Members assigned to the OKR setup will be more focused on the task when participating in a private topic.
1-3) When the upper-level manager invites relevant department representatives to the Topic, anyone dedicated to discussing the OKR setup has gathered in one private online space.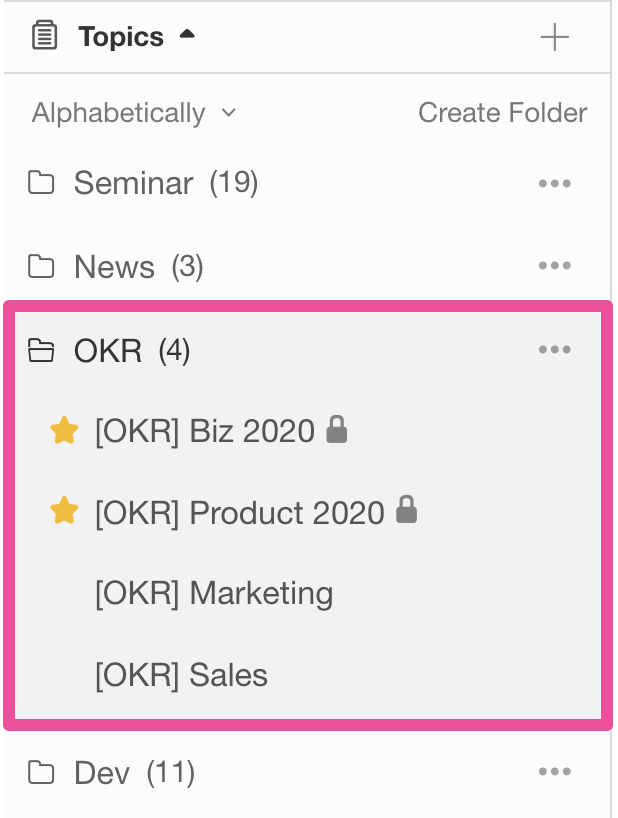 [Step 2] Accepting the new system as a group:
Make the announcement using JANDI Bulletin Board
Once the OKR goals are determined, the next step is to inform the organization of the new target management system. But remember, sudden changes can always be uncomfortable for some members. Therefore the OKR managers should make a clear announcement with the following explanations:
" The reason for implementing the OKR method "
" The benefits of OKR for individual tasks and departmental functions "
It's good to announce 1-2 weeks ago.
Instead of holding a company-wide and departmental meeting, or making email announcements, try using JANDI's Board View Topic to make your announcements. Fix your notifications at the top of the bulletin board to explain the reason, goal, and key results regarding the decision to adopt OKR in your company. You can use additional functions when running OKR, such as clicking 'Like' on the notice post, @mentioning the person in charge, or making the content a to-do. Always expose relevant content to your colleagues by fixing valuable announcements at the top of the bulletin board. 
 
[Step 3] Reaching OKR objectives individually and as a group: Using files, messages, and polls
The nature of OKR is that executive goals are linked to two to four critical objective data. This link is essential when organizing departmental and individual tasks. Departments and workers that aren't performance-focused are sometimes stressed when OKR quantitative data are posted. This is why OKR managers should continue to discuss, revise, and vote on the final goal with colleagues and managers after you announce the implementation of OKR.
This step requires a lot of discussions. In JANDI, once the manager lists up OKR goals, other members have a threaded conversation using comments. Because the relevant comments are organized under each post, members can communicate efficiently. It is also necessary to share reference files. Each department will be assigned individual assignments tailored to the key OKR goals this season.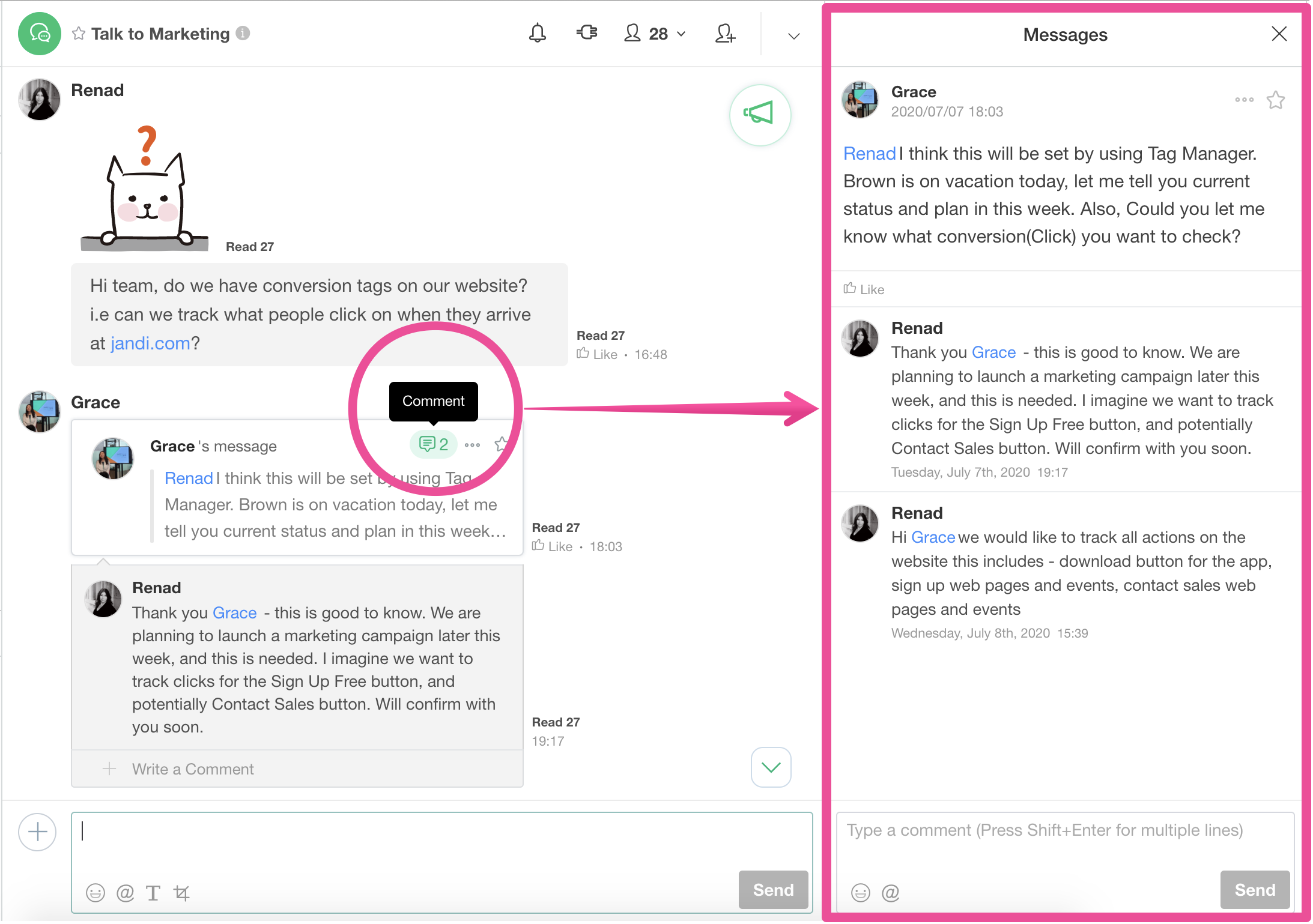 In case of disagreement among members, you can use JANDI's poll feature to reach a conclusion faster. JANDI's poll feature provides anonymous or multiple votes.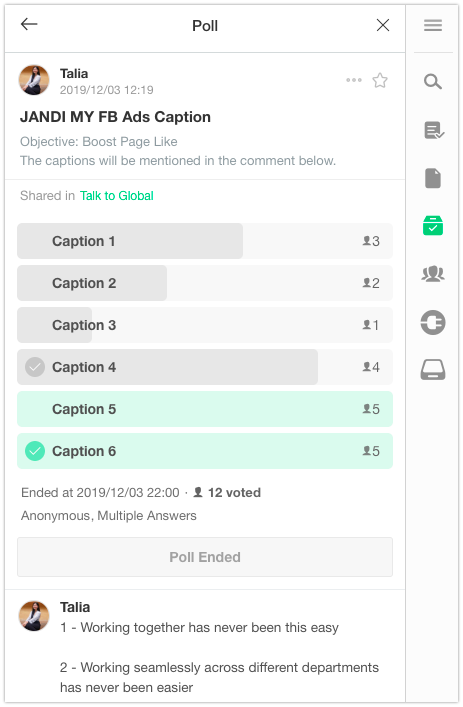 [Step 4] Record the OKR progress: JANDI Connect, To-do list 
It's time to proceed to achieve the OKR goal. Each department head or OKR manager must establish a set of implementation criteria and disclose progress. Share your progress on a weekly, monthly, or quarterly basis within your team. As time passes by, your OKR achievement rate will increase.
Some OKR tasks must be done periodically. To keep track of the progress, the OKR manager can integrate external services to a JANDI Topic using JANDI Connect. We recommend that you connect services such as Google Calendar, Trello, JIRA, GitHub, or monday.com, to receive notifications on your progress.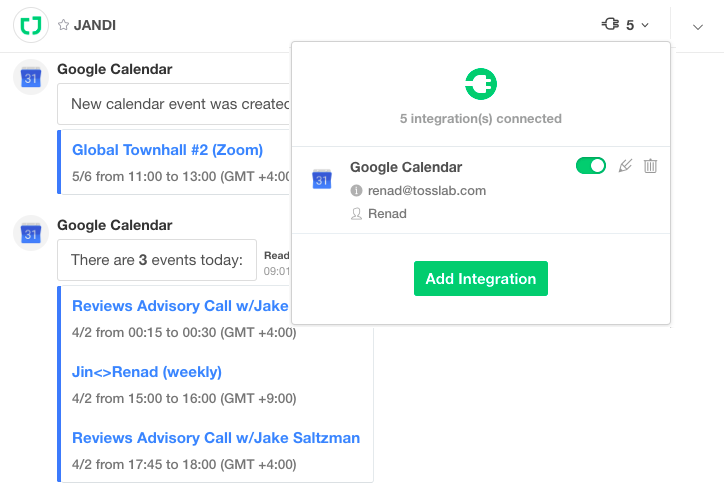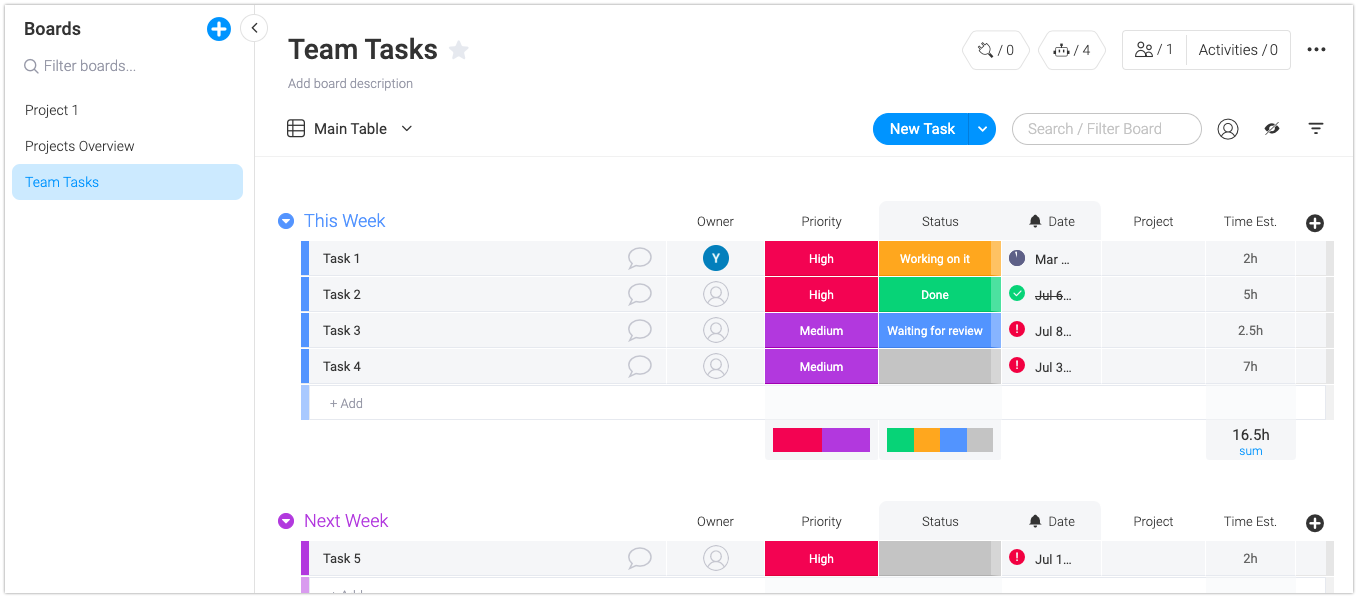 ⬇︎
To efficiently run OKR, you can also use JANDI's To-Do feature. The To-Do feature enables detailed task assignments to specific members according to priority.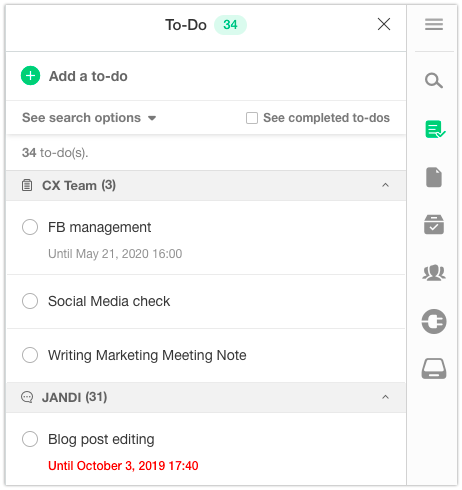 [Step 5] Review OKR effectiveness: Search feature 
Once your group used OKR for a certain period, it is necessary to review the effectiveness of adopting OKR. The team can then continue to move toward a common goal by modifying the goal. At this point, the organization can review metrics such as target achievement rates, challenges faced in implementing key outcomes, and the appropriateness of each quarter's OKR.
The review process will generate meeting records, and these records are uploaded in JANDI. To accurately compare the results to the previous period, the search feature is a must. Use JANDI's search filter feature to conveniently find just what you need from a wide range of prior season's meeting materials.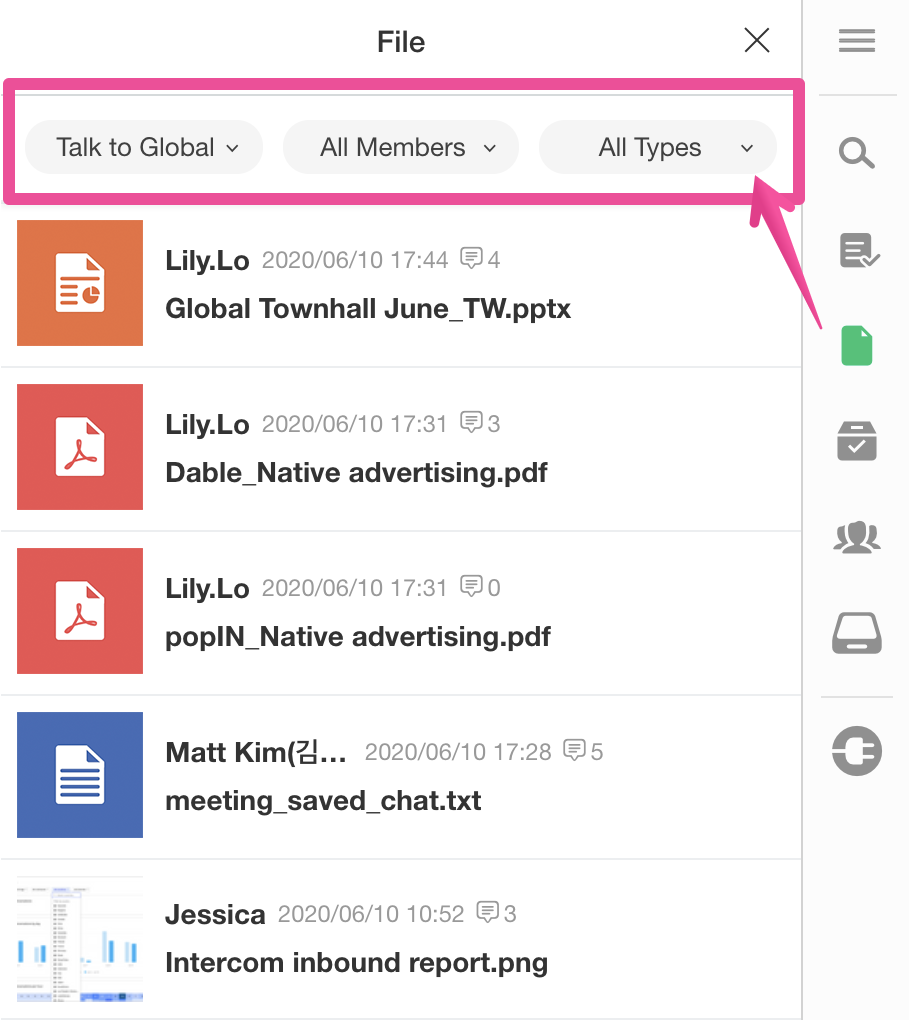 In conclusion:
Reach your OKR goals easily by using a collaboration tool!
The traditional top-down KPI method makes it difficult to change the target flexibly. The advantage of OKR, on the other hand, is that it requires a lot of communication and discussion so that team members can express their ideas. In the collaboration tool chat room, please share your thoughts on running OKR and your progress. By frequently sharing ideas, team members will be able to help each other and excel as they reach their goals.
When implementing OKR, using collaboration tools such as JANDI can save time and improve work efficiency.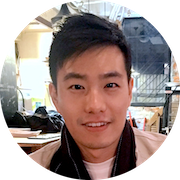 Chen Xinzhi