How a fully remote SalesTech start-up uses JANDI to accelerate product development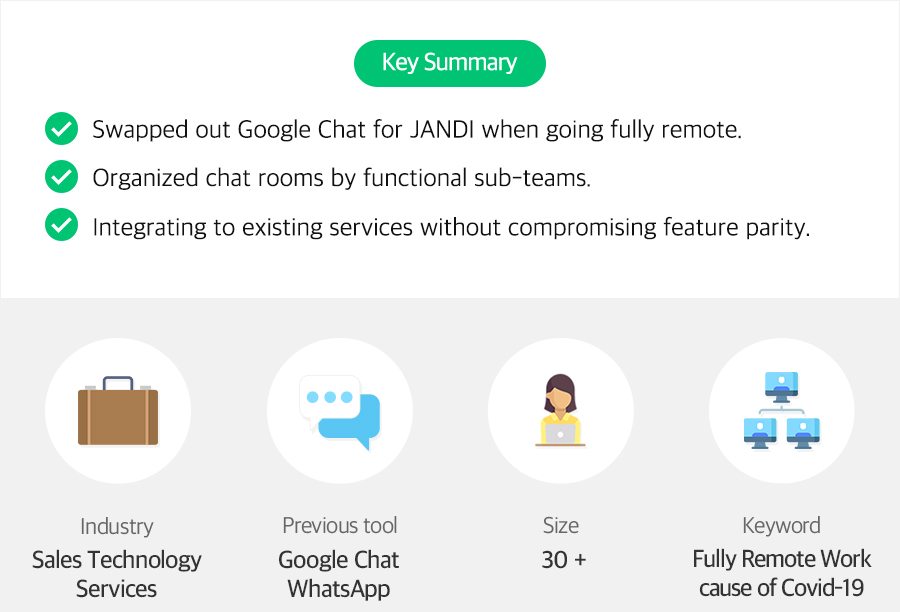 Introduce your company and service
---
SalesCandy® is a SalesTech startup that focuses on helping its lead-to-sale clients close more sales.  Incorporated in 2017, SalesCandy is currently operating in six countries – Malaysia, Indonesia, Vietnam, Thailand, Australia, and the Philippines, offering lead-to-sale solutions to consumer-facing industries including real estate, private education, banking & insurance, automotive, and health & wellness. 
Our flagship product, SalesCandy LMS is a real-time Lead Management System that instantly routes leads on-demand to the first available salesperson's phone. Unattended leads will be automatically rerouted to the next available salesperson after 25 seconds. It helps clients close more sales by enabling the salesperson to act on the hot leads within seconds whilst enforcing transparency and accountability throughout the life cycle of the sales leads.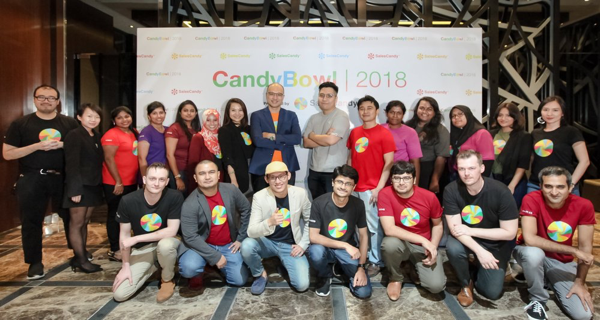 Key Highlights: 
Winner of HLB Launchpad Program (2018)

Raised USD 1,050,000 pre-Series A funding with Wavemaker Partners leading the round (2019) 

 Expanded into 4 Southeast Asian countries (2019)
What was the communication and collaboration like before JANDI?
---
SalesCandy, like many startups and small businesses, uses Software-as-a-Service (SaaS) tools to quickly and easily set up our IT infrastructure and focus on our business. From the beginning, we had teams of full-time and part-time employees working remotely from home and also in different countries, so we relied on Google Chat for our main internal conversations. However, as our team grew in size — and with it, complexities and volume of interactions — we started to face limitations with Google Chat. 
Why did it make sense to adopt JANDI for your team?
---
As SalesCandy expanded across five countries and department sizes grew, we started to create more chat rooms so that daily conversations can be followed by only the relevant people. Imagine, we would need a room for each country; each department; then perhaps inter-departmental rooms; rooms per sub-department; not to mention the rooms dedicated to special topics or one-to-one conversations! 
It is hard to keep so many chat rooms organized in Google Chat. Furthermore, conversations are grouped as topics in each room, and in very active rooms, many conversations tend to get pushed up and away from view and we frequently have to search to continue on that topic. The alternative was creating even more rooms per topic! 
Other limitations also became apparent. For example, we routinely share files like screenshots and documents through chat, and we found that it was hard to organize and search for shared files in Google Chat. We also could not invite external parties such as vendors into our chat rooms, which forced us to use alternatives such as WhatsApp or Telegram to accommodate them. We started to integrate our other tools such as Trello, Zendesk, and GitLab, which contributed more rooms and messages.

Such problems started to impact our productivity as we had to spend more time tracking conversations and participants across many rooms and platforms to make sure we do not miss any important messages or issues. Clearly, we had grown too big for Google Chat and so we started to look for a better solution and chose JANDI.
How does JANDI provide value to deliver your product or service?
---
SalesCandy is a startup that emphasizes speed in all things. Our product itself is built on the idea that prompt responses by salespeople will translate to increased sales and superior customer experiences. This philosophy is deeply ingrained in our culture as a company, whether from our own sales teams, customer success team, developers, we strive to respond promptly and effectively to any requests or issues, from customers or peers. This creates a need for us to be able to connect with anyone within the company easily, distribute the information we need to get things done efficiently while being able to monitor notifications from multiple sources without distraction.
We did not have to look much further than JANDI when we looked for a messaging app. It is fast and responsive, it has a user-friendly interface, a browser, desktop, and mobile version. Take any competing solution, and you can be sure it does the same job. What mattered to us, is how easily and quickly we could migrate from Google Chat to JANDI. We accomplished this within one week, it solved our problems, and we stuck with it.  As we trialed JANDI, their team helped us to quickly learn about its features and answered our questions. The in-app support feature further made it easy to get in touch with both local and HQ teams, not that we needed support beyond the initial onboarding.  
We were already using JANDI when the COVID-19 pandemic became an issue and everyone was forced to work from home. Then we discovered that our productivity was barely impacted by the culture, tools, and processes we had set-up, and in fact, improved in some ways, so we decided to embrace a fully remote work life. Today, our teams are more distributed but also more connected than ever. Working with vendors, partners, from multiple countries, it's important for us to use a chat tool we are comfortable with, and one that also scales with the amount of conversations we have. JANDI has been instrumental in our transition to a fully remote team without significant hiccups as a result of being connected in a single team messaging platform.
What are your favorite features & how was your experience adopting JANDI?
---
There are features that directly solved our pains with Google Chat. We are now able to organize our chat rooms more effectively using folders, and also include people from outside SalesCandy in our chats. Then, there are features that completely changed how we use a chat tool, like threaded messaging, side-by-side chats, and board views. And finally, there are features like API integrations, to-do lists, and search which makes it the centre of our remote-working experience.
* Organizing Chats Rooms (Topics)  into folders
In JANDI, we could organize chat rooms or topics into folders, and importantly, every user can organize their folders individually in the way they want. 
This allowed us to manage our conversations very differently and much more efficiently than in Google Chat. For example, within our engineering team, we have a general channel for everyone, and topics dedicated to functional sub-teams i.e. Platform, Mobile, Portal, and Data Science. We also have topics dedicated to specific projects, features, or time-sensitive goals which may need more focused communications and involve different people from other departments. 
Since every user on JANDI can manage their folders how they like, it is easy to organize these topics in a manner that works best for their individual workflows. For example, as CTO I would have a folder called "Teams" that group all sub-team topics together, whereas a team member would have a folder called "My team" which groups her team and feature topics together, topics owned by other teams might be grouped in a folder called "Others". 
* Involve external parties 
JANDI makes it easy for topics to be created as public, where anyone can see from topics listings and join, or private topics where members need to be invited to participate. One-to-one conversations can easily be converted to a group topic by inviting others to join. 
Occasionally we engage third-party vendors or freelancers to assist with ad-hoc projects or specialist tasks. In the past, since we could not include them in our chats (they would have to have an account with our same domain), so we would have to communicate with them via Whatsapp or Telegram. This means an extra platform for us to manage, while also losing some main features/benefits like seamless file sharing, search, etc. In JANDI, we are able to invite these parties into any topic using associate accounts and keep everything in one platform.  This saves us a significant amount of time spent switching apps and searching for files.
* Chat and Board views
JANDI has two kinds of views for a room. The first is the conventional Chat View, familiar to everyone who has used a messaging application. It has threaded messages where we comment and expand on any message — which we can't do in Google Chat. We like this feature because while most conversations we have are typically linear, we sometimes need to refer to previous messages and focus on them for a while before we move on, but what's great is that in JANDI's 3-panel layout, we can continue on that micro-conversation while the rest of the main conversation proceeds. This is super effective when multitasking or coordinating between teams, which we frequently do.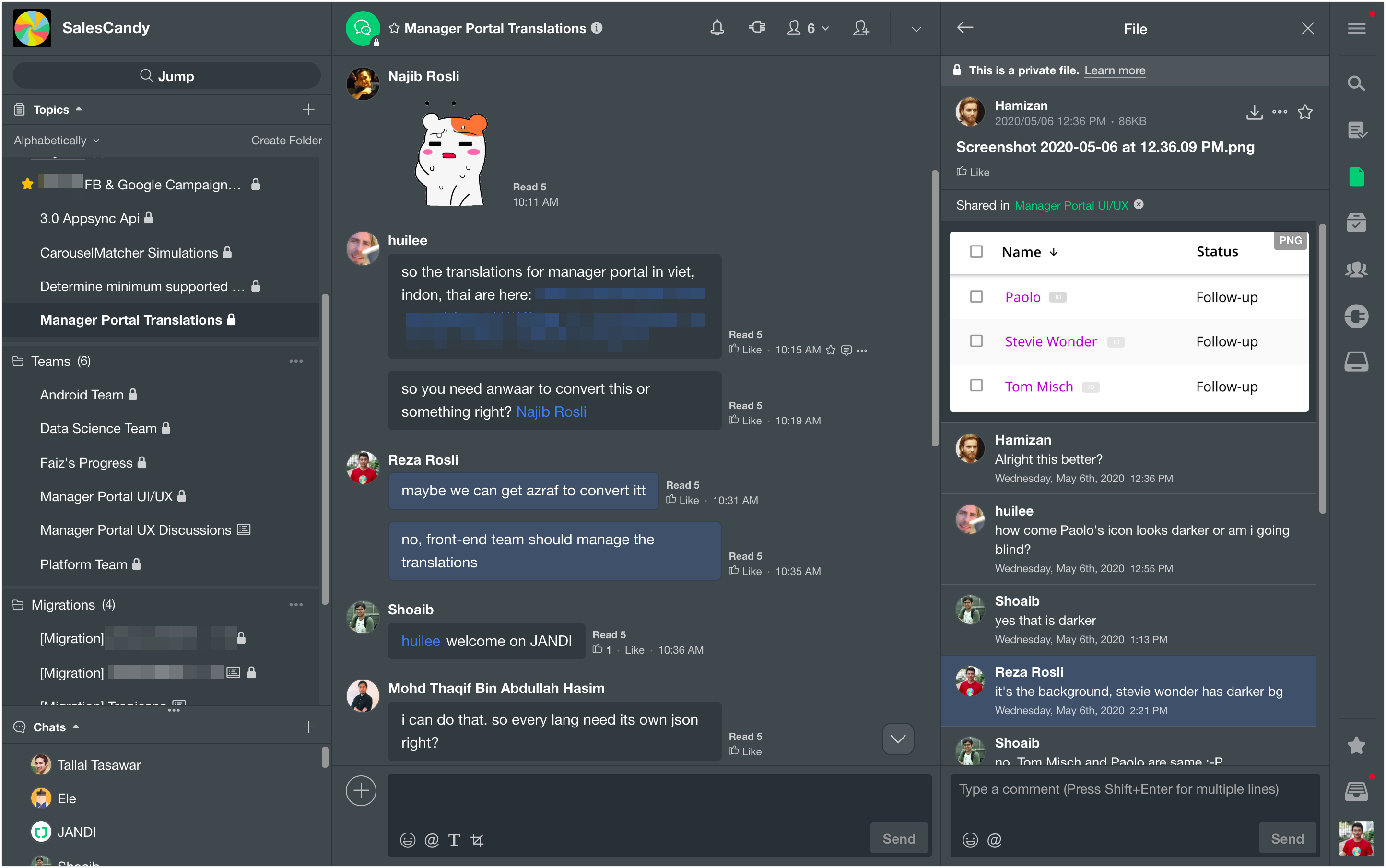 The other kind of view that JANDI offers is the Board View. It works like message boards, where we post a topic and the conversation continues around the same topic (like how people post and comment on Facebook). Different from the Chat View where conversations tend to be free-flowing and mostly talk about transient matters, the Board Views are perfect for grouping messages together and allows focused discussions over a longer period of time.
We use rooms with Board Views to publish our weekly software release notes to be viewed by others. SalesCandy is constantly iterating our software, with updates and new features released weekly. Our microservices architecture and continuous integration system allow each developer to update their services independently, resulting in quick release cycles, and sometimes we will have several updates happening per day across different teams, making it sometimes difficult to track when the updates happen. With JANDI we are able to neatly organize our release notes that are grouped by function and calendar weeks which make it easy for developers to report their updates for everyone else to be able to follow the changes.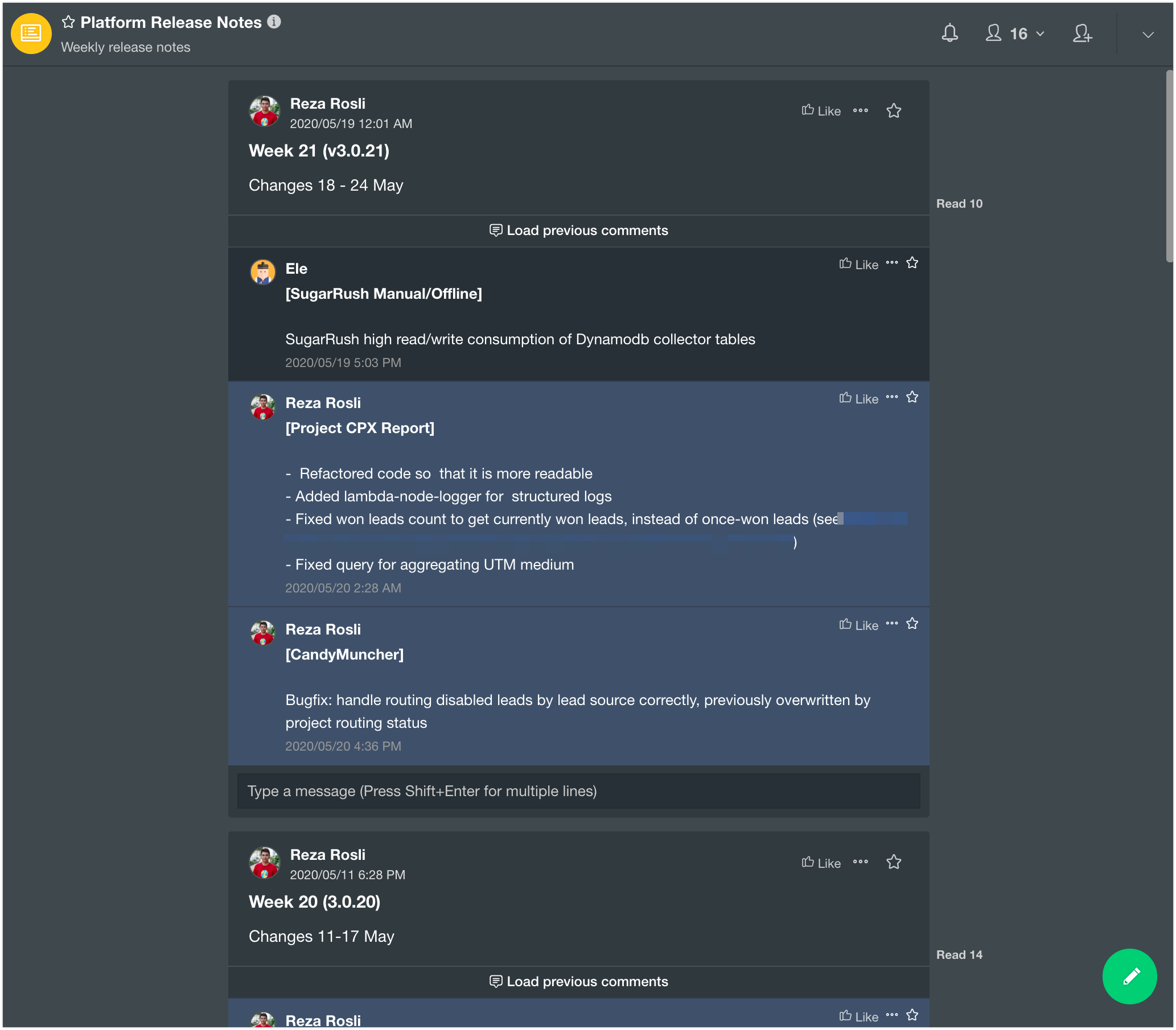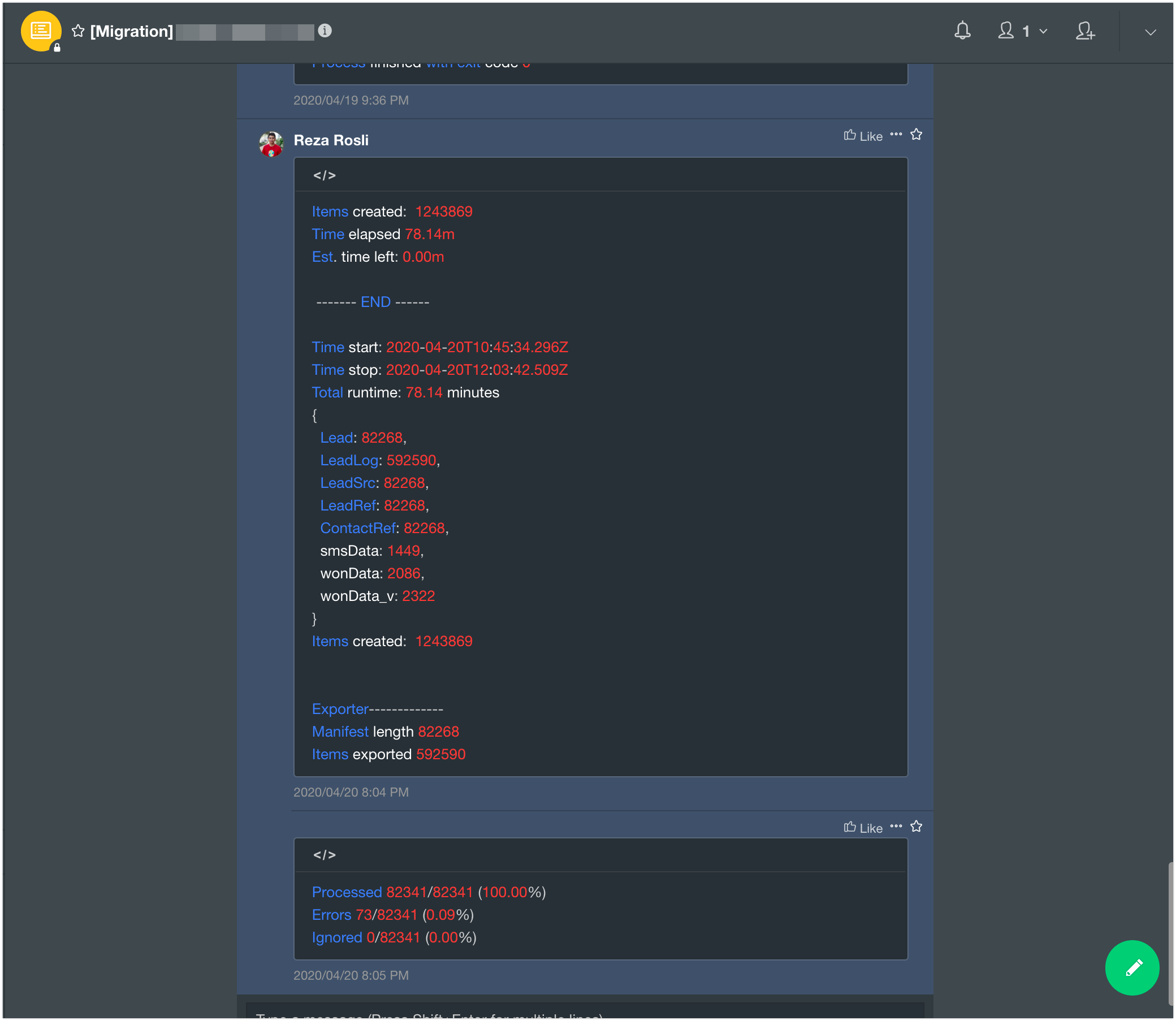 The Board View is surprisingly versatile, and we use it for many different purposes! We use it to discuss specific features, for keeping journals of events, for example, to post and track incidents, minutes of meetings, and weekly reports.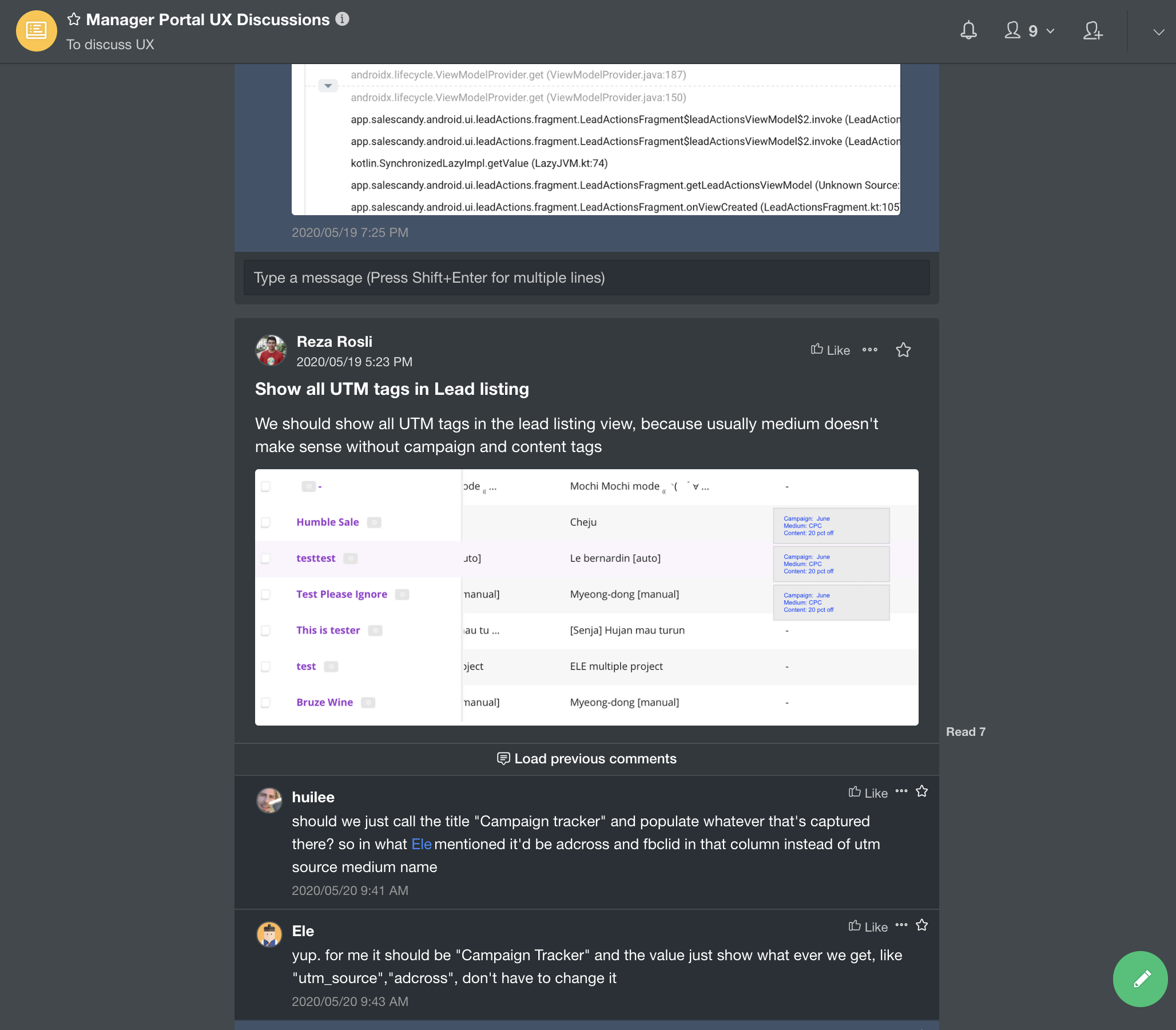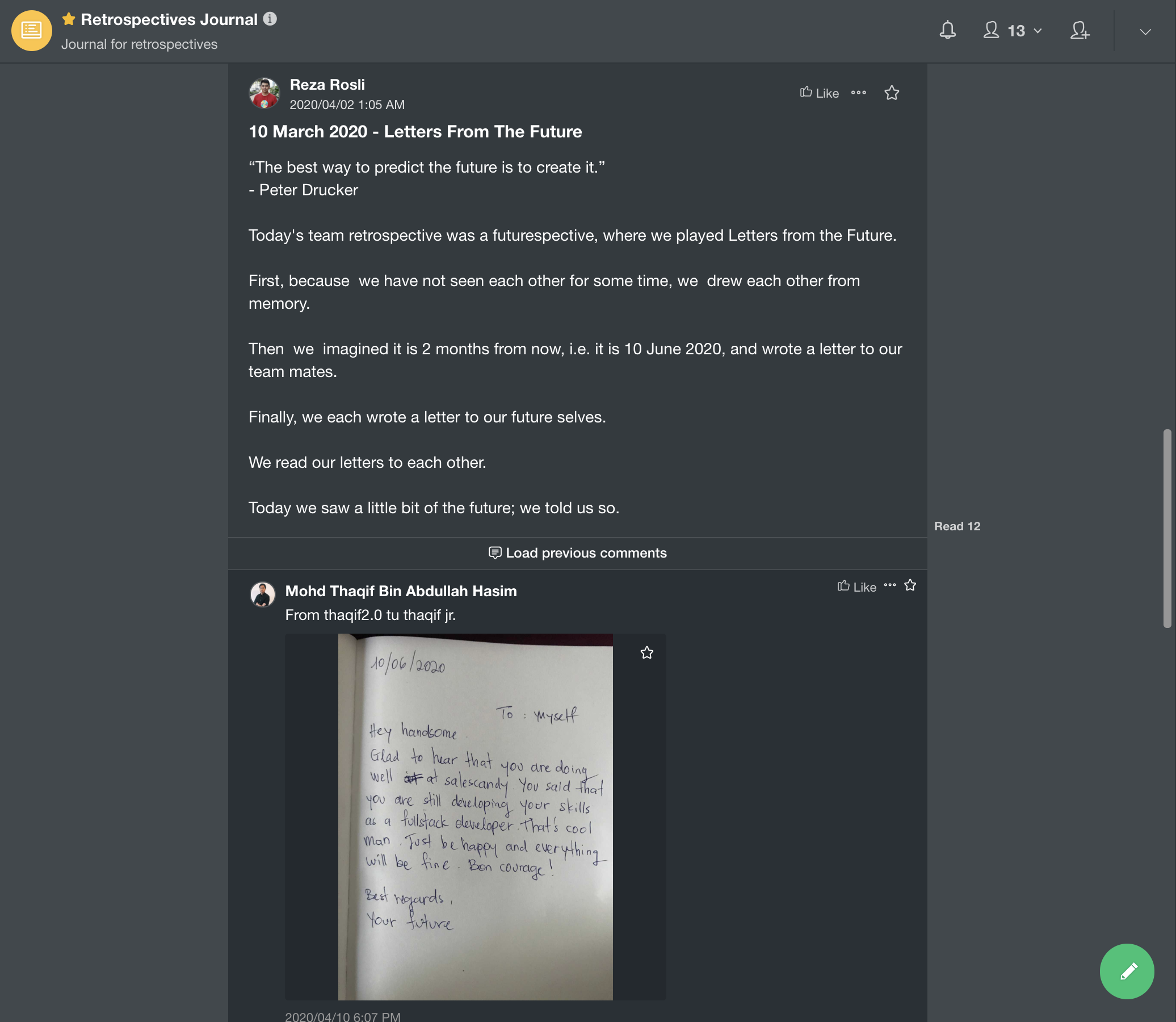 * Integrations
With so many cloud products that we use, it's important for us to integrate them into our messaging tool. Otherwise, we would be spending a lot of time cycling between each tool to keep up with them or have our email inboxes fill up with all kinds of notifications.  Even in Google Chat, we had already integrated the tools we use daily like Trello, GitLab, Zendesk, Calendar, and we were able to easily do the same in JANDI.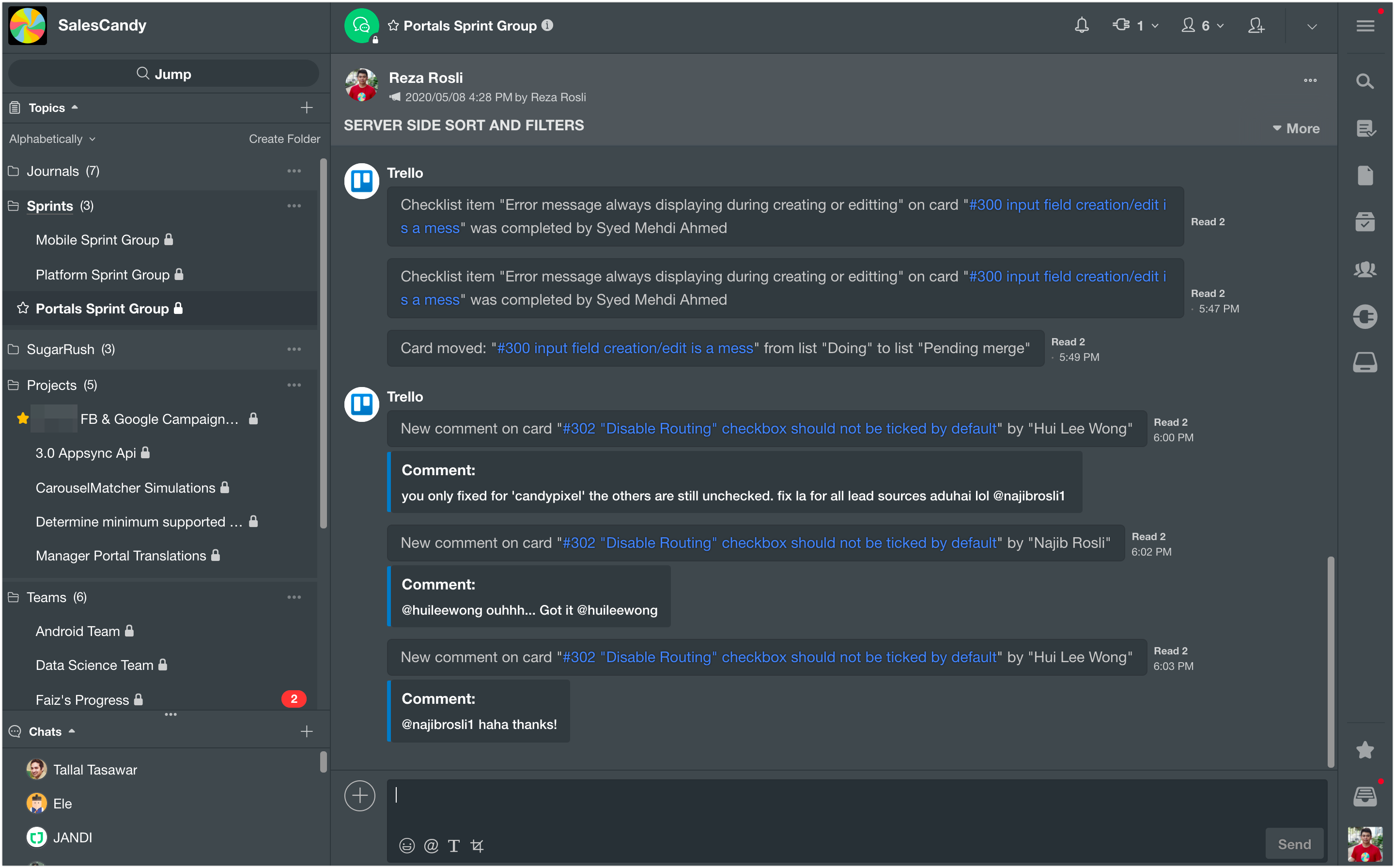 We have set up our integrations such that we can receive notifications about events that we are interested in from all our other tools within JANDI, making them easy to track and respond to. In JANDI, we are able to get more value from the notifications. For example, we can search for any notification, discuss them using the threaded messaging feature, share them across rooms, and also convert notifications to To-Do items easily.
A really powerful aspect of JANDI's integration feature is how every user can independently set up their own individual integrations the way they want to, and they don't necessarily have to be limited by what administrators have prepared for them. So for example, while the CTO can set up his integrations to receive only high-level notifications across every service, an individual team or developer can set up more detailed notifications only from the service they are interested in.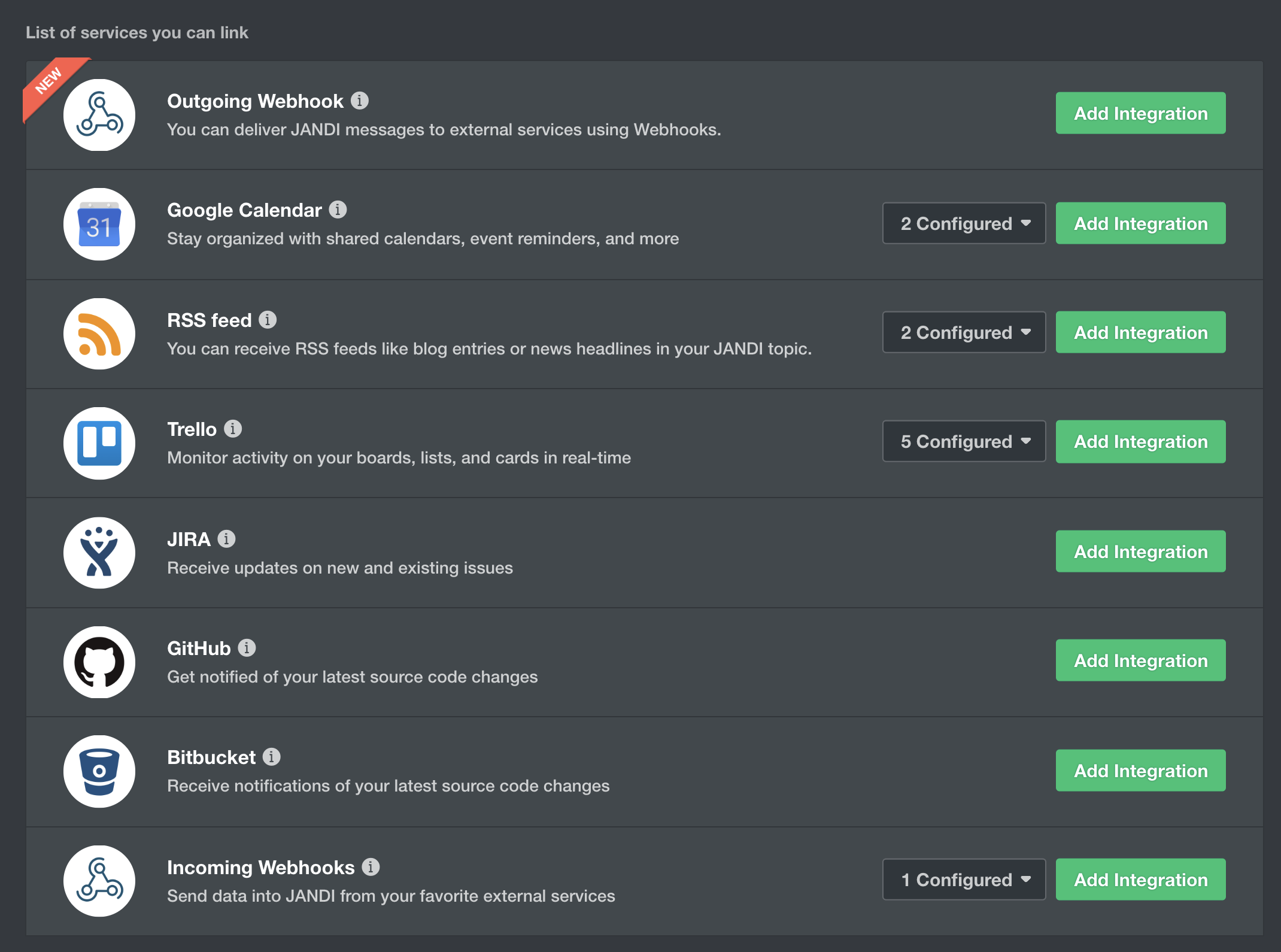 We have seen how other JANDI customers use integrations and are excited to explore more what we can do!
As a fully-remote and geographically distributed company, most of our work interactions now happen in JANDI, and we have used it in some ways that have made us even better than when we worked together in the same physical office because now everything is documented and accountable. Its powerful search functionality allows us to easily look up previous conversations and shared files.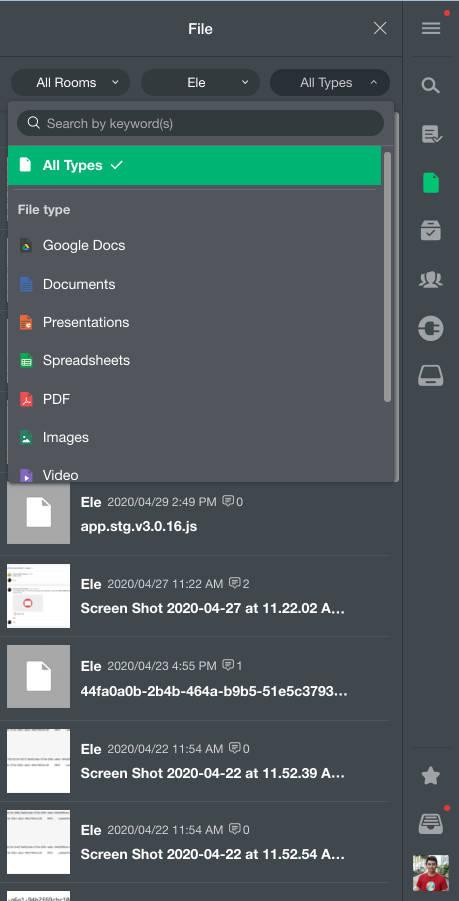 We can easily create personal tasks for our own selves or others  (To-do) that are directly associated with the relevant rooms.  All these features have made JANDI an integral part of our working day, whether we are working at our desks at home or while on the move with our mobile devices. 
What type of companies would you like to recommend to use JANDI?
---
We've highlighted how we use some features that help us achieve the agility we desire for our software development and delivery teams, but they are also useful for other teams across the organization to communicate and collaborate effectively in a digital environment.
Hitachi announced in June that it will aim to make working-from-home the new normal from April 2021, surprising many in Japan — a country famous for its demanding work culture, where "salarymen" clock in up to 80 hours a week. It's clear more enterprise type companies will implement remote work. Enterprise users will appreciate other functions not mentioned: JANDI Drive, Organization Chart, Video Calls, Mobile Download Restriction, Document Watermark, Silent Hours, Integration with Google Drive and Zoom, and much more. While we do not use these features as much right now, we are confident that they will become important as we keep growing.
It's clear larger companies would benefit from using JANDI; there are companies that use platforms meant for personal messaging like WhatsApp or Telegram for internal communications (mostly unofficially). The popularity of such platforms shows how important they are in our daily lives, that they are now indispensable from work.  But using WhatsApp for work is a case of seeing everything as nails to your hammer — simply because this is what everyone is already familiar with and has installed on their devices. The wrong tools are counter-productive, and this is ever more so evident when we hear people talk about "WhatsApp Hell"  or "Zoom Fatigue".  They should instead use a tool like JANDI that has features beyond simple messaging to provide collaboration features resulting in efficiency benefits. 
Other small but technologically-dependent companies like us will certainly find value in a solution like JANDI, especially if they are still using an entry-level tool like Google Chat and are looking for an alternative.   
While we are using several different tools for collaboration like Trello, I think JANDI has enough features that make it a stand-alone solution for many simple use-cases. For example, the Board View feature is sufficient as a simple Trello alternative, especially since Trello is not so easy to use with a phone. JANDI Drive and Video Calls also fulfill most needs if you did not have them already.
We know from our own experiences with many clients implementing our mobile-first SalesCandy lead management SaaS solution that digitalization and mobility are key strategic imperatives for many companies and that companies implementing partially but highly mobile or fully remote workforces is a trend which has only accelerated due to new challenges exposed by the COVID-19 pandemic.
Our advice for any company needing an online collaboration tool like JANDI who are reading this is the same we would give our clients: there are plenty of other solutions out there, but you need to, and you can take action now. Why not take advantage of the flexibility of a SaaS tool to try it out and implement it at a small scale with minimal commitments? In our case in Malaysia, we were supported very well by JANDI's local team, from the beginning until now. If it works out well for you, then enjoy having great software that makes your workday far more fun, productive, and successful.