The First Step of Digital Transformation : Bosung, a Construction and Energy Company
As a core industry, the construction industry is the central axis of the Second Industrial Revolution. Since the industry's beginning in the 18th century, many construction companies have a long history and a solid foundation. In particular, vertical integration is standard in the industry, and its corporate culture and work methods tend to be that of the 20th century rather than the 21st. Since the construction industry's overall view remains in the secondary industry, many aspects do not blend well with the 3rd and 4th industries, just like water and oil. The best example of this is the word method. Unlike the quaternary industry, where time and space constraints have been significantly reduced, the construction industry is still suffering from problems such as the physical separation of construction sites and the headquarters and communication issues. Although not a direct factor, the fact that the average age range of industry workers is high inevitably affects communication difficulties.
As a result, many companies still use face-to-face methods, phone calls, and documented paperwork, and since the 2000s, cases of using emails and messengers have increased. In 2010, as mobile devices became more popular, communication problems had progressed, but compared to ICT companies still focusing on digital transformation, there is a long way to go. However, the 4th Industrial Revolution is an event that has a profound impact on the tertiary industry and the primary and secondary industries. Accordingly, the construction industry is also facing a challenge to digital transformation. This is because responding to the fourth industry itself is a process that directly helps to continue business and improve work productivity in the future society.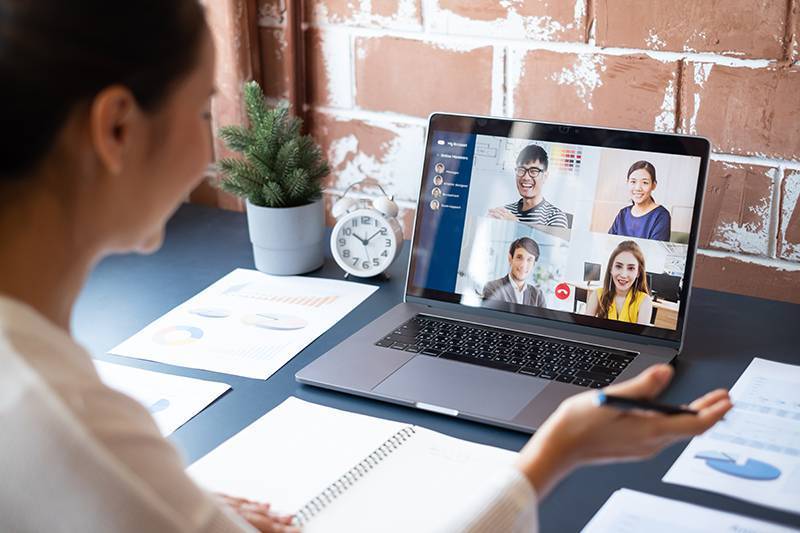 And the first step is to transform communication. As mentioned earlier, there is a physical distance between the construction site workers and the construction industry headquarters. This problem can be solved with information and communication technology.
Each employee can deliver work content accurately and efficiently so that companies in the construction industry can gradually achieve work efficiency and digital transformation. This is why the "work messenger" dedicated to communication required for work emerges as the first step in digital transformation. This is because the method of introducing a dedicated messenger optimized for work is the most effective rather than a one-time video conferencing, voice chat, or in-house messenger. We visited the Bosung Group, which is building a digital workplace among the company members by introducing JANDI, a business collaboration tool, and listened to the story in person.
Bosung Group's business and work system innovation is through digital transformation
---
Bosung Group's executive director Jung-Sil Lim says. Bosung Group is a company that has as its main subsidiaries Hanyang Co., Ltd., which is known as "Sujain" apartments to general consumers, and Bosung Industry, which runs real estate/housing development business.
In recent years, the company has expanded its scope to the energy business from construction to solar, bio, and LNG in response to the 4th industrial revolution. Besides, as part of the eco-friendly eco-city project, the Bosung Group is making complete steps to develop the "SolaSeaDo" in Haenam, Jeollanam-do, and the "Sejong Smart City National Demonstration Project," which was recently selected on October 9.
Bosung Group has been focusing on the construction industry for over 40 years. Because the company's business was directly connected to the construction site, it faced difficulties adopting a digital business method. However, Bosung reached where it is today because it could figure out the new digital transformation trend and has been pushing for digitalization, just like IT companies. Let's hear the details from Jung-Sil Lim, the current executive in charge of the digital management team. Jung-Sil Lim is an industry expert who has dealt with a wide range of IT technologies such as architecture, AI/big data at LG CNS for the past 25 years, and is in charge of drawing the blueprint for digital transformation at the Bosung Group.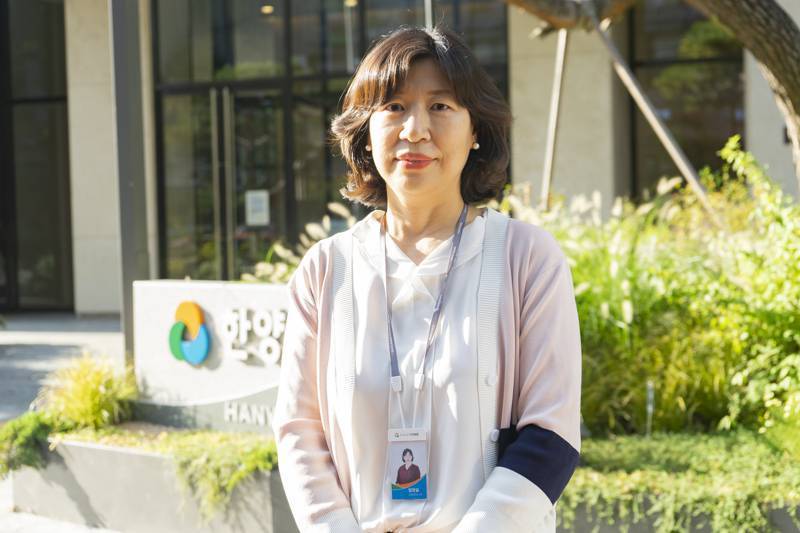 Bosung Group emphasized that the IT factor lacking in the construction industry was 'digital transformation' as a management innovation tool according to changes in work and business environment. Executive director Lim said, "Originally, digital transformation is spreading to all industries led by IT companies, but it is true that the construction/energy industry is somewhat behind. However, even in the traditional industrial area, digital transformation is an irreversible trend of the times. It is necessary to define and promote the essential areas and methods according to the business environment.
First, our group is carrying out informatization changes to improve the existing environment.

Second, we are making internal and external communication and promotion online.

Third, the Bosung Group defines the digitalization area through intelligence that combines artificial intelligence and big data technology and is deriving and executing related tasks for each area.
She also added, "Bosung Group focuses on changing the way of working by renewing each affiliate's homepage and establishing a digital workplace to handle all of the existing offline-based promotion, securing investors, marketing, and recruiting on an online basis. It also deals with intelligence tasks such as business development management using drones, surveying, solar panel monitoring, and solar data analysis, focusing on new businesses such as energy and smart cities."
The best part about JANDI is that you can divide different subjects and discuss them in each Topic
---
Bosung Group is a comprehensive enterprise that encompasses a wide range of fields such as energy, construction, extensive real estate development, leisure, and future cities. Because it is such a big company, they carefully reviewed adopting JANDI.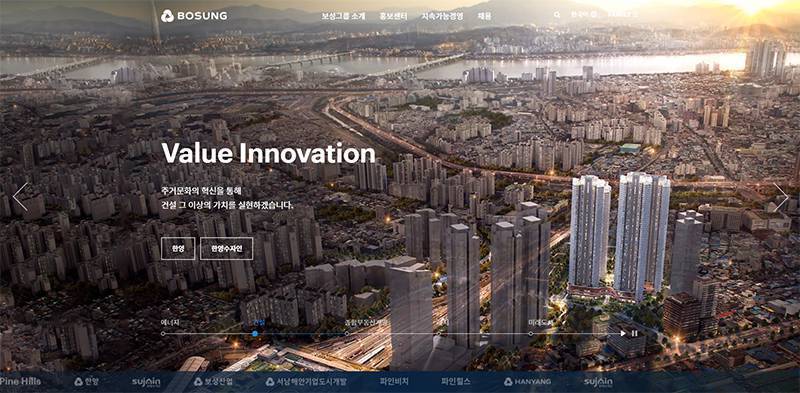 The first tool the Bosung Group decided to use for business communication within the company and with partners is JANDI. Before using JANDI, the company mainly used electronic approval through the work portal, telephone, and e-mail. Although there was an in-house messenger, it was a daily routine to manually write, copy, and share meeting notes.
In November of last year, as part of digital transformation and online conversion, JANDI was introduced in business communication and started paralleling with in-house messengers. As telecommuting began due to COVID19, communication through JANDI started on a full scale throughout the company during the demonstration period. Of course, before JANDI was introduced, the company reviewed various global and domestic messengers. Still, JANDI was selected considering the advantages of differentiated functions and services because it was easier to use.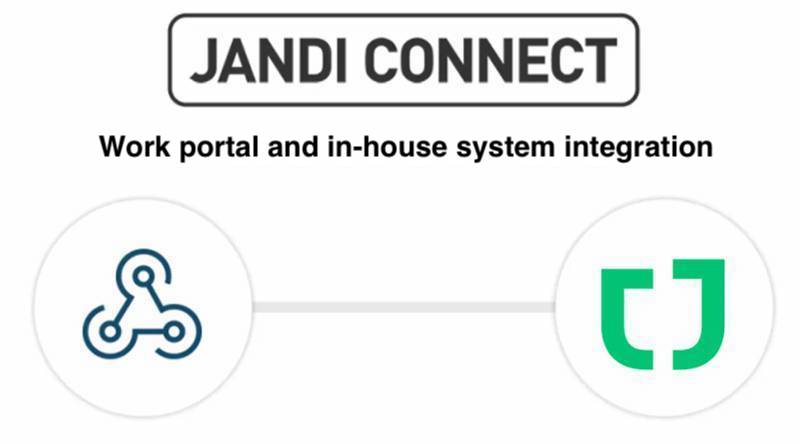 From a corporate standpoint, JANDI has the merit that it is optimized for domestic work environments such as work portal and in-house system integration.
Executive director Lim said, "We did a suitability study for various enterprise messengers, but due to the nature of construction companies with multiple age groups, it was essential that all company members could easily understand them. From that point of view, JANDI had 1:1 support, improved function, and accessible UI, and most of all, it was easy to use.
In particular, JANDI's unique menu and topic composition enable efficient communication without confusion as it allows communication to be carried out by distributing work by project. As it is a domestic solution, it is possible to improve business communication requirements or meet existing domestic business systems. The advantage is that the connection is flexible. For instance, JANDI added features tailored to our needs such as registering or editing planner schedules on the digital workplace, centralized file and links, Zoom integration, and the dashboard feature."
The executive director also emphasized the new organization chart feature. Personal messengers only work when both parties are connected, but JANDI provides the company organization chart so anyone in a specific department can take action and carry out the job. Another benefit is that anyone who joined the Topic later could still go over previous messages to grasp the workflow. This is only possible in an enterprise messenger, not a personal messenger.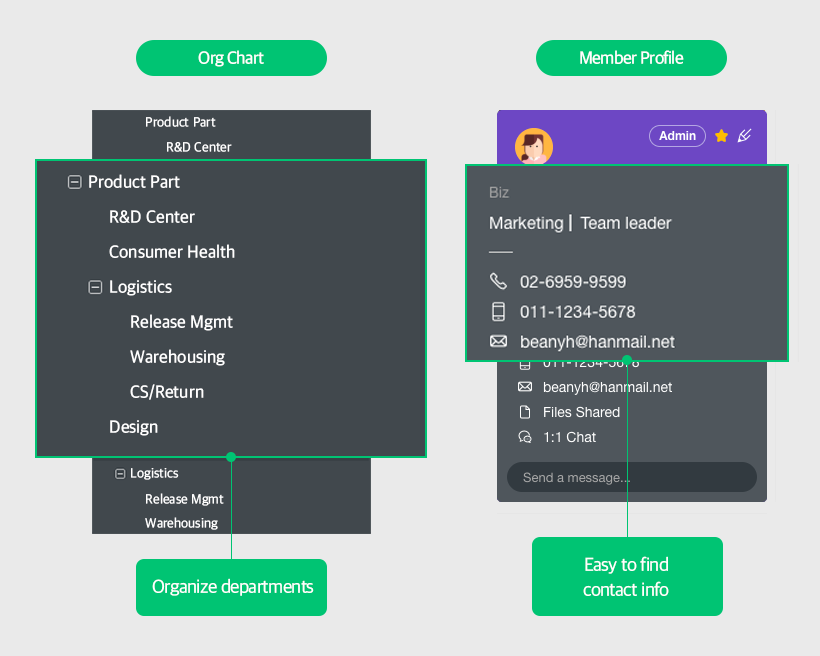 Without JANDI and its centralized file system, it would have been tough to cope with telecommuting
---
JANDI also plays a central role in work efficiency and productivity. Bosung Group announced that it has been working from home twice in March and during phase 2.5 of social distancing, and it has confirmed that it has a tremendous influence in terms of efficiency. Previously, it was possible to access the company mail or internal system from outside through a virtual private network (VPN). Still, it was difficult for all members of the company to use it. 
In particular, real-time communication is essential even because of local sites' communication due to construction companies' nature. However, in the past, communication through e-mails and messengers were only one way and not even in real-time, so it took extra time to communicate.
JANDI solves all of these problems because members can use it on their smartphones or PC. Communication on JANDI is quick and in real-time.
Moreover, JANDI has a system where members can discuss various subject matters on multiple Topics and quickly added the video conferencing feature for efficient communication. Executive director Lim said, "without JANDI and its centralized file system, it would have been tough to cope with telecommuting."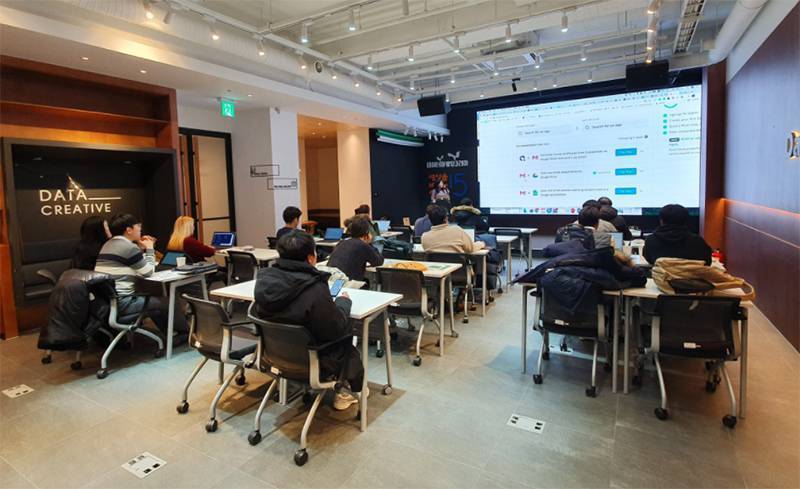 I used to think that enterprise collaboration tools like JANDI are suited for startups and office workers, but I quickly realized that it was a prejudice. It is already proven to be efficient in the construction industry that communicates with sites such as the Bosung Group.
JANDI is also widely used in the franchise industry, logistics, distribution, and other industries that require real-time communication. To get back to the starting point, when asked how the conservative construction industry would accept JANDI, executive director Lim said, "Even for real-time communication and coordination of opinions from multiple people, business messengers are essential. However, construction companies need to find a method by comprehensively considering the organizational culture, the will of the CEO, and the environment inside and outside the company."
The need for enterprise collaboration messengers is quite apparent to carry out tasks in the construction industry. However, it is also essential when considering the digital transformation in the workplace. In fact, companies that have already begun digital transformation like Bosung Group are in the flow of preparing for the Fourth Industrial Revolution. On the other hand, companies that are insensitive to digital transformation are companies with a traditional structure, and their future position will inevitably become weaker eventually. In that sense, it is necessary to face the trends of the times, starting with a messenger for work like JANDI.
Executive Lim also added a personal opinion on JANDI. She said, "When we first introduced JANDI to the company, many people were concerned that JANDI is a tool for smaller companies. Bosung Group is a company with many sectors and members, and we were doubtful of how people would accept the new software. We formed a group called Digital Pioneers for digital transformation within the company, and it went through a pilot test (trial operation) for 3 to 4 months. The group discussed with Toss Lab so that Toss Lab could accommodate the requirements for the Digital Pioneers. The JANDI team was very supportive of meeting our needs and reflected our conditions as much as possible. I saw a clear possibility at this point."
Of course, we also criticized issues such as the Topics' complexity for those involved in various projects and the need for more authority figures in larger JANDI Teams. It was impressive that Bosung and Toss Lab exchanged constructive opinions as to the user and the software maker. 
The introduction of collaboration tools is the beginning of Digital Transformation, and it applies to all industries
---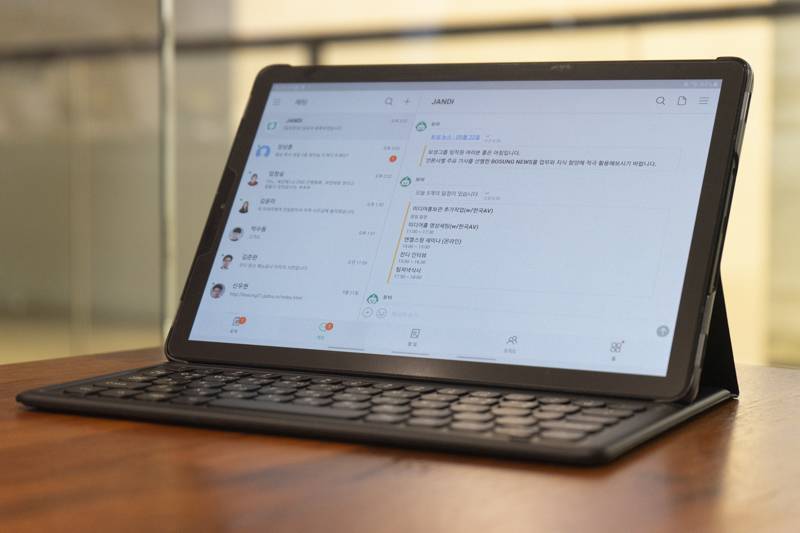 For Bosung Group, the decision to introduce JANDI was not merely because they can efficiently work from home. Bosung Group already encourages all employees to read articles on the group and market every morning through JANDI, connect them with news feeds, inform major conferences in advance, share data, and conduct on-site meetings through video conferences. Beyond the simple messenger function, JANDI is widely applied in all aspects of communication. Even in the company's elevators, the dialogue "I'll send it through JANDI" often comes and goes, proof that many employees quickly adapt to JANDI and appreciate its business functionality. 
Even the construction industry, which was previously based on analog communication, can be digitalized thanks to the atmosphere that even individual construction industry members work as part of a digital workplace. In particular, as non-face-to-face work such as working from home or remote work is encouraged due to the influence of the COVID19, the importance and efficiency of communication for work in a digital workplace will be more critical.
The introduction of JANDI in Bosung Group is the first step toward digital transformation and a challenge to strengthen corporate competitiveness. COVID 19 as the catalyst has already ignited digital transformation, so all industry leaders are accelerating the digital transformation they have already prepared. Now is the time for all companies, including the construction industry, to start improving communication, at least by using tools like JANDI. Bosung Group's introduction of JANDI is expected to be a textbook case in which the traditional secondary industry, the construction industry, evolves in line with the fourth industrial era.