How Technology can Improve Workplace Culture
With the influx of new technology and the adoption of tools for remote work, workplace culture is shifting from the office to online. The migration to a digital workspace is changing the way people work together; giving teams more flexibility, improving communication and transparency, allowing real-time collaboration, and increasing efficiency through process automation. These are just a few examples of how technology is changing workplace culture and improving team productivity.
#1 More Flexibility
---
Work from Anywhere
As more businesses shift towards remote work and flexible working hours, companies are benefiting by being able to attract key talent regardless of location, and employees can work from home giving them access to opportunities that normally would have been out of reach. Moreover, without the need to commute to the office, people can dedicate more of their time to getting work done. According to this study by yougov, 30% of office workers in the UK reported an increase in productivity when working outside the workplace.
"30% of office workers in the UK reported an increase in productivity when working outside of the workplace."
Communication – Team Chat & Video Conference
A vital aspect of every work environment is communication. This is more crucial when teams are not physically in the same place. Through the use of collaboration technology, discussions are happening in real-time, are structured and well organised (see All about Topics in JANDI), and the chat history is retained and easily searchable.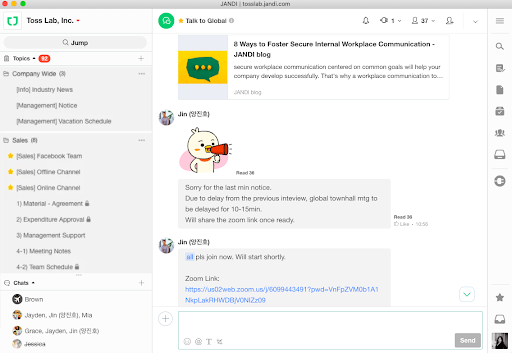 Instant messaging is replacing internal emails, meetings are happening virtually (see Zoom integration with JANDI), and team collaboration is becoming more efficient. This is just one example of how teams are staying connected and managing to work remotely.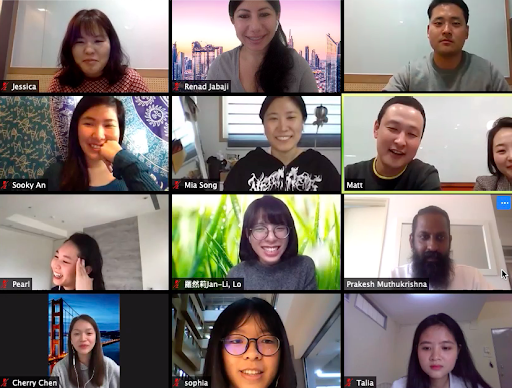 #2 Better Collaboration
---
Real-Time Data Exchange – Synchronous Working
Sharing and working on files together is essential for remote teams. Rather than moving a document from one desk to another, data exchange is happening virtually and in real-time. Applications like Google Drive enable people to upload and share files, work on the same document simultaneously, add comments, track changes and revisions, and control access rights and permissions, and synchronizing across all devices (see JANDI G Suite Integration).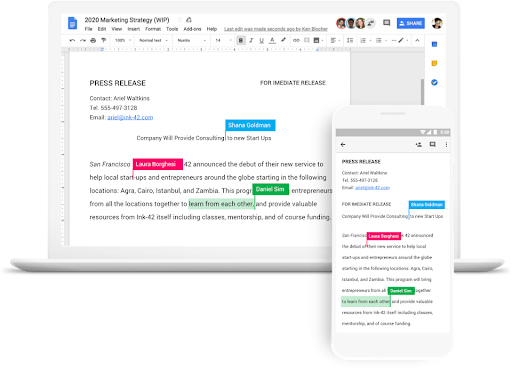 Efficiency – Planning & Task Automation
Planning projects, managing tasks and automating workflows can all be done online, helping teams stay focused by eliminating mundane activities and boosting overall efficiency.
Trello is a free tool that has boards, lists, and cards that enable teams to prioritize projects in an organized way. Members can add comments, attachments, due dates, and collaborate on projects from beginning to end (see How to Integrate Trello with JANDI).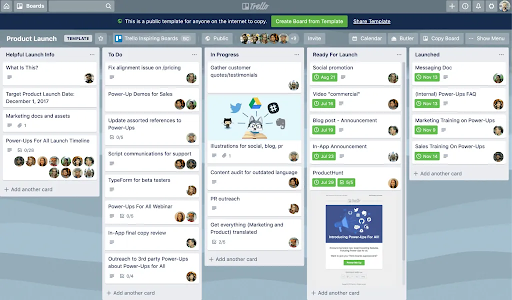 Monday.com is a project management tool for creating tasks and visualizing projects in a timeline or gantt view. Teams can track progress to ensure deadlines are being met, and can map out initiatives by month or year in the Calendar view.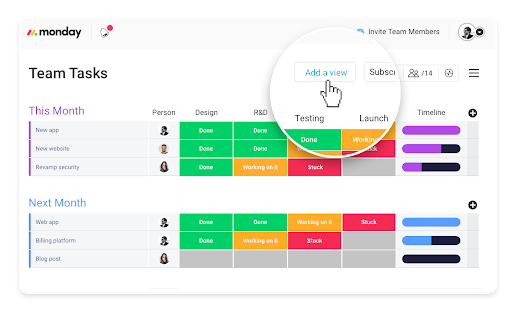 Zapier is a tool primarily used for process automation. "Zaps" can be set up so that when something happens in one app, it triggers something else to happen in another app. For example, when a task is updated on Monday.com, notify the team on JANDI (see Connect Monday.com and JANDI). Without involving developers, team members can easily move information between different web apps to create seamless workflows.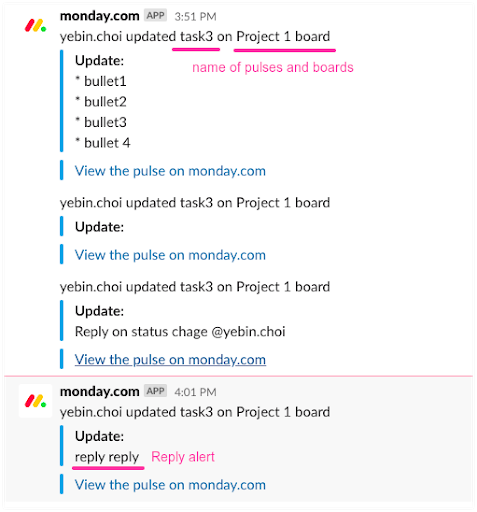 When repetitive and time-consuming tasks can be automated, teams can focus on more valuable high-impact activities. There is more time for creativity and innovation, which positively impacts workplace culture.     
Feedback – Surveys and Polls
Whether it's individuals working on a group project, or HR conducting an employee engagement survey, teams need a way to get internal feedback. With polls, teams can send questions to the whole organization, or target specific groups or departments. Surveys create open communication, so that managers and employees alike can gain insights to improve their own and the organization's performance.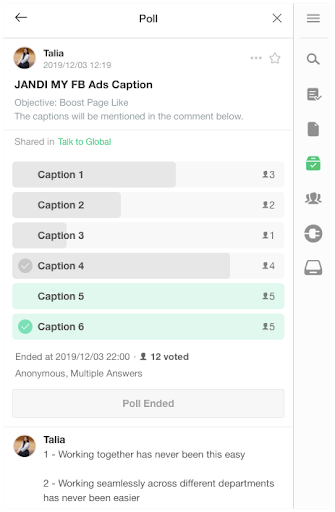 Employee polls and surveys can also be used to gauge employees' opinions about matters that are important to them. Asking for someone's opinion not only makes them feel valued as an employee, but also provides the business with ideas and perspective that might otherwise be lacking. Polls and surveys and can truly transform a company's entire workplace culture.
#3 Improved Transparency
---
Accountability – Key Performance Metrics
When the goals and performance of an organization are transparent, it fosters a more open and engaging culture. From the enterprise level to individual tasks, setting up objectives and key results (OKR) is fundamental to measuring performance. OKR consists of the goals (O) the company wants to achieve, and the figures (KR) for reporting. Quantifiable key results are then matched so that all members of the organization can run toward a unified goal. When member's roles, tasks, and expectations are properly communicated, everyone feels accountable for the overall success of the team (see How To Use Collaboration Tool For A Successful OKR).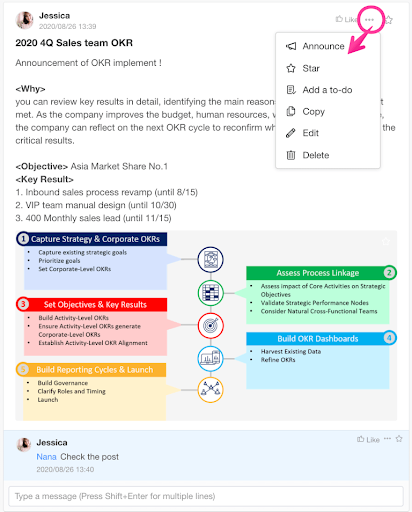 Employee Recognition – Celebrate Achievements
As more and more companies are realizing the importance of culture, engagement, and employee recognition, adoption of apps like Disco and Kudos have become increasingly popular. Companies set-up their core values on the platform, and reward points are given to members when they give or receive positive feedback or are tagged with a core value. Employees have a profile where they can view their achievements, points, and values tags, making it super useful for performance reviews and 1-1's. Recognizing coworkers for their achievements reinforces value-driven work and team appreciation.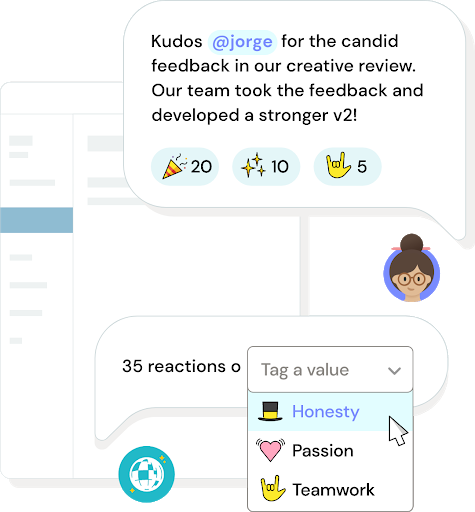 Training – Onboarding & Career Development
New employees require training to get them on board and help familiarize them with the teams in the organization and tools needed to work. There are self-service portals where training materials that can be accessed by employees, and content can be made available in audio or video files. The same platforms can be used by managers to create a "roadmap" for each of their team members, outlining steps they need to take to reach their goals or broaden their skillset.
When using a team collaboration platform like JANDI, learnings and knowledge shared in a group chat ie "New Employee Onboarding" is immediately transferred to the rest of the group. Moreover, the next generation of new joiners will be able to access the chat history and search across previous questions, making it a useful repository of FAQ.
A well-trained workforce helps keep employees motivated and engaged, increasing job satisfaction and creating more opportunities for growth and development.
Final Thoughts
The effects and impact of technology on workplace culture are incredible. As an employer, employee, or freelancer, you can't always do it alone. But with the right tools and technology in place, workplace culture and team productivity can be improved.
---
Written by – Melissa Mauro
Melissa Mauro is a freelance writer who creates quality and original content. She is working for the companies as Best Writers Online and Online Writers Rating writing services review in the translation department and wants to find new platforms for professional growth. She believes that creativity and improvement are things, which distinguish a good writer.
---